Formula 1 debutant Pierre Gasly says he feels sympathy for Daniil Kvyat, who has had to make way at Toro Rosso for the Malaysian Grand Prix this weekend.
Reigning GP2 champion Gasly, a long-time Red Bull protege, has been given a chance to prove himself to potentially earn a full-time F1 seat for next year.
"Unfortuately that is how it works in this sport," said Gasly, who "didn't have the chance" to speak to Kvyat prior to Sepang.
"He has been in my position before he came to F1, he was waiting for his chance and then he had to take the seat of someone else.
"Of course I feel sorry for him, he is a really good driver and talented. Unfortunately it is happening that I am going to take his seat.
"I am pretty sure we will see him back on the grid at some point, maybe."
Gasly first learned of his F1 call-up by text message on Monday.
Toro Rosso has not specified how long he will be in the race seat, but it has a 2018 vacancy with Carlos Sainz Jr moving to Renault.
"At the moment I don't know how many races I will do in F1, there is nothing confirmed," said Gasly.
"The team told me to focus on this weekend and try to do my best.
"F1 is brand new for me, it will be my first GP, but there is no real target."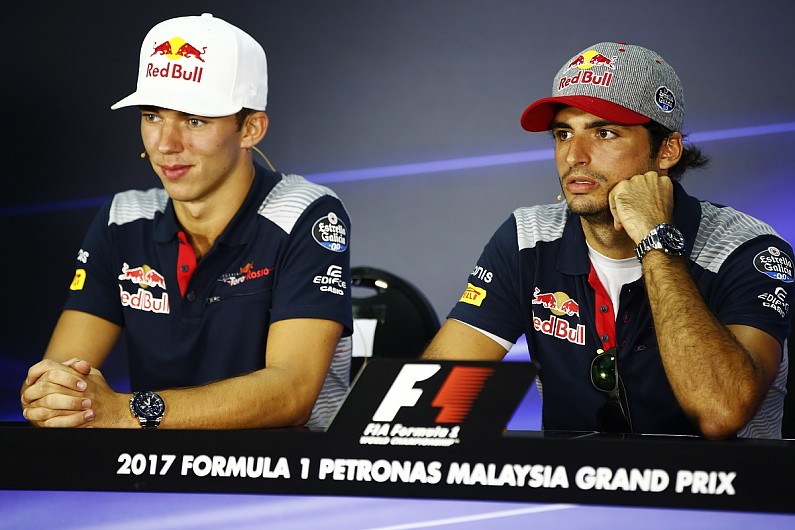 Team-mate Sainz, who beat Gasly to the 2014 Formula Renault 3.5 title, expects him to be competitive immediately.
"He has done everything right to be here and I am also sure Red Bull would not put anyone in the car who is not capable of being on the pace straight away and scoring points and helping the team," said Sainz.
Asked if he felt sympathy for Kvyat, Sainz replied: "In the middle of the season, when you are so focused on your driving in 2017, you cannot be affected by what goes on in the other side of the garage."
Gasly becomes the third Frenchman on the F1 grid alongside Romain Grosjean and Esteban Ocon - both of whom also made their debuts via mid-season call-ups, with Renault in 2009 and Manor in 2016 respectively.
Grosjean said he hoped Toro Rosso gave Gasly more security than he received in what became a short first stint with Renault.
"I was told 'basically those few races you have are learning races, you shouldn't be judged on that - then you have winter and pre-season preparation and then you go into it,'" Grosjean recalled.
"Unfortunately, it wasn't my case. It could have cost me my career.
"I believe that is what Toro Rosso is doing: preparing Pierre to come to a full season next year and be as ready as he can be from the beginning."
Ocon revealed he had given Gasly his start in motorsport, "when he was very young, maybe seven or eight" and focused on football.
"My dad said [to Gasly], 'why don't you try Esteban's go kart.' And after that he quit football," said Ocon.