The FIA has approved changes to the Formula 1 superlicence qualification structure, with only Formula 2 and IndyCar now offering the maximum points, but making additional series eligible.
Drivers hoping to earn an F1 superlicence must have earned at least 40 points over a three-year period.
Previously, the champions of F2, European Formula 3, Formula E, IndyCar and the World Endurance Championship LMP1 class all received the necessary 40 points.
But following today's FIA World Motor Sport Council meeting in Paris, the altered points structure has changed the number of points offered to the top drivers in several championships.
The changes will come into effect for the 2018 season.
The top three drivers in F2 will receive 40 points - with points accumulated in the final two seasons of GP2, which offered 30 for third place, also counting towards a driver's total.
IndyCar will continue to offer 40, 30 and 20 superlicence points to its top three finishers, with the rest of the top 10 also earning points.
Euro F3's allocation has been cut from 40 points for the champion to 30, and 30 to 25 for second place, with the rest of its points unchanged.
The same reduction has been made to Formula E's points distribution.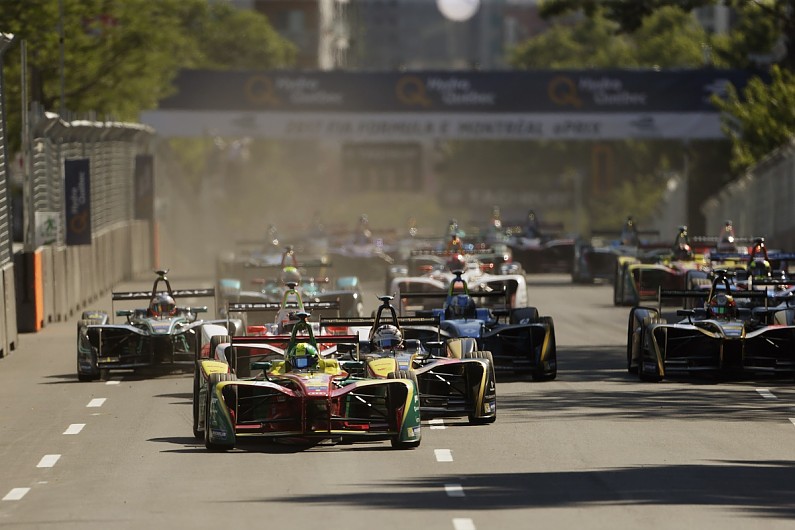 The GP3 champion's points reward has been reduced from 30 to 25, while Formula V8 3.5's allocation has been slashed from 35 for the champion to 20, and points are now only awarded down to ninth place at a heavily reduced rate.
The LMP1 allocation has been altered to decrease the points offered for first and second place - 40-to-30 and 30-to-24 respectively - but the drivers finishing from fourth to 10th in that category will now receive an increased points reward.
The first six drivers in the Super Formula championship will now all receive a lower number of points.
Several new championships - including NASCAR Cup, IMSA and Indy Lights - have been added to the expanded superlicence structure.
The FIA added that many of the championships included in the expanded superlicence system are "subject to all (road course) rounds being held on FIA homologated tracks".
The governing also announced that the structure for FIA International A Licences - the level below the superlicence - will be adjusted to incorporate a system of points allocation as well.
New F1 superlicence points system
(Based on championship finishing position)
Formula 2: 40, 40, 40, 30, 20, 10, 8, 6, 4, 3
GP2 (2015-16): 40, 40, 30, 20, 10, 8, 6, 4, 3, 2
IndyCar: 40, 30, 20, 10, 8, 6, 4, 3, 2, 1
European F3: 30, 25, 20, 10, 8, 6, 4, 3, 2, 1
Formula E: 30, 25, 20, 10, 8, 6, 4, 3, 2, 1
WEC LMP1: 30, 24, 20, 16, 12, 10, 8, 6, 4, 2
GP3: 25, 20, 15, 10, 7, 5, 3, 2, 1
Formula V8 3.5: 20, 15, 10, 8, 6, 4, 3, 2, 1
Super Formula: 20, 15, 10, 8, 6, 4, 3, 2, 1
WEC LMP2: 20, 16, 12, 10, 8, 6, 4, 2
WTCC: 15, 12, 10, 7, 5, 3, 2, 1
DTM: 15, 12, 10, 7, 5, 3, 2, 1
Super GT: 15, 12, 10, 7, 5, 3, 2, 1
NASCAR Cup: 15, 12, 10, 7, 5, 3, 2, 1
Indy Lights: 15, 12, 10, 7, 5, 3, 2, 1
Supercars: 13, 11, 9, 6, 4, 3, 2, 1
IMSA Prototype: 12, 10, 8, 6, 4, 2
National FIA F4: 12, 10, 7, 5, 3, 2, 1
National F3: 10, 7, 5, 3, 1
Formula Renault Eurocup, ALPS, NEC: 10, 7, 5, 3, 1
Formula Mazda: 10, 7, 5, 3, 1
NASCAR national: 10, 7, 5, 3, 1
Asian/ELMS prototype: 10, 8, 6, 4, 2
WEC GTE Pro: 10, 8, 6, 4, 2
WEC GTE Am: 10, 8, 6, 4, 2
IMSA GTLM: 10, 8, 6, 4, 2
International GT3 series: 6, 4, 2
Formula Academy (FFSA): 5, 4, 3, 2, 1
CIK-FIA world karting championships (senior): 4, 3, 2, 1
CIK-FIA continental karting championships (senior): 4, 3, 2, 1
CIK-FIA world karting championships (junior): 3, 2, 1
CIK-FIA continental karting championships (junior): 3, 2, 1