The FIA has opted to take no further action following the Singapore Grand Prix opening-lap collision between Sebastian Vettel, Kimi Raikkonen and Max Verstappen.
The two Ferraris and the Red Bull driver were going three-wide for the lead of the race on the approach to Turn 1 when Verstappen was squeezed in the middle, eventually making contact with Raikkonen on his left.
The Finn spun into Vettel, and then collected Verstappen and the McLaren of Fernando Alonso at the first corner.
Vettel, meanwhile, maintained the lead but his car had sustained significant damage and he crashed out of the race moments later.

Discuss the verdict on the Autosport Forum
Neither Ferrari driver assigned blame for the incident in post-race interviews, while the team tweeted that Verstappen "took Kimi out", but Verstappen believed Vettel was at fault.
However, after a post-race investigation, the FIA stewards announced none of the three drivers involved would be penalised, as nobody was "wholly or predominantly to blame for the incident".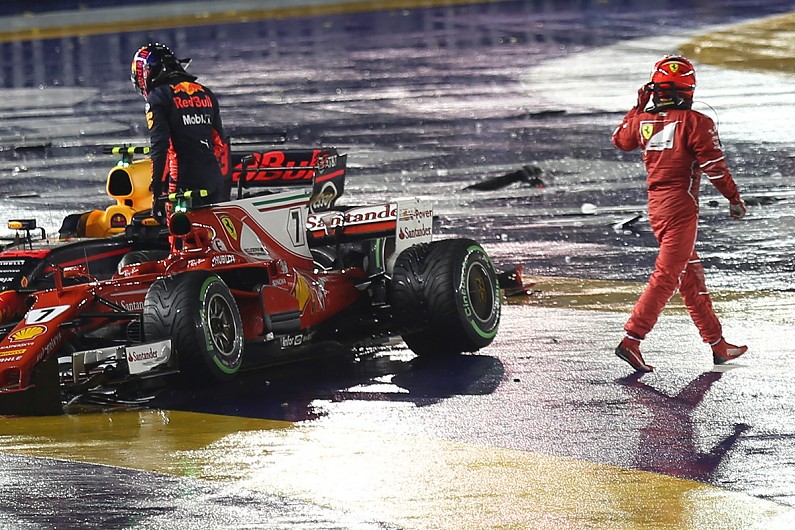 A statement read: "The stewards examined video evidence and heard from Sebastian Vettel, the driver of car 5, Kimi Raikkonen, the driver of car 7, Max Verstappen, the driver of car 33 and the team representatives.
"Driver of car 7 had a very good start and was able to attempt overtaking on car 33 on the left-hand side.
"At the same time, car 5, which had a slower start, moved to the left-hand side of the track; car 33 and car 7 then collided resulting in a chain collision with car 5 and, ultimately, car 14 (Fernando Alonso) at the next turn.
"The stewards consider that no driver was found to have been wholly or predominantly to blame for the incident and will therefore take no further action."
Explaining its original tweet, Ferrari added on its social media channel: "What we tweeted was a factual description of events. No need to speculate on this."