The Renault Formula 1 team had to effectively pause development for a spell this season because of the scale of change that its Silverstone upgrade required.
An update package headlined by a new floor was introduced on Nico Hulkenberg's car for the British Grand Prix.
It brought an immediate performance upturn and almost a first top-five finish of 2017 before an ERS problem contributed to Hulkenberg falling to sixth.
Renault managing director Cyril Abiteboul admitted that prior to the Silverstone upgrade there had "been a little bit of flat in terms of developments" as other components could not be introduced until after that step was in place.
"We knew what we wanted to do but we knew that it was quite a drastic change in the philosophy of the car and we knew it was going to take a bit of time," Abiteboul told Autosport.
"We had to a certain degree almost pause the development because we needed that part.
"It was opening a new frame of development for the front of the car, the middle of the car with bargeboards and also the rear of the car.
"Now that is done there is much more to come and that will happen over the remainder of the season."
Prior to that update, Abiteboul said the main change Renault had made to its 2017 car was to sacrifice some qualifying pace to make it perform better over a race distance.
Though Hulkenberg's qualifying average went from eighth in the first three GPs of the season to 11th over the next five, he took a sixth place at Barcelona in that time and was running fifth before crashing in Baku.
"We started with a very sensible platform in terms of qualifying, and not managing to turn that into race pace," Abiteboul added.
"So what we have done is an awful lot of change to the car in its existing shape and form as a starting point, to trade a little bit of qualifying performance into race performance - with aero balance, mechanical balance, suspension and all of that - to be a bit more competitive on Sunday."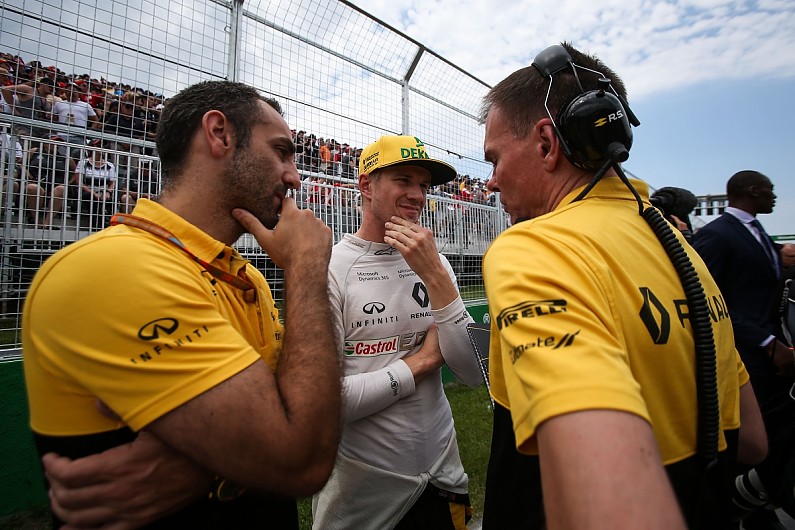 The 2017 season is the second of Renault's revived works team programme, which got off to a muted start last year due to the late completion of the deal to reacquire the Lotus team.
Hulkenberg said the success of the Silverstone upgrade was "important" and Abiteboul believes Renault us moving past its teething troubles phase.
"It has been a great satisfaction to see an improvement at Silverstone but also confirmation that the team as we are trying to build it is getting together.
"Obviously there has been a lot of investment, a lot of recruitment and new talents, new energy, which is starting to create a good buzz.
"The one thing that we were missing was on track confirmation of all the things we were doing and hopefully finally Silverstone was the first evidence of that."
Autosport has produced a standalone special magazine to celebrate our 70th birthday. All current print subscribers will receive a copy for free. To order your copy of the 196-page Autosport 70th Anniversary issue, please go to: autosport.com/autosport70th