Kimi Raikkonen claimed his first Formula 1 pole position since 2008 in qualifying for the Monaco Grand Prix, as Lewis Hamilton failed to make the top-10 shootout.
Raikkonen's Ferrari team-mate Sebastian Vettel had set the pace in Thursday practice, and in final practice on Saturday morning in Monte Carlo, but Raikkonen moved ahead in Q2 and stayed there, eventually claiming the top spot by just 0.043 seconds as Vettel just fell short in Q3.
Valtteri Bottas was third in the best of the Mercedes, just 0.002s behind Vettel, while team-mate Hamilton was forced to watch from the sidelines.
Hamilton struggled for speed throughout Q1 and Q2, and almost crashed twice after losing the rear end of his Mercedes at Massenet and Casino Square.
The triple world champion was down in 14th place in Q2, as Ferrari set the pace, but looked on a lap good enough to make Q3 before Stoffel Vandoorne crashed his McLaren-Honda at the Swimming Pool.
That forced Hamilton to abandon his lap and means he will start the Monaco street race mired in the midfield.
Red Bull's Max Verstappen qualified fourth in Hamilton's absence, well clear of team-mate Daniel Ricciardo behind.
A late improvement from Toro Rosso's Carlos Sainz Jr in Q3 lifted him to a season's best sixth, ahead of Sergio Perez's Force India and Romain Grosjean's Haas.
Jenson Button qualified ninth on his return to F1 in place of Fernando Alonso, but Button's McLaren-Honda will drop to the back of the grid thanks to a 15-place penalty for engine component changes ahead of final practice.
Button's team-mate Vandoorne rounded out the top 10, though he failed to participate in Q3 after that Q2 crash.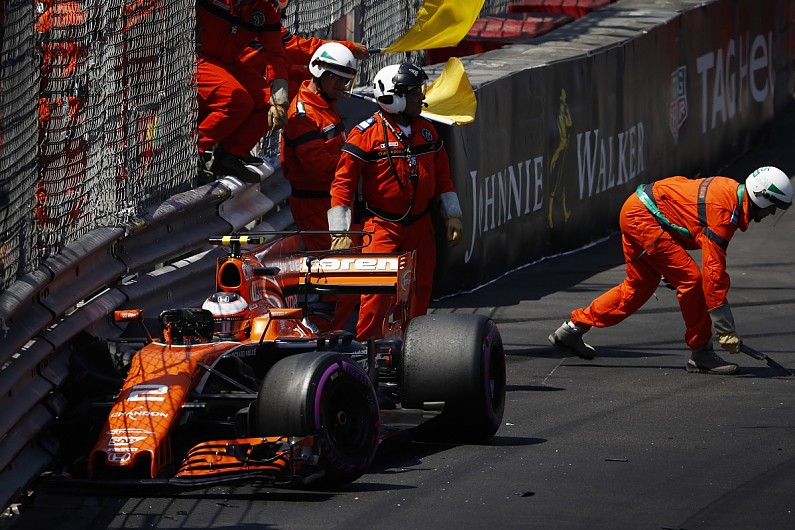 He will drop three places on account of a penalty for clashing with Felipe Massa at the previous race in Spain.
Vandoorne's shunt also prevented the second Toro Rosso of Daniil Kvyat from improving at the end of Q2, so one of the stars of Thursday practice wound up only 11th fastest in qualifying.
Nico Hulkenberg's Renault was 12th, ahead of Kevin Magnussen's Haas (which wasn't affected by the yellow flags), Hamilton and the Williams of Massa, who also hadn't set a representative time before having to abort his final flying lap thanks to the Vandoorne incident.
A last gasp effort from Grosjean knocked Esteban Ocon out in Q1.
Grosjean spun at Mirabeau in the early stages of that session, but ultimately did enough to progress.
Force India repaired Ocon's car following his morning practice crash in time to complete the final 10 minutes of Q1, and Ocon looked safely through to Q2 until Grosjean's late show.
Ocon missed the cut by 0.202s but was well clear of the second Renault of Jolyon Palmer, who complained of too much understeer as he struggled to the 17th fastest time.
Lance Stroll's Williams was almost two tenths slower in 18th, the Canadian having to cut short his run thanks to a hydraulic leak.
He ended up ahead of only Sauber pairing Pascal Wehrlein and Marcus Ericsson, who clouted the barrier at the Nouvelle chicane on his final Q1 lap and had to pull off into the escape road with a broken left-rear wheel.
PROVISIONAL STARTING GRID:
| Pos | Driver | Car | Time | Gap |
| --- | --- | --- | --- | --- |
| 1 | Kimi Raikkonen | Ferrari | 1m12.178s | - |
| 2 | Sebastian Vettel | Ferrari | 1m12.221s | 0.043s |
| 3 | Valtteri Bottas | Mercedes | 1m12.223s | 0.045s |
| 4 | Max Verstappen | Red Bull/Renault | 1m12.496s | 0.318s |
| 5 | Daniel Ricciardo | Red Bull/Renault | 1m12.998s | 0.820s |
| 6 | Carlos Sainz Jr. | Toro Rosso/Renault | 1m13.162s | 0.984s |
| 7 | Sergio Perez | Force India/Mercedes | 1m13.329s | 1.151s |
| 8 | Romain Grosjean | Haas/Ferrari | 1m13.349s | 1.171s |
| 9 | Daniil Kvyat | Toro Rosso/Renault | 1m13.516s | 1.338s |
| 10 | Nico Hulkenberg | Renault | 1m13.628s | - |
| 11 | Kevin Magnussen | Haas/Ferrari | 1m13.959s | - |
| 12 | Stoffel Vandoorne | McLaren/Honda | - | - |
| 13 | Lewis Hamilton | Mercedes | 1m14.106s | - |
| 14 | Felipe Massa | Williams/Mercedes | 1m20.529s | - |
| 15 | Esteban Ocon | Force India/Mercedes | 1m14.101s | - |
| 16 | Jolyon Palmer | Renault | 1m14.696s | - |
| 17 | Lance Stroll | Williams/Mercedes | 1m14.893s | - |
| 18 | Pascal Wehrlein | Sauber/Ferrari | 1m15.159s | - |
| 19 | Marcus Ericsson | Sauber/Ferrari | 1m15.276s | - |
| 20 | Jenson Button | McLaren/Honda | 1m13.613s | - |