Formula 1's Strategy Group and F1 Commission this week approved a plan to outlaw T-wings and shark fins for 2018, but coming up with a workable regulation took careful thought.
The extra-large engine covers and high-up wings on the 2017 F1 designs emerged due to a loophole in the new regulations that had not been there in original drafts.
Some designers were initially reluctant to pursue the concepts for aesthetic reasons but the downforce and handling benefits - through sideforce helping stabilise cars during yaw - were clear.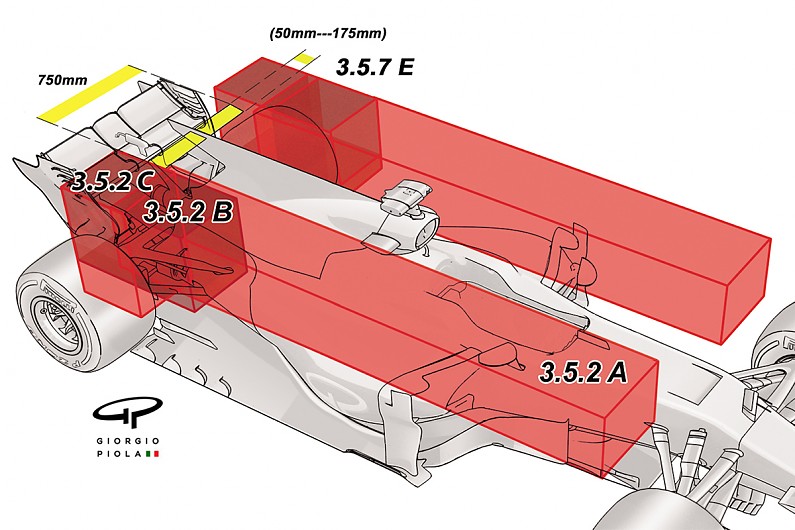 Bodywork was banned in the red area in the image above, but the way the final 2017 rules were worded allowed a 750mm wide area between these boxes to be utilised.
The T-wings currently occupy a 50mm space ahead of where the rear wing used to be situated, and can be a maximum of 750mm wide, encouraging teams to try out different configurations to suit their own needs.
The new rule specifically bans bodywork in the area above the engine cover.
As the image below shows, a theoretical line will now be drawn above which teams may not be allowed to have any bodywork.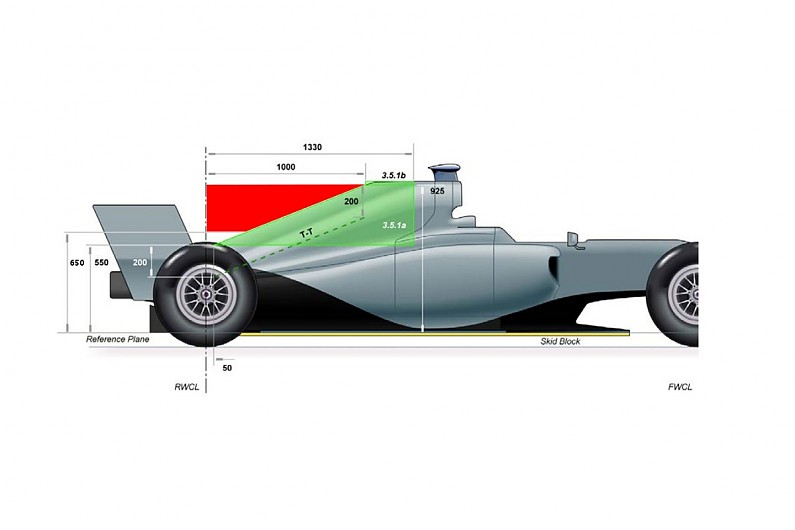 The new article 3.5.1 c) of F1's technical regulations for 2018 will state: "When viewed from the side, no bodywork forward of the rear wheel centre line may lie above a line parallel to the diagonal boundary defined in a) [a rule that defines the dimension of the engine cover] and intersecting the rear wheel centre line 650mm above the reference plane."
These simple sentences are enough to eliminate both shark fins and T-wings.
For now, the T-wings remain, with six teams currently running them - although that number may increase at the Spanish Grand Prix next month when teams bring their larger update packages.
Current designs vary significantly, with McLaren unique in running an oval-shaped wing, Williams placing two T-wings on its FW40 and Mercedes already onto its third iteration.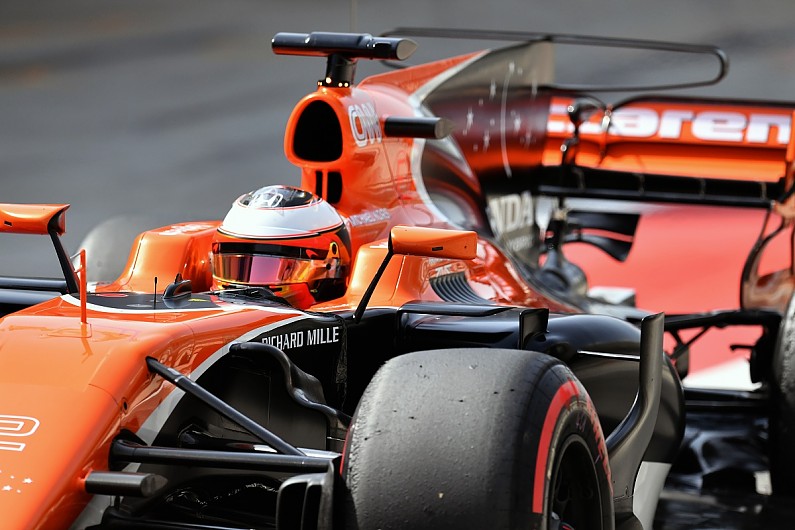 Both Mercedes and Haas have also had to strengthen their T-wings, Mercedes after breakages on Valtteri Bottas's car in both China and Bahrain, and Haas after excessive oscillation was apparent in Australian GP practice.
Red Bull, Force India, Toro Rosso and Renault are yet to run T-wings.
The 2018 ban will not stop T-wing and shark fin development continuing through this season.
Many of the teams will already have work in progress on that front and the designs will be further refined throughout the season.
But the FIA has already indicated that it may start getting tougher on ensuring the T-wing do not flex or risk coming off, so load or push tests could be increased over the rest of 2017.