Ferrari driver Kimi Raikkonen says his "awful" opening lap of the Bahrain Grand Prix disguised a race that was "a lot better" than he has experienced so far in 2017.

Raikkonen, who qualified more than three tenths down on team-mate Sebastian Vettel on Saturday, slipped from fifth on the grid to seventh early on.
As Vettel went on to win the grand prix, Raikkonen eventually recovered to fourth, and the Finn says he was happy with his in the race, despite the "disappointing" outcome.
"The car was working pretty nicely and, to be honest, I expected that. Not much complaints on that side," he said.
"[I had a] shit start and then an awful first few corners because of that. Obviously, after that, played catch-up.
"A lot of good things, in a way, happened but obviously the end result is still disappointing, in my book at least.
"The overall feeling is a lot better and I feel that I can go fast but obviously the start didn't help."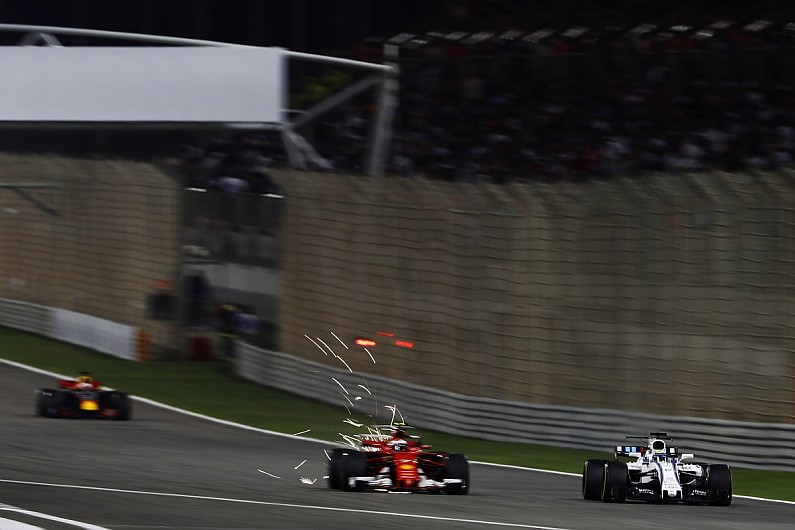 Raikkonen, who was stuck behind the Williams of Felipe Massa early on overtook him on lap eight, feels he was then unfortunate to end up behind the Brazilian again thanks to the timing of the safety car.
"I got reasonably quickly past Massa - then I was a bit unlucky with the safety car and lost a place again back and then tried to get past him again, and obviously at that point I was a bit behind," he said.
"He seemed to be very fast in certain places and already first time around was quite tricky to pass him, it felt a bit more difficult the second time.
"I managed to pass him in the end but it just takes a long time, they're usually very fast in a straight line, Williams."
Summing up the race, Raikkonen added: "The first lap obviously was not the ideal position, and the safety car... it's unfortunate how it went, we had some good speed."