Autosport can reveal how the 'shield' cockpit protection concept, presented to Formula 1 drivers last week as an alternative to the halo or aeroscreen, could look.
F1 is edging closer to a decision on what type of head protection system will be introduced for 2018, with the new canopy-style solution known as the shield revealed to drivers in last Friday's briefing at the Chinese Grand Prix.
Autosport technical editor Giorgio Piola's artist's impression shows how the design displayed to drivers at Shanghai could look when fitted to a generic 2017 F1 car.
Rather than the shield being an attachment around the edge of the cockpit like the halo and aeroscreen, it is more integral to the nose section of the car and begins much further forward than the two ideas already trialled.
The sloping see-through screen does not extend fully over the cockpit, even though it does end up higher than the driver's crash helmet.
Drivers were told in the Shanghai briefing that while the design has proved effective in early testing for smaller pieces of debris, it is not as effective when it comes to deflecting larger items such as wheels.
But given the resistance to the halo from some quarters, it has been suggested that the shield could present the best compromise between safety and aesthetics.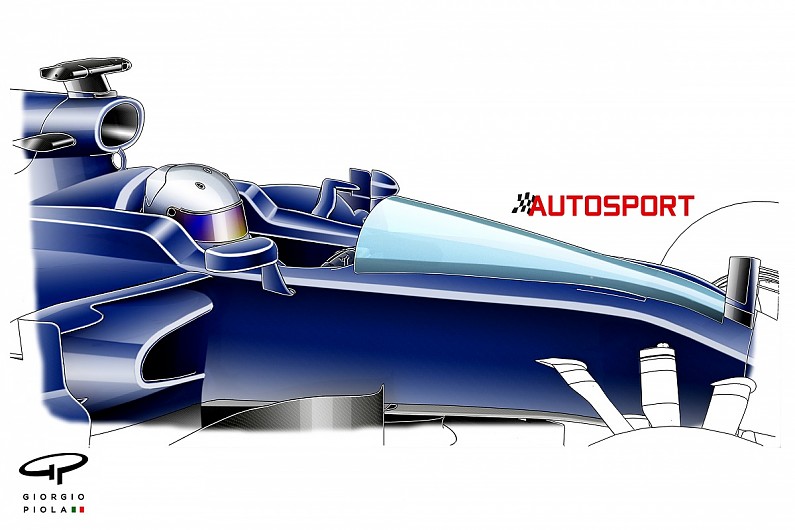 Some drivers found it more agreeable than the halo, while others were not convinced.
Felipe Massa, who suffered a head injury when he was hit by a spring during qualifying for the 2009 Hungarian GP, argued a final decision on which cockpit system to use should be made only on safety grounds.
"To be honest it looks really nice," said Massa, when asked by Autosport for his opinion on the shield.
"It's beautiful compared to the halo, but I don't think we need to go for how beautiful it is, but how better it is for the safety. That's the only answer we gave to them.
"If you can make it better, nicer and safer then it's done.
"Maybe for my accident this new system could have been OK, but for some other accidents maybe not.
"The wheels are much heavier now, so if you have a wheel flying and it hits it, it will not protect [you]. So I push for safety."
F1 teams and the FIA have agreed to introduce a form of cockpit protection for next season, but agreement has not yet been reached on which concept it should be.
Majority approval on the matter is required before the end of this month, otherwise the FIA will need unanimous backing from teams - something that may not be possible as several of them are not convinced about the need to cover cockpits.
Autosport has produced a standalone special magazine to celebrate our 70th birthday. All current print subscribers will receive a copy for free. To order your copy of the 196-page Autosport 70th Anniversary issue, please go to: autosport.com/autosport70th