Chris Amon, widely regarded as the best driver never to win a world championship grand prix, has died at the age of 73.
The New Zealander, who finished on the grand prix podium 11 times for the Ferrari, March and Matra teams, also won the 1966 Le Mans 24 Hours sharing a Ford GT40 with compatriot Bruce McLaren.

ARCHIVE: Chris Amon picks his greatest race
Born of sheep-farming stock, Amon started his racing career in an Austin A40 and tested a Maserati 250F at the age of 17 - remarkably young for the era.
Driving Bruce McLaren's 1959 United States Grand Prix-winning Cooper-Climax T51, he then caught the attention of teams during the 1962-63 Tasman Series, essentially a winter F1 season in Australia and New Zealand.
This resulted in Reg Parnell bringing him to Europe to race for his team.
Amon's first race in Europe was in the Goodwood Easter Monday meeting in 1963, finishing fifth in the Glover Trophy F1 race driving a Parnell-run Lola-Climax Mk4.
While only 10 cars contested the race, the field was high quality with Innes Ireland winning from McLaren and Amon one place ahead of Jack Brabham.
After taking sixth in the Aintree 200 later that April, he was set to make his world championship debut in the Monaco Grand Prix, only for team-mate Maurice Trintignant to take over his car before the start.
Amon did make his debut in the Belgian Grand Prix at the age of only 19, retiring early on with an oil fire.
Throughout '63 and '64, Amon continued to impress for Parnell's team, taking a best finish of fifth driving a Lotus-BRM in the '64 Dutch Grand Prix.
The '65 and '66 seasons were patchy F1 wise, with only occasional appearances - although he did win the Solitude Grand Prix Formula 2 race driving a Lola T60.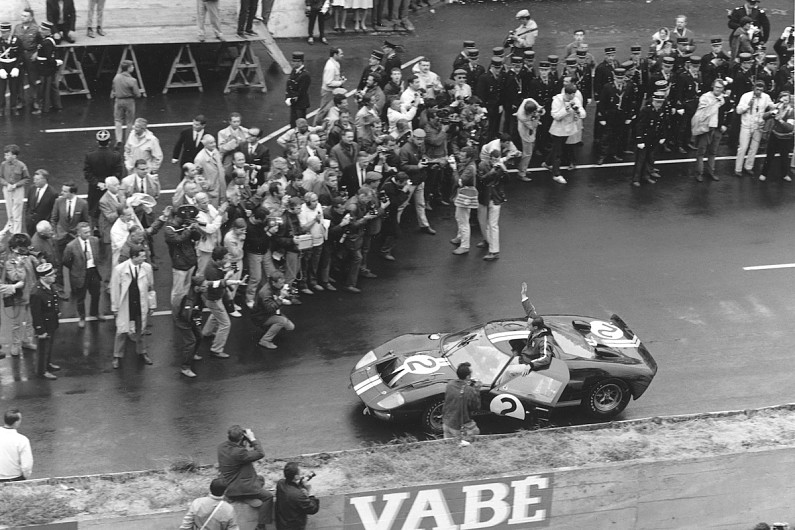 But he did deliver the greatest achievement of his career, winning Le Mans in the controversial finish in which McLaren took victory in a formation finish with the sister machine of Ken Miles/Denny Hulme.
During '65 and '66, he was also successful in Can-Am and won races for McLaren.
After the Le Mans win, he met with Enzo Ferrari to agree a deal for the '67 season, which meant parting company with McLaren.
"I was in a difficult situation," said Amon in John Julian's '1967: Chris Amon, Scuderia Ferrari and a year of living dangerously'.
"Bruce wanted me to stay at McLaren but driving for Ferrari was also a boyhood ambition of mine."
His pace in the Ferrari 330 P4 early in 1967, winning both the Daytona 24 Hours and the Monza 1000kms, earned him a place alongside sportscar team-mate Lorenzo Bandini in the F1 team.
When Bandini was killed during Amon's first F1 outing for Ferrari at the Monaco GP, the 24-year-old became Ferrari's team leader.
He took a quartet of third places, finishing fifth in the championship and could have won the United States Grand Prix but for a lack of oil leading to engine bearing trouble.
The following year, Amon had the pace that should have allowed him to battle with Graham Hill and Jackie Stewart for the 1968 world championship.
Amon and the Ferrari 312 were a potent combination, the first of three poles coming at the Spanish GP. Amon then dominated the race, only for fuel pump failure to put him out - with a similar problem costing him a possible win in Canada.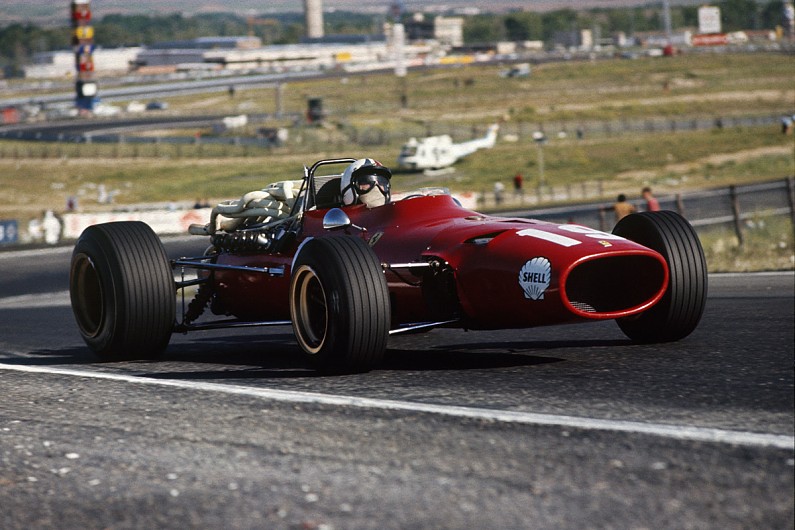 He also led at Spa but retired with a holed radiator during a season in which results criminally under-represented his performance, with second place in the British GP at Brands Hatch behind Jo Siffert, another race Amon could have won but in which he struggled with tyre wear and the lack of engine torque, his sole podium.
Such poor reliability meant Amon could not capitalise on his pace he ended up well behind new team-mate and rising star Jacky Ickx in the points table.
But Amon's class was underlined in the Tasman series. He battled Jim Clark's Lotus during 1968 in Ferrari's 246T, winning two races, then took the 1969 crown against the likes of future world champion Jochen Rindt.
Unreliability was again the story in 1969, with Amon leading in Spain before retiring with an engine failure, which played a part in his decision to leave Ferrari during the year ahead of a move to the new March Engineering team for 1970.
With Ferrari hitting form in '70 and March struggling, it was a characteristically ill-timed move.
Although Amon did finally win an F1 race - the International Trophy at Silverstone - the world championship season was a difficult one.
Amon did briefly lead at Spa, finishing second behind Pedro Rodriguez's BRM by just 1.1s in the difficult March 701, with further podiums in the French and Canadian GPs helping him to eighth in the championship, but he did not gel well with team owners Max Mosley and Robin Herd and headed to Matra in 1971.
The Matra move wasn't without its troubles, but again Amon should have won races, as shown by his success in another non-championship event, the 1971 Argentinian GP.
A leading role in the epic 1971 Italian GP lead battle ended when he inadvertently pulled off his whole visor instead of a strip, and finished sixth having started from pole.
He was driving away from the field in the 1972 French GP when he suffered a puncture. Amon regarded his recovery to third - lapping two seconds faster than winner Stewart - as his finest drive.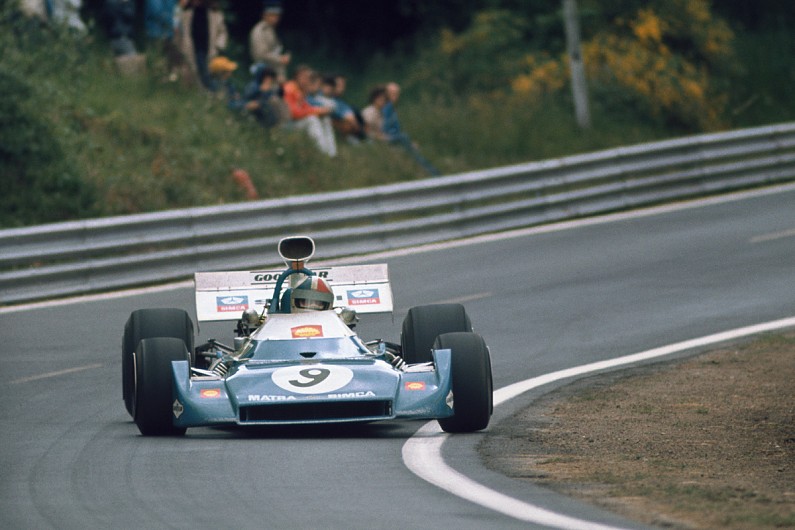 After leaving Matra at the end of 1972, his world championship grand prix career was effectively over even though he raced in F1 for another three years.
In 1973, he was persuaded to drive for the Tecno team, but other than sixth place in the Belgian GP results were poor, while a late season run for Tyrrell in the final two races of the season led to nothing.
There was one success that year, as he won the Nurburgring 6 Hours sharing a works BMW with Hans-Joachim Stuck.
Amon's decisions outside of the cockpit were sometimes unfortunate and a sequence of unsuccessful moves followed. Perhaps the worst was the decision to build his own car - the Amon AF101 - which retired from the 1974 Spanish GP and failed to qualify on two other occasions.
He did manage to impress during his final F1 campaign in 1976, driving for the underfunded Ensign operation after late-season appearances the year before, but a poor finishing record meant that one fifth place was all he had to show for his efforts.
After parting company with Ensign before the end of the season, he entered the Canadian GP for the Wolf-Williams team, but a heavy accident in qualifying prevented him racing.
Amon started the 1977 Can-Am season with Wolf, but decided to retire after one race. His seat was taken by Gilles Villeneuve, who Amon later recommended to Enzo Ferrari.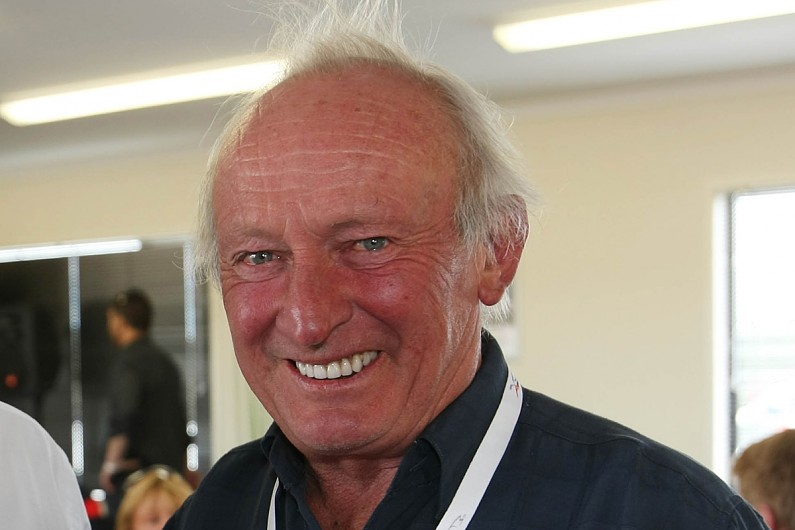 After retiring, Amon returned to his family farm in New Zealand, though he retained connections to the sport.
He helped redesign the Taupo circuit, supported Toyota's TRS single-seater championship, and was an occasional star at historic events.
Amon's family released a statement saying: "Chris battled cancer in recent years but retained not only a close interest in Formula 1 - and his very wide range of favourite topics - but also his wonderful sense of humour complete with infectious chuckle."
McLaren chairman Ron Dennis added: "Chris started 96 grands prix but won not one of them - and it is safe to say that he was the greatest racing driver never to have won a race at the very highest level.
"He nearly won a fair few, but it always seemed that his luck would run out before he saw the chequered flag.
"I have not met Chris for many years but, even so, I have extremely fond memories of him and I would describe him as one of the most likeable men I have met in my long racing career.
"A true gentleman and one of the fastest racing drivers there ever was: the one and only Christopher Arthur Amon."