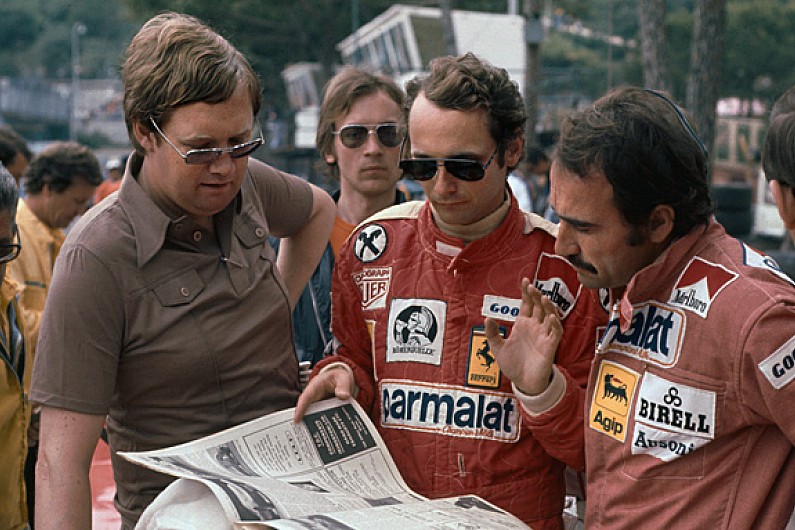 Alan Henry's first break in motorsport journalism came after writing a letter to Autosport to complain about the quality of a race report from Brands Hatch in 1968.
"One day I was moved to write to Simon Taylor, then club editor of Autosport, advising that I had been to Brands Hatch the previous weekend and that their magazine's report was rubbish," wrote Henry in his autobiography Last Train From Yokkaihci.
"Simon wrote back briskly and said 'if you think you can do better, write a dummy report'. I did, and the next thing I knew was that my mother's eight-year-old Morris Minor Convertible was heading for Snetterton."
That opportunity laid the foundation for an illustrious career. At the time of that first chance, Henry was still working for Barclays International, but it was when he was offered the job as reporter for Motoring News in June 1970 that his career really gained momentum.
It also pitched him in opposition to Autosport, at one stage part of an escalating war with Ian Phillips to include the most arcane information in F2 coverage. This culminated in Henry's victory thanks to "printing a carefully prepared list of the top gears being used by the fastest cars and supplementing these with engine rev limits in third, fourth and fifth at the end of free practice".
After covering his first grand prix - at Silverstone - in 1973 Henry was soon covering Formula 1 full-time and continued to do so until the 2009 Japanese GP. By his own count, he covered close to 650 grands prix.
Henry was famed for his ability to see the big picture in grand prix racing, weaving together the narrative threads and avoiding getting too bogged down in irrelevant detail - although he knew the detail very well.
Those skills made his coverage in Motoring News a must read, and also entertained and informed readers through a plethora of motorsport books. He cited Brabham: The Grand Prix Cars, published in 1985, as his finest but he also wrote on Ferrari, Niki Lauda, Damon Hill, Jenson Button, Ronnie Peterson and Ayrton Senna among his 50-plus books.
He was also known for his close relationship with some big names of the 1970s, including Tom Pryce and Ronnie Peterson - whose deaths hit him hard.
Henry was editor of Motoring News from 1976-1979 and became a freelancer in 1988. He was subsequently F1 correspondent for The Guardian, grand prix editor for Autocar from 1994-2012, editor of Autocourse and editor-at-large of F1 Racing.
He was very well-liked by his peers and retained a sharp sense of humour throughout his career. The stories of his antics are legion and always brilliantly recounted by old friends and colleagues such as Maurice Hamilton and Nigel Roebuck.
What stood out about Henry to a younger F1 correspondent was that his enthusiasm for the sport seemed to remain undimmed even after more than three decades following the circus - even if some of the more recent changes to grand prix racing did not meet his approval. That was a characteristic of his career, during which he was never afraid to criticise when he felt that was justified.
Tributes have flowed for Henry, with four-times world champion Alain Prost describing him as "one of the best F1 journalists". Ron Dennis said "as a journalist he was knowledgeable, accurate, intrepid yet fair-minded, and as a man he was warm, kind loyal and always funny".
Autosport sends its condolences to Henry's many friends and colleagues in motorsport and to his family.
Alan Henry's book, Last Train From Yokkaihci, is available here, with all proceeds from sales going straight to his family