Only clues about Mercedes' 2015 performance emerged from Formula 1's first two winter tests, as other teams stole the limelight. That all changed in the final test at Barcelona.
The dominant force of 2014 asserted its authority on the final pre-season test and left no one in any doubt that it will be the team to beat this year, if indeed it can even be caught.

ANALYSIS: We rank the teams after testing
Friday afternoon, the 10th day of testing, was the first time a Mercedes driver used Pirelli's soft tyre and Nico Rosberg made it count, lapping 1.2 seconds faster than the Williams of Valtteri Bottas went on the compound 90 minutes earlier.
It was the fastest time of the week and when Hamilton got his chance on the tyre a day later, he lapped faster than Felipe Massa and Kimi Raikkonen had earlier managed around the Circuit de Catalunya on the super-soft.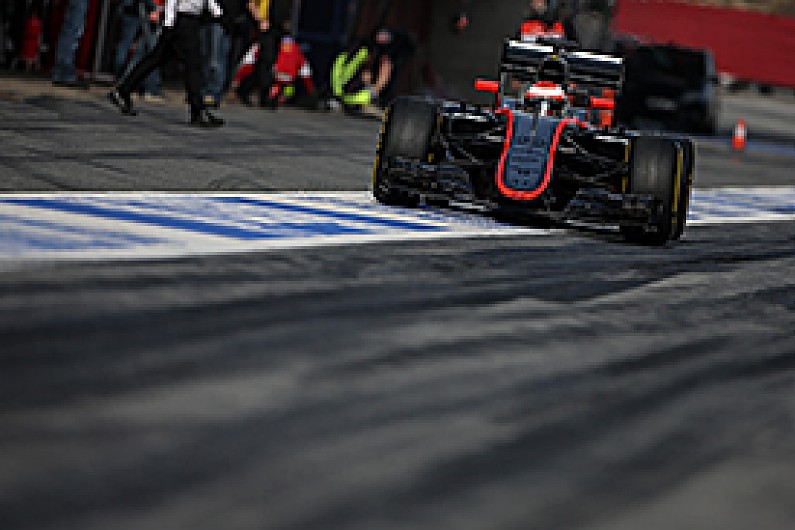 KARUN CHANDHOK answers your testing questions
While Mercedes' pace on the medium and hard rubber was imposing, there were positives for some of its rivals.
Both Williams drivers topped a day, albeit those without Mercedes using the softs, turned plenty of laps and looked sharp, while Ferrari underlined its progress over 2014 with another solid test.
Red Bull focused on race pace but suffered several mechanical dramas, including an ERS problem for Daniel Ricciardo on the final day.
CRAIG SCARBOROUGH analyses the latest tech developments
That, though, was nothing compared to McLaren. The team managed just 177 laps over the four days - Felipe Nasr alone turned 159 on Sunday - and if you take out Jenson Button's 101 on Friday, it averaged just 25.3 laps on the other three.
After a hydraulics issue limited it to just seven laps on the opening day, Button's Friday looked to have been a breakthrough, but it proved something of a false dawn, with an oil leak and sensor problem ruining the weekend.
And when the car was running, it was clearly down on engine performance.
Conversely, Force India enjoyed a stunningly reliable debut with its new VJM08, which first appeared just before lunch on the second day. By Sunday night, Nico Hulkenberg and Sergio Perez had turned a combined 365 laps.
Sauber and Toro Rosso completed race simulations and also piled on the laps, as did Lotus until Pastor Maldonado crashed with a brake problem on Sunday.
TEST STATISTICS
FINAL TEST STATS:

Combined times:

Pos  Driver            Car                   Time        Gap    Day  Tyres
 1.  Nico Rosberg      Mercedes              1m22.792s           2    S
 2.  Lewis Hamilton    Mercedes              1m23.022s  +0.230s  3    S
 3.  Valtteri Bottas   Williams-Mercedes     1m23.063s  +0.271s  4    SS
 4.  Felipe Massa      Williams-Mercedes     1m23.262s  +0.470s  3    SS
 5.  Kimi Raikkonen    Ferrari               1m23.276s  +0.484s  3    SS
 6.  Sebastian Vettel  Ferrari               1m23.469s  +0.677s  4    SS
 7.  Felipe Nasr       Sauber-Ferrari        1m24.023s  +1.231s  4    SS
 8.  Carlos Sainz Jr   Toro Rosso-Renault    1m24.191s  +1.399s  3    SS
 9.  Romain Grosjean   Lotus-Mercedes        1m24.200s  +1.408s  3    SS
10.  Marcus Ericsson   Sauber-Ferrari        1m24.276s  +1.484s  1    SS
11.  Max Verstappen    Toro Rosso-Renault    1m24.527s  +1.735s  4    SS
12.  Daniel Ricciardo  Red Bull-Renault      1m24.638s  +1.846s  4    S
13.  Nico Hulkenberg   Force India-Mercedes  1m24.939s  +2.147s  3    SS
14.  Sergio Perez      Force India-Mercedes  1m25.113s  +2.321s  4    SS
15.  Kevin Magnussen   McLaren-Honda         1m25.225s  +2.433s  3    S
16.  Jenson Button     McLaren-Honda         1m25.327s  +2.535s  4    SS
17.  Daniil Kvyat      Red Bull-Renault      1m25.947s  +3.155s  1    M
18.  Pastor Maldonado  Lotus-Mercedes        1m26.705s  +3.913s  2    S

Mileage by driver:

Pos  Driver            Laps  Miles
 1.  Felipe Nasr       300   868
 2.  Sebastian Vettel  272   787
 3.  Nico Rosberg      254   735
 4.  Marcus Ericsson   245   709
 5.  Nico Hulkenberg   235   680
 6.  Max Verstappen    224   648
 7.  Carlos Sainz Jr.  218   630
 8.  Kimi Raikkonen    216   625
 9.  Felipe Massa      205   593
10.  Daniel Ricciardo  200   578
11.  Romain Grosjean   191   552
12.  Valtteri Bottas   179   518
13.  Pastor Maldonado  176   509
14.  Daniil Kvyat      159   460
15.  Jenson Button     138   399
16.  Sergio Perez      130   376
17.  Lewis Hamilton    124   359
18.  Kevin Magnussen   39    113

Mileage by team:

Pos  Team         Laps  Miles
 1.  Sauber       545   1576
 2.  Ferrari      488   1411
 3.  Toro Rosso   442   1278
 4.  Williams     384   1111
 5.  Mercedes     378   1093
 6.  Lotus        367   1061
 7.  Force India  365   1056
 8.  Red Bull     359   1038
 9.  McLaren      177   512

Mileage by engine:

Pos  Engine    Laps   Miles
 1.  Mercedes  1494   4321
 2.  Ferrari   1033   2987
 3.  Renault   801    2316
 4.  Honda     177    512


COMPLETE 2015 WINTER TESTING MILEAGE:

By driver:

Pos  Driver            Miles
 1.  Nico Rosberg      2151
 2.  Felipe Nasr       1848
 3.  Max Verstappen    1760
 4.  Sebastian Vettel  1719
 5.  Marcus Ericsson   1697
 6.  Carlos Sainz Jr   1677
 7.  Kimi Raikkonen    1649
 8.  Lewis Hamilton    1512
 9.  Felipe Massa      1402
10.  Valtteri Bottas   1400
11.  Daniel Ricciardo  1393
12.  Pastor Maldonado  1385
13.  Daniil Kvyat      1310
14.  Romain Grosjean   1018
15.  Sergio Perez      824
16.  Nico Hulkenberg   784
17.  Jenson Button     641
18.  Pascal Wehrlein   465
19.  Fernando Alonso   333
20.  Susie Wolff       248
21.  Jolyon Palmer     222
22.  Kevin Magnussen   113

By team:

Pos  Car                   Miles
 1.  Mercedes              3801
 2.  Sauber                3545
 3.  Toro Rosso            3437
 4.  Ferrari               3368
 5.  Williams              3051
 6.  Red Bull              2703
 7.  Lotus                 2627
 8.  McLaren               1087
 9.  Force India 2015 car  1056
10.  Force India 2014 car  878

By engine:

Pos  Engine    Miles
 1.  Mercedes  11413
 2.  Ferrari   6913
 3.  Renault   6139
 4.  Honda     1087