Force India has defended its decision to vote against what it has called a "speculative" bid by Marussia to run its 2014 Formula 1 cars this season.
F1's Strategy Group met in Paris on Thursday to discuss a host of issues relating to the future of the sport.
One item on the agenda was an application by Marussia for a rule change to allow it to run its 2014 cars at the start of the campaign.
Under F1's governance structure, such a move would require unanimous support from teams in the Strategy Group and the F1 Commission before being approved by the FIA World Motor Sport Council.
But the application fell at the first hurdle when Force India said it did not back the move.
Its decision has prompted claims that the Silverstone-based outfit was more focused on securing a share of the commercial rights income due to Marussia than helping boost grid numbers.
If Marussia does not compete this season then it is likely that the funds due to it - worth around £30million - will be split between the other teams.
Force India's deputy team principal Bob Fernley (pictured) insists, however, that his team did not support the 2014 car plan because Marussia's application did not appear to have solid foundations.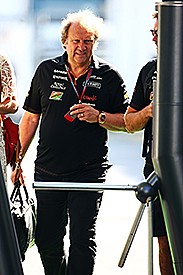 "The strategy group was faced with an application for Marussia's 2014 cars to compete in the 2015 championship," said Fernley.
"During the meeting it emerged that there were compliance issues and that the application lacked substance.
"Equally, the speculative application submitted contained no supporting documentation to reinforce the case for offering special dispensation.
"For example, no details were supplied of who the new owners would be or the operational structures that would be put in place.
"Given the lack of information, uncertain guarantees, and the speculative nature of the application, the decision was taken that it is better to focus on ensuring the continued participation of the remaining independent teams."
The decision by the Strategy Group means that there is no chance of Marussia making the first race of the season.
However, with F1's commercial agreements giving teams the right to miss three races without consequence, Marussia could in theory keep its commercial income if it can somehow build a 2015-compliant car by the Bahrain Grand Prix.
Such a move would require a large amount of investment.