Formula 1 is moving closer to ditching the controversial double points rule for 2015, as concerns mount that it could mar this season's finale.
The regulation, which caused a huge outcry from fans, was voted through at the end of last year in a bid to keep the world championship battle going on longer.
But the plan has failed - with the 17-point gap between Lewis Hamilton and Nico Rosberg meaning that the championship battle would have gone to the last race anyway.
Now there are fears that the extra points on offer could prove decisive in the title battle between the Mercedes drivers, creating the prospect of Hamilton losing the championship despite having won 10 races so far.

ANALYSIS: How double points would've changed history
Sources have told AUTOSPORT that, amid the unease about the rules, the matter will be discussed at a meeting of F1's Strategy Group in the days after the Abu Dhabi Grand Prix.
If there is agreement between teams, then a proposal could be put to the F1 Commission to ditch the rule for next year.
F1 supremo Bernie Ecclestone has already hinted that he would not object if double points were dropped after 2014.
When asked by AUTOSPORT if he would like to see the rule changed, Mercedes motorsport boss Toto Wolff said: "Yes. Nobody likes the double points.
"We are going to discuss that next time around and I don't think Bernie likes it a lot. So it's probably something we should be getting rid of for next season."
SHADOW CAST OVER CAMPAIGN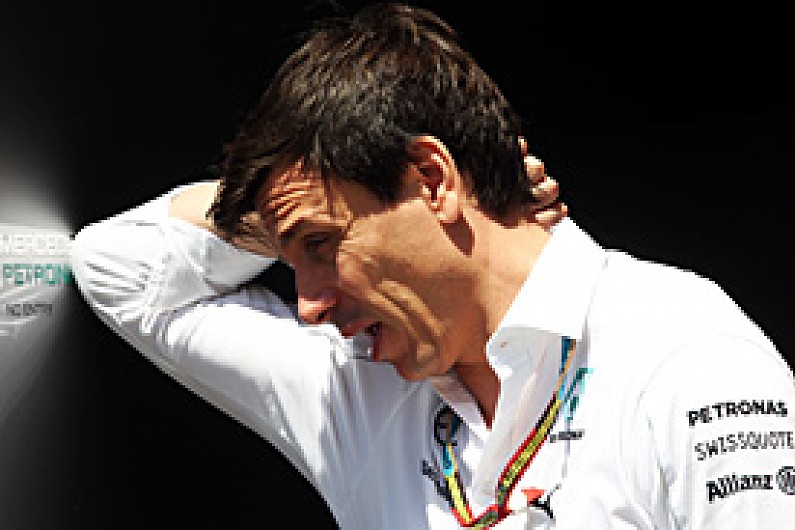 The double points rule means that Hamilton now needs to finish second to guarantee himself the championship.
Wolff concedes that, thanks to double points, a bizarre event at the final round could overshadow a campaign that his team has dominated.
"You could say that rules are rules and we know what the rules are," he said. "If you lose because you haven't got enough points then in a couple of years it goes into the history books that you either won or lost it.
"But then, if you imagine a scenario that the championship has been turned by a DNF or a technical issue it would obviously put a big shadow over the championship.
"I would very much like a straight fight between the two of them at the last race and they will give it all.
"Hopefully the double points will not make a difference."
HOW THE TITLE WILL BE WON IN ABU DHABI
Rosberg wins the title if:
* He finishes first and Hamilton does not finish second
* He finishes second and Hamilton is outside the top five
* He finishes third and Hamilton is outside the top six
* He finishes fourth and Hamilton is outside the top eight
* He finishes fifth and Hamilton is outside the top nine

Hamilton wins the title if:
* He finishes first or second
* He finishes third, fourth or fifth and Rosberg doesn't win
* He finishes sixth and Rosberg is outside the top three
* He finishes eighth and Rosberg is outside the top four
* He finish ninth or worse and Rosberg is outside the top five
Autosport has produced a standalone special magazine to celebrate our 70th birthday. All current print subscribers will receive a copy for free. To order your copy of the 196-page Autosport 70th Anniversary issue, please go to: autosport.com/autosport70th