Mercedes claims it is being targeted by "multiple tsunamis" from rival teams aimed at cutting short its time at the top of Formula 1.
After his team clinched the 2014 F1 constructors' championship in Russia last weekend, Mercedes motorsport boss Toto Wolff says that other teams are stirring things up to try to make sure that it cannot keep on winning.
"We have barely won one championship and we are already faced with multiple tsunamis hitting us from all sides in order to restore the order," he said.
"That is what history shows us with McLaren, Ferrari and Red Bull."
The main political issue Mercedes is battling against at the moment is a push by rivals Ferrari, Renault and Honda to open up F1's engine freeze rules.
Rivals are convinced that doing so is essential for levelling the playing field, and they have the support of the FIA and F1 commercial supremo Bernie Ecclestone.
Amid claims that Mercedes is not acting in the best interests of F1 by blocking the engine 'unfreeze' idea, Wolff confessed that he felt was being portrayed as the bad boy in the debate.
"Absolutely," he said. "But probably that is the price you have to pay when you are winning.
"You have seen it in the past with Red Bull, that they have transitioned from a cool little team and were seen as something different.
"You get the momentum against you and that [backlash] is what happens.
"But we want to be fair and respect the rules. There is a governance in place and rules in place, and there is nothing else we want to follow."
MERCEDES DOMINATION TO CONTINUE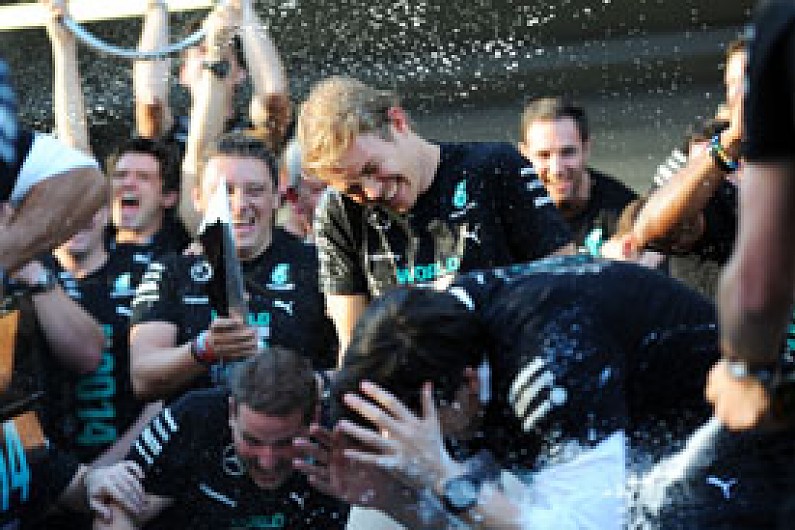 Wolff sees no reason why Mercedes cannot maintain its 2014 success rate into future seasons.
"Somebody said yesterday's home runs don't win tomorrow's games and that is true," he said. "You cannot rely on history and say that is how it has always been. I don't believe that.
"This game has gained so much more pace than many years before, but I think we have all it needs.
"We have great people, we have all the right resources, and two great drivers. These are the ingredients to need to be there on the top.
"But we also must be realistic in terms of what we can expect from the next years and this is the next target to continue in the way we did.
"Things do end sometimes, but we are hopefully far away from it."