Nico Rosberg edged out Mercedes Formula 1 team-mate Lewis Hamilton in the battle to set the fastest time in the first free practice session for the Japanese Grand Prix.
Rosberg, looking to bounce back from the disappointment of losing his F1 championship lead to Hamilton last time out in Singapore, was fastest by three tenths from Hamilton during the first half an hour of running on the extra set of hard Pirelli tyres made available to all drivers.
Hamilton got closer as both drivers went quicker during the second part of the session, but crucially locked up at the hairpin on his fastest lap and fell 0.151 seconds shy of denying Rosberg the top spot.
Fernando Alonso was best of the rest in third, just over half a second shy of Rosberg's benchmark.
Amid a tense moment in his relationship with the Ferrari team, Alonso was seen feeding grapes to mechanics and fans in the garage during a brief lull in track action midway through the session.
Williams trialled different parts of a major aerodynamic upgrade package as the Grove team seeks to continue its fight with Ferrari for third place in the constructors' championship.
Valtteri Bottas survived a big lock-up in the early stages of the session, as he narrowly avoided the spun Caterham of Roberto Merhi on the exit of the Spoon Curve, but went on to set the fourth fastest time, just over half a second shy of Alonso.
Bottas's team-mate Felipe Massa was 11th fastest in the sister FW36.
Alonso's Ferrari team-mate Kimi Raikkonen went fifth fastest - a further six tenths back from Bottas - while McLaren's Kevin Magnussen rounded out the top six.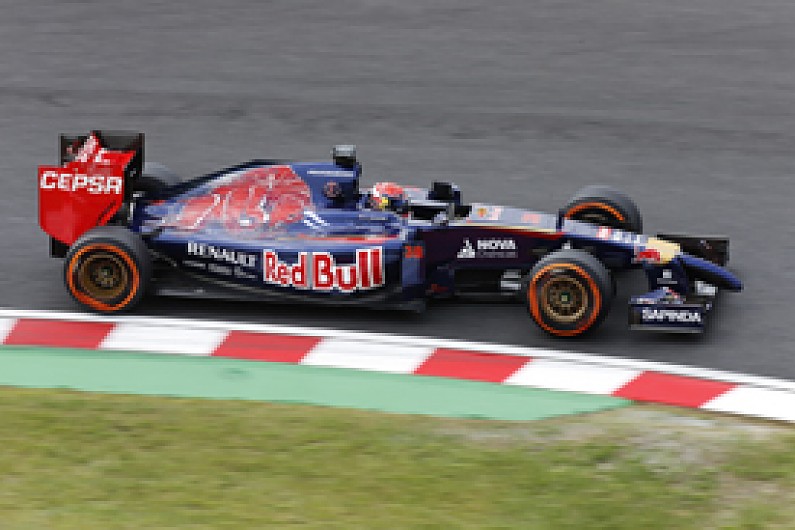 Magnussen's team-mate Jenson Button suffered issues with his pit speed limiter and a loose seat. He wound up eighth fastest, behind Red Bull driver Daniel Ricciardo.
Reigning quadruple world champion Sebastian Vettel went ninth fastest in the sister RB10, just fractions of a second clear of Toro Rosso's Daniil Kvyat.
Formula 3 rookie Max Verstappen (pictured) made his eagerly-anticipated free practice debut for Toro Rosso, replacing Kvyat's team-mate Jean-Eric Vergne.
The Dutch teenager, who turned 17 a few days ago, had a problem with running at constant speed in third gear initially, as well as some issues with the handling of the STR9, before an engine failure cut his running short during the final 10 minutes.
Verstappen nevertheless looked confident and composed on track as he racked up 22 laps and recorded the 12th fastest time, 0.443s adrift of team-mate Kvyat.
| Pos | Driver | Car | Time | Gap | Laps |
| --- | --- | --- | --- | --- | --- |
| 1 | Nico Rosberg | Mercedes | 1m35.461s | - | 27 |
| 2 | Lewis Hamilton | Mercedes | 1m35.612s | 0.151s | 26 |
| 3 | Fernando Alonso | Ferrari | 1m36.037s | 0.576s | 19 |
| 4 | Valtteri Bottas | Williams/Mercedes | 1m36.576s | 1.115s | 25 |
| 5 | Kimi Raikkonen | Ferrari | 1m37.187s | 1.726s | 19 |
| 6 | Kevin Magnussen | McLaren/Mercedes | 1m37.327s | 1.866s | 24 |
| 7 | Daniel Ricciardo | Red Bull/Renault | 1m37.466s | 2.005s | 27 |
| 8 | Jenson Button | McLaren/Mercedes | 1m37.649s | 2.188s | 24 |
| 9 | Sebastian Vettel | Red Bull/Renault | 1m37.686s | 2.225s | 26 |
| 10 | Daniil Kvyat | Toro Rosso/Renault | 1m37.714s | 2.253s | 26 |
| 11 | Felipe Massa | Williams/Mercedes | 1m38.012s | 2.551s | 22 |
| 12 | Max Verstappen | Toro Rosso/Renault | 1m38.157s | 2.696s | 22 |
| 13 | Sergio Perez | Force India/Mercedes | 1m38.324s | 2.863s | 10 |
| 14 | Nico Hulkenberg | Force India/Mercedes | 1m38.582s | 3.121s | 9 |
| 15 | Romain Grosjean | Lotus/Renault | 1m38.851s | 3.390s | 21 |
| 16 | Adrian Sutil | Sauber/Ferrari | 1m39.046s | 3.585s | 19 |
| 17 | Pastor Maldonado | Lotus/Renault | 1m39.097s | 3.636s | 26 |
| 18 | Esteban Gutierrez | Sauber/Ferrari | 1m39.318s | 3.857s | 18 |
| 19 | Marcus Ericsson | Caterham/Renault | 1m40.031s | 4.570s | 18 |
| 20 | Roberto Merhi | Caterham/Renault | 1m41.472s | 6.011s | 24 |
| 21 | Jules Bianchi | Marussia/Ferrari | 1m41.580s | 6.119s | 10 |
| 22 | Max Chilton | Marussia/Ferrari | 1m41.757s | 6.296s | 15 |