Force India Formula 1 boss Vijay Mallya believes Sergio Perez's drive in the Italian Grand Prix was "outstanding", as the Mexican closes in on a 2015 deal with the team.
Perez qualified 10th for last Sunday's F1 race at Monza, and finished seventh - his best result since the Red Bull Ring in June - after a hard-fought battle with Jenson Button's McLaren among others.
When asked by AUTOSPORT whether he thought the drive was one of Perez's best, Mallya replied: "Outstanding. To have a world champion chase you from behind like that and stave him off, and not for one or two laps, for 15-16 laps. That's called a gutsy drive.
"I was enjoying every minute - apart from sitting on my pitwall doing what I had to do - I was loving it!"
Perez had to straightline part of the Roggia chicane during a side-by-side moment with Button that lasted all the way to the second Lesmo.
Mallya did not feel the Briton drove unfairly, despite Kevin Magnussen being penalised for an incident in which Valtteri Bottas had to take to an escape road.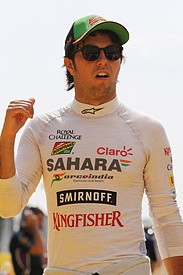 "Button was doing everything he possibly could, but Magnussen actually pushed Bottas off; Button didn't push Checo off," Mallya said.
"OK he came close to it, but that's racing."
PEREZ CLOSE TO NEW DEAL
Perez told reporters at Monza that he was close to finalising a deal to remain with Force India for a second season.
"There are not many options out there and I'm happy," said Perez, who faces the prospect of racing in a home GP for the first time if he remains on the grid next season, thanks to a new race in Mexico City joining the calendar.
"The team is really progressing well - I know what we're doing for next year and I would like to have a second year in this team ideally.
"When you move teams too much you don't establish yourself in a team. I would like to do that."