Ferrari team boss Marco Mattiacci says the Maranello outfit must be braver and embrace risk in its new era if it is to win titles in Formula 1 again.
In an exclusive interview featured in this week's AUTOSPORT magazine, where Mattiacci reveals his plans to get Ferrari back to the front of F1, the Italian declares it essential that the team shakes off a culture of conservatism that has been prompted by a fear of failure.
"We have to embrace risk," says Mattiacci. "To embrace the utmost co-operation. Dialogue. To be brave. That is the most important thing for me."
Mattiacci has begun to make changes to Ferrari's infrastructures - with a shake-up of its engine department already completed - and he says that his vision is of a very different type of team in the future.
"These are very important changes," he explains. "We are clear where we want to go. So I don't know if you can call the changes big, but they will be important.
"I think that Ferrari is going to look different. And the story will tell if it will be better.
"But the change will be across the board - most importantly cultural change and discontinuity. These are the most important things."
BLAME CULTURE MUST END
Mattiacci also points out that one thing that has annoyed him since taking over as Ferrari team principal is the blame culture that has existed within the Maranello squad's organisation of separate departments.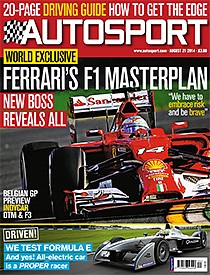 "I don't like it when the engine people talk to me about the chassis for the first five minutes. I don't like that the chassis people talk to me about the engine. We talk about the car," he said.
"Everybody has to share the responsibility with that car. There is no 'we did better than you', or 'we did this because you asked'."
"Everybody is responsible for that car in the same way."

This week's AUTOSPORT magazine - available in shops and online from Thursday morning - contains the complete exclusive interview with Marco Mattiacci about what it will take to get Ferrari back on top in Formula 1