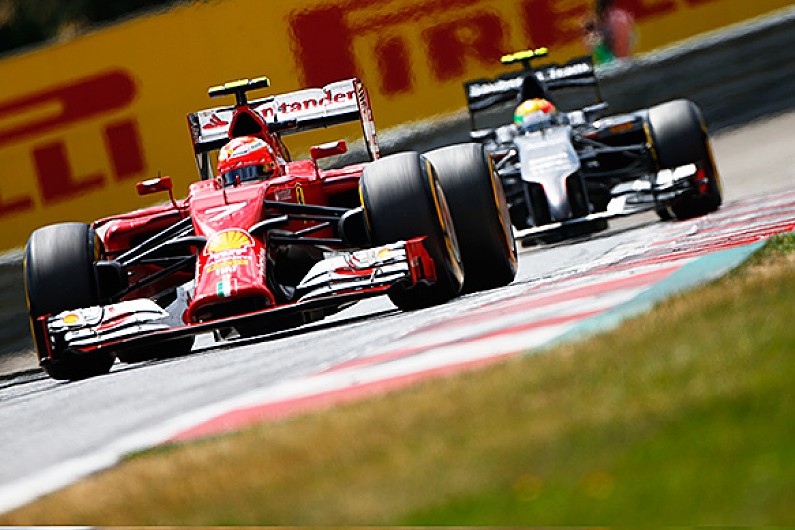 Kimi Raikkonen has expressed his frustration at being told to look after his brakes early in the Austrian Grand Prix, saying Ferrari cannot afford for such things to happen.
With the Red Bull Ring Formula 1 weekend having once again highlighted the engine deficit Ferrari has to Mercedes, Raikkonen's hopes of a decent haul of points were wrecked by him having to have back off early.
The Finn reckons that in Ferrari's current situation, it is essential that it can push its car to the maximum throughout every grand prix to have any hope of a good result.
"We had to go down [on the engine settings] but also after two laps I had brake issues," explained the Finn, who eventually finished 10th.
"They asked me to cool the brakes but I was trying to fight against the other guys. So it was quite difficult after two laps being asked to slow down for brake issues.
"We know those kinds of things should not be happening, and we have to fix them. We cannot go into the race and start slowing down after two laps because of issues like that.
"We are not fast enough for giving up points, so there is more work to do to get there."
When asked how much of a step forward Ferrari had made since the start of the 2014 F1 campaign, Raikkonen said: "I think we are more or less in the same place.
"I think it depends a lot to do with the layout of the circuit, how it is for each team.
"[Austria] has long straights and the Mercedes powered cars seem to be working. But we have improved for sure in various places, and the car is much more together from the first race.
"But we need much bigger improvements on the engine and aero and those kind of things to get where the Mercedes guys are."