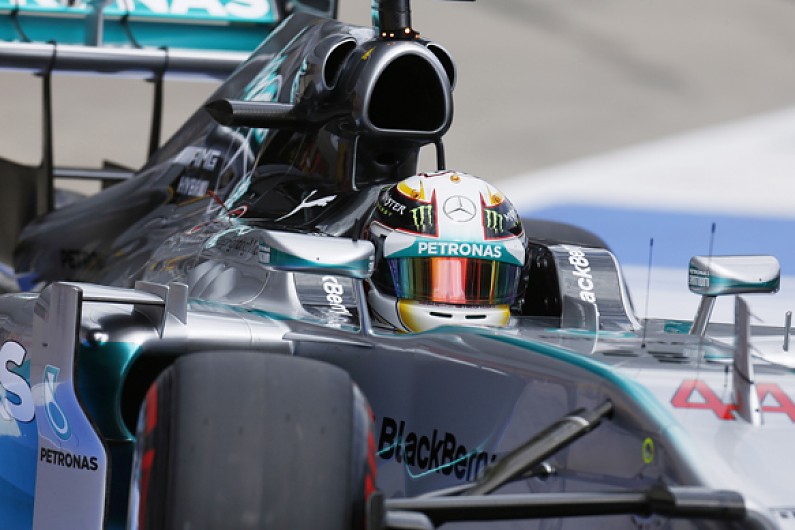 Lewis Hamilton's spin late in qualifying for the Austrian Grand Prix was not due to a technical problem with his Mercedes Formula 1 car, according to team boss Toto Wolff.
Hamilton qualified a season's-low ninth after running wide at Turn 8 on his first flying lap in Q3 and having the time disallowed, and then spinning at Turn 2 under braking on his final effort.
Hamilton was baffled by the spin after the session and later reckoned "I just pressed the brake pedal too hard" when asked by AUTOSPORT whether he understood what went wrong.
Mercedes boss Wolff confirmed there was no technical problem with Hamilton's car, but suggested his driver was unlucky to lose control of the car on a bump.
"We didn't see anything on the car," Wolff said, when asked by AUTOSPORT whether a technical problem had contributed to the spin.
"I think it was also bad luck. He was braking 10 metres later, he had a little bit more pressure on the brake pedal, and he hit a bump.
"All that contributed. He just lost the rear and the car spun."
Hamilton rejected suggestions he was maybe trying too hard in his efforts to grab pole.
"I don't think I'm trying too hard - my laps have been pretty good all weekend," he added.
"I knew I had extra time in my pocket. I pulled it out on my first lap and obviously I didn't finish the lap.
"The second time around, I was just taking the car into unknown territories I guess.
"We had good pace in the car, so it hurts a little but, but I'll try to make up for that tomorrow.
"There's a long way to go, so don't rule me out yet."
UNDERSTEER HURT ROSBERG
Hamilton's team-mate Nico Rosberg will start third after losing out to both Williams drivers in Q3.
The championship leader suggested he had perhaps compromised his qualifying set-up too far in pursuit of strong settings for Sunday's race.
"The track went in a different direction to what I expected so I had a lot of understeer in qualifying," Rosberg explained.
"But it wasn't the intention to go that far with it [sacrificing qualifying set-up]. It just turned out to be a lot of understeer and I had no tools to get rid of it."