Mercedes does not yet understand why its Formula 1 engine control systems overheated and caused the failures that cost it Canadian Grand Prix victory.
The German car manufacturer had been chasing an F1 record sixth consecutive one-two finish in Montreal, but its hopes were dashed following a double MGU-K failure on its cars.
Lewis Hamilton's system shut down at the Turn 10 hairpin on lap 36, while just a few corners later, as Nico Rosberg went through Turn 1 on lap 37, the German's car hit trouble too.
Mercedes motorsport boss Toto Wolff says that the team had never expected the high temperatures in its systems to cause such problems.

TECHNICAL ANALYSIS: Craig Scarborough on what went wrong for Mercedes
"We had at exactly the same time a failure of the engine control systems, on the ERS, on the MGU-K, with a peak in temperature which was not on our priority list," he said, when asked by AUTOSPORT for an explanation.
"It shows you it is exactly the same power units, and they were racing at exactly the same pace and had exactly the same temperatures.
"In that particular part of the MGU-K we saw temperatures which were higher than expected. But we were unaware they could have such a detrimental effect and the MGU-K just shut down and we could not reset it."
ELECTRONIC FAILURES LED TO BRAKE ISSUES
The failed MGU-K meant that brake harvesting of the cars changed, which put extra stress on the cars' brakes.
Wolff believes that the peak in temperatures when Hamilton made his second stop for tyres just put him over the edge and triggered the brake failure that ended his race.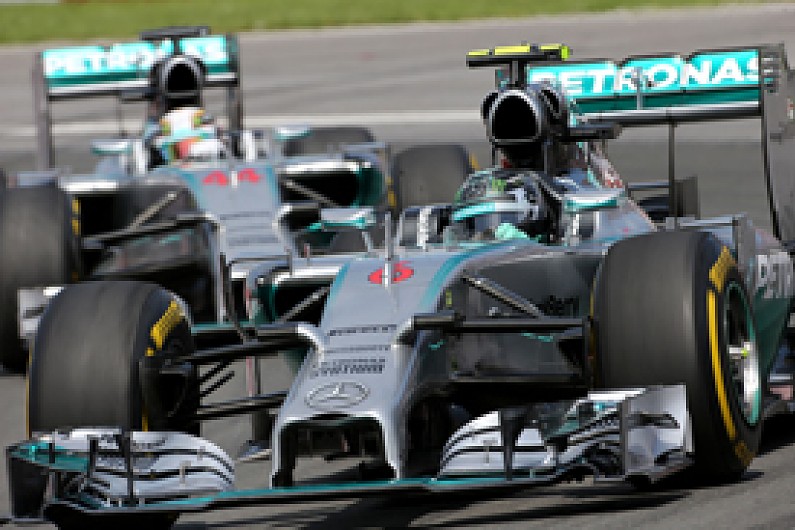 "We told both drivers to manage the brakes because when you lose the electric motor and you lose the electric braking, the brakes are overheating massively," he said.
"We changed the balance within the braking system and told them to both be careful.
"Both of them complied exactly to what they had been told to do. It was very marginal though.
"When Lewis entered into the pits, with a stationary car, the temperatures rose and when he went out the pedal just went soft and fell down completely. On Nico's car he was lucky not to have that."
Wolff said that Mercedes was not sure whether or not the overheating of its system was a track specific problem that related to Montreal, or had more to do with the jump in ambient temperatures.
"We don't know yet," he said. "What we know is that we had a peak in temperatures in a system that we did not expect to be as crucial as it was."