Nigel Stepney was a key player in Ferrari's dominance of Formula 1 during the Michael Schumacher era but achieved notoriety for his involvement in the spy scandal of 2007.
Stepney's first role in motorsport was with the Broadspeed touring car team as an apprentice mechanic.
There, he worked on Broadspeed's successful touring car programmes before moving into F1 with the Shadow team.
In 1979, he began a long association with Elio de Angelis, following the Italian to Lotus the following year as number one mechanic.
When de Angelis moved to Brabham in 1986, Stepney stayed at Lotus where he worked with Ayrton Senna.
Stepney moved to Benetton ahead of the 1989 season, staying at the team for four seasons, during which he worked with Nelson Piquet and Michael Schumacher.
He worked outside of F1 in 1992, running the Piquet Racing squad that ran Olivier Beretta in Formula 3000, but after an unsuccessful season returned to F1 with Ferrari.
Stepney played a crucial role in turning Ferrari into a well-organised squad, a process accelerated by Jean Todt's appointment to run the team in mid-1993.
In 1994, Stepney was one of the Ferrari mechanics struck by the wheel shed by Michele Alboreto's Minardi in the pits during the San Marino Grand Prix.
Six years later, during the Spanish GP, he was involved in another pitstop incident when Schumacher was released before Stepney had detached the refuelling hose.
Stepney was dragged to the floor, sustaining ligament damage, but soon returned to work.
He held the key roles of chief mechanic and race/test technical manager at Ferrari before being appointed head of performance development late on.
Stepney admitted to being unhappy with Ferrari in early 2007 and his time with the team came to an end when he became embroiled in the McLaren spy scandal.
He was accused by the Scuderia both of sabotaging the team's cars and passing its intellectual property to rival squad McLaren and was dismissed by the team in July that year.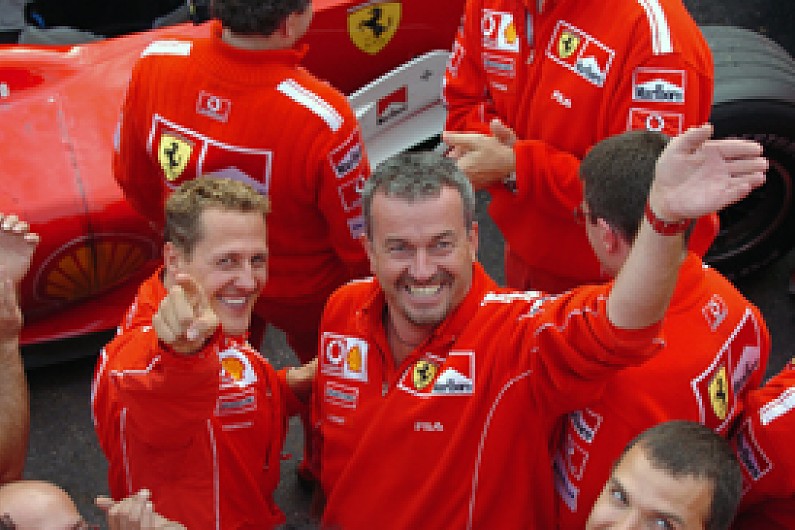 Stepney admitted to the FIA that he did pass on sensitive information to McLaren but later downplayed the scale of his involvement.
He escaped any sporting censure beyond it being recommended teams should not associate with him.
He was sentenced to 20 months in prison for his part in the affair by an Italian court in 2010 but did not serve any time.
By then, he had already returned to motorsport, in 2008 joining on-board camera specialist Gigawave, which also fielded a sportscar team.
In 2010, he joined the JRM team, running factory Nissan equipment in sportscars.
There, Stepney worked as technical director, leading the team to victory in the FIA GT Championship in 2011 with Michael Krumm and Lucas Luhr.
The squad then moved into prototypes in the World Endurance Championship, running HPD machinery to sixth in the Le Mans 24 Hours in 2012 with David Brabham, Peter Dumbreck and Karun Chandhok.
The JRM-developed Nissan GT-R NISMO GT3 took Lucas Ordonez to last year's Blancpain Endurance Pro-Am Cup championship title and the outfit continues to support customer squads this year.