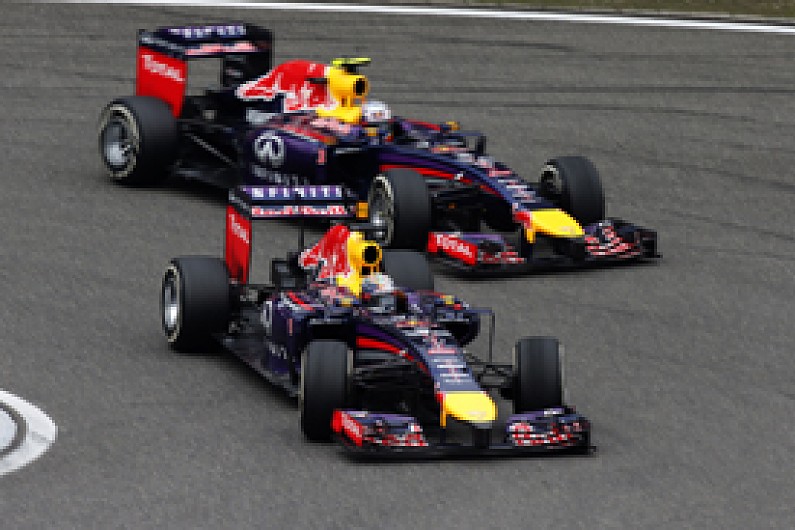 Red Bull played down talk of tension with Sebastian Vettel after he appeared to ignore team orders at the Chinese Grand Prix.
Vettel proved reluctant to move aside for his faster team-mate Daniel Ricciardo just before half distance.
The reigning Formula 1 champion queried their strategies, and when informed that they were on the same tyres but Ricciardo had pitted later, Vettel replied "tough luck."
But despite being initially unwilling to move out of the way, when Vettel was told that Ricciardo was at that stage on a different strategy he elected to let the Australian through.
Both drivers had planned two-stop races, but during that phase of the grand prix Vettel's high tyre wear meant that the team briefly considered switching him to a three-stop, before it stuck to its original plan.
Red Bull boss Christian Horner saw little problem with Vettel's action and said it was natural for someone as competitive as the German to not give up positions so easily.
"He is a race driver," said Horner. "We employ these guys because they have that fighting spirit.
"He hasn't won four world championships by not being a racer.
"Of course, he is going to question it to understand, but as soon as he understood the reasoning he immediately moved aside."
Horner was adamant that the time Ricciardo lost being stuck behind Vettel did not rob the team of a chance to overhaul Fernando Alonso's Ferrari for a podium finish.
"I don't think so," he said. "I think that arguably he would have been one second further up the road, but he did the right thing for the team and let his team-mate through.
"With Fernando, catching is one thing, but the [speed] deficit we had on a kilometre long straight here, passing was going to be something quite different."