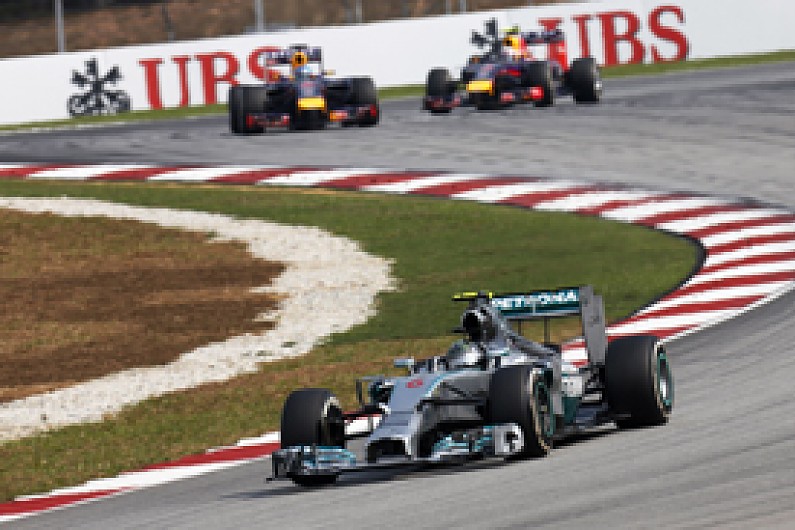 Red Bull fears that Mercedes will be further ahead in this weekend's Bahrain Grand Prix than it was in Malaysia.
Although Sebastian Vettel was able to take the fight to Nico Rosberg at Sepang, Red Bull Formula 1 team boss Christian Horner thinks that the next race will be much tougher.
For while Red Bull's downforce levels helped mask its power deficit in Malaysia, he reckons the horsepower advantage that Mercedes has will allow it to stretch its legs more in Bahrain.

How Hamilton made tough race look easy
"I think their advantage in Bahrain will possibly be larger than it was in Malaysia, because that is quite a power dominated circuit," said Horner.
"Our middle sector in Malaysia was closer than the third sector, but the first sector was where they killed us all weekend - and it is effectively two straights.
"On average there was 0.5 seconds [difference between Mercedes and Red Bull] on those two straights."
Horner also thinks that Bahrain's climate will hamper Red Bull's hopes too, because it will not be able to count on the rain that has helped it secure front row starts at both the opening races.
"It doesn't tend to rain in Bahrain, so we are going to try to make as much progress as we can in the week," he said.
"The dynos are busy running in Paris and hopefully we can nudge a bit closer to them again, if at all possible, next weekend."