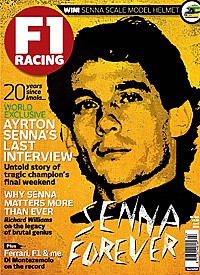 Ayrton Senna's final interview before his death at the 1994 San Marino Grand Prix has been revealed by the man who conducted it, former Williams commercial director Richard West.
Senna and team-mate Damon Hill visited the Williams Paddock Club shortly before lunchtime on Sunday May 1, 1994 for a Q&A moderated by West.
What was, at the time, a routine driver appearance would be the last time Senna spoke in public.
In the aftermath of Senna's accident, West forgot all about the interview until he received a video tape of it from an anonymous source several years later.
During the interview Senna touched on circuit safety - although, poignantly, with a focus on the forthcoming Monaco Grand Prix rather than Imola.
"It's a very tight pitlane with too many people in it," he said. "It will be very, very dangerous.
"So we just talked today about it and we are thinking about asking the FIA officials to introduce a speed limit for the pitlane."
Before leaving, Senna autographed a copy of the circuit map - putting his signature next to the Tamburello, the corner where his car would leave the track with fatal consequences.
"It's a short interview, but incredibly poignant, and it was lost until now," said West. "To this day I still don't know who sent me the tape."

F1 Racing's May 2014 issue, including Senna's final interview, Richard West's first-hand recollections of working with him at McLaren and Williams, plus much more, is on sale today.