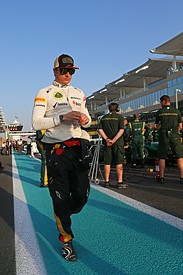 Kimi Raikkonen is to miss the final two races of the 2013 Formula 1 season after electing to undergo back surgery next week.
The Finn had been at the centre of a pay dispute with his Lotus bosses in Abu Dhabi last weekend, but it appeared that matters had been sorted so he could compete in the United States and Brazil.
However, in a fresh twist, the back issues that nearly forced Raikkonen out of the Singapore Grand Prix earlier this year flared up enough for him to choose to take early surgery.
Rather than travel to the United States for the final events of the season, Raikkonen will now fly to Salzburg for the operation.
His manager Steve Robertson confirmed to AUTOSPORT that Raikkonen's 2013 campaign was over, as it is estimated that there is a four-week recovery period.
The news was first broken in Finnish newspaper Turun Sanomat.
Had Raikkonen waited until after the season, then there was a chance that it could have impacted on his preparations for 2014 with Ferrari.
Robertson told AUTOSPORT: "In an ideal world it would have been nice to finish the season with Lotus in the final two grands prix.
"However, due to the severe pain that Kimi is having, sadly it is not possible."
It is unclear how Raikkonen's absence will impact on his pay issues with Lotus, especially with the team's new investor Quantum Motorsports having not yet finalised its 35 per cent buy-in to the outfit.
Lotus now has just a few days to decide on a replacement driver. It could decide to promote reserve driver Davide Valsecchi to the race seat or swoop for another available driver.