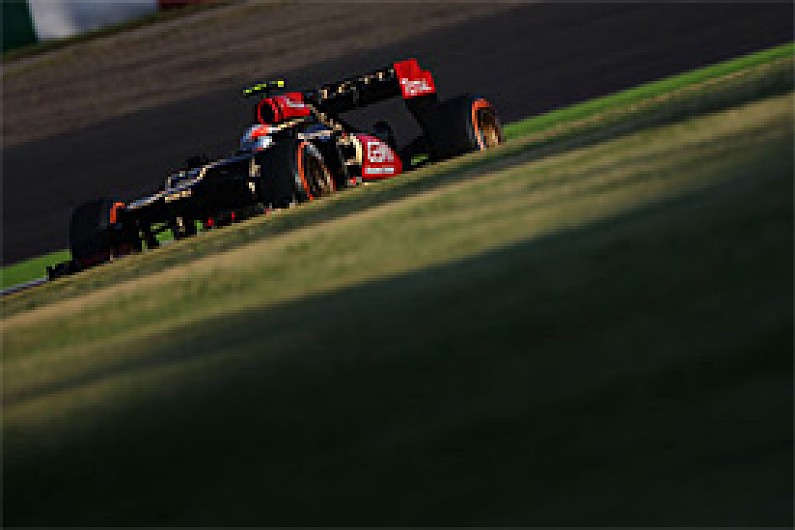 Lotus believes the step forward it has made with its long wheelbase car, allied to a more aggressive tyre choice, means it can be confident of a strong challenge at the Indian Grand Prix.
The Enstone-based team has emerged as Red Bull's main challenger in recent races, and Romain Grosjean battled hard for victory in Japan last weekend after leading early on.
After a strong run of form, the team believes that next weekend's race at the Buddh International Circuit should allow it to deliver a good result again.
"From our perspective there's no doubt that the long wheelbase car has benefitted our performance," explained Lotus' head of trackside operations Alan Permane.
"It's difficult to put a figure on it with the fundamental change it has been, but it's an endorsement of all the simulator and modelling work we did in this area.
"We're qualifying better, racing better and we've been on the podium for the last three races at a variety of tracks from Singapore to Suzuka.
"These are about as different as you can get - one being a street circuit with super soft tyres, the other a very quick, flowing circuit on hard tyres. It's clear that the E21 is working well on all variety of layouts."
"Add this to our increasing knowledge of the tyres, a few aerodynamic tweaks and both drivers being at the top of their game, and we're looking good."
One other factor that should help Lotus is the choice of medium and soft tyre compounds for India - a step softer than last year.
"The change from hard and soft last year to medium and soft this year should make for quite a different race, where we saw one-stop strategies driven by the hard tyre allocation," added Permane.
"Last year the performance gap between the tyres meant that everyone qualified on the soft and raced on the hard after a single stop.
"This year, the soft and medium compound open up the strategic permutations.
With this season's tyres also being a step softer than last year's soft tyre, we have softer tyres to both qualify and race with.
"It could be a far more interesting race with strategy split between two and three stops."