Fernando Alonso does not expect Kimi Raikkonen to deliver a dramatic transformation to Ferrari next season as he believes that Felipe Massa is no slower than his future team-mate.
With many in the paddock already focused on prospects for next year, Alonso suggests that the key to Ferrari's Formula 1 hopes will be on the car it produces, not what Raikkonen brings.
"For next year, with Kimi, we can do a very good championship for Ferrari, and try to again score as many points as possible," said Alonso ahead of the Japanese Grand Prix.
"But I think in terms of speed, Felipe is not any slower.
"When they were racing together, Felipe was as quick as him in a way.
"So, if we have a competitive car, we will enjoy the season, and we will do very good things.
"If we have a not very competitive car it will be very similar to this season I think."
Although Ferrari's efforts are now shifting towards 2014, Alonso thinks there is still plenty to be motivated about this year.
"Obviously when you finish the possibilities of winning the world championship, it is more difficult to motivate yourself no doubt," he said.
"But first we are fighting to be second in the world championship, which is obviously not a happy goal.
"There are another 22 drivers who are in a worse condition than you, because they are third, fourth, fifth and 10th etc., but there is a big target of second in the constructors' championship.
"I think it is very important for the team to improve its position in the constructors' championship.
"It will be important to close with Felipe the remaining races with Ferrari, and would be nice to be both in the podium, to be celebrating a victory or whatever happens.
"I think the whole team deserves this whole kind of happiness. We will work very hard and [it] will be easy to motivate in this aspect."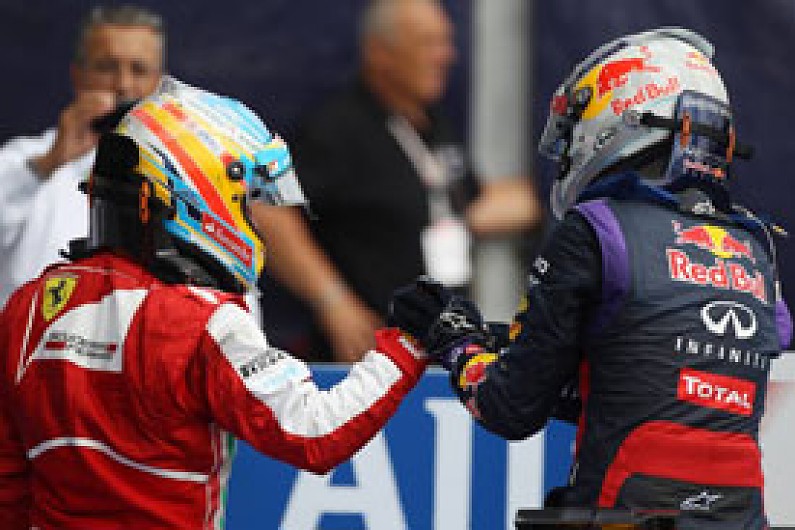 VETTEL CAN ONLY BE JUDGED LATER
Alonso is happy to acknowledge the excellent job that Sebastian Vettel has done for Red Bull this season as he closes in on his fourth world title.
However, the Spaniard thinks that the true judge of how good his German rival is will only come later in his career.
"He has been close to perfection, all these years and winning the championships," said Alonso.
"It is true that he had an advantage in car performance all these years, so we see how good he is later in his career because, at the moment, he is better than anyone and he is winning all the championships.
"But we saw also Hamilton starting in his first year nearly winning the championship, and in his second year winning the championship. But then he didn't win any more.
"Sometimes you have the car to do it, sometimes not. At the moment Red Bull and Vettel are a very good combination and too good for us."