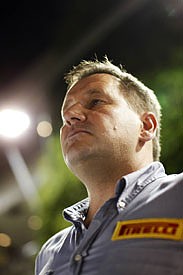 Pirelli says it does not understand why anyone was complaining about the spectacle its Formula 1 tyres delivered in the Korean Grand Prix.
The challenge that teams and drivers faced in getting their tyres to last the distance at Yeongam left a number of top line stars frustrated, with both Fernando Alonso and Mark Webber expressing particular anger.
But Pirelli motorsport director Paul Hembery thinks that beyond a problem that Sergio Perez had - when a flat-spotted tyre failed - the race was entertaining.
"Without the Perez issue, the race was as interesting as we could get, and more like the type of races we had at the beginning of the season," said Hembery.
"We've come off the back of Monza where everyone moaned that they were falling asleep because it was a one-stop race and nobody knew what to write about.
"So you are damned if you do and damned if you don't sometimes.
"I just wish people would let us know what they want."

Horner backs Alonso, Webber tyre anger
Pirelli adopted an aggressive strategy for the Korean GP by bringing its super-soft and medium compounds for the weekend.
Red Bull team principal Christian Horner suggested the choice had been 'on the edge' but Hembery says teams had resisted his company bringing more conservative compounds.
"We thought of coming here with the soft and medium, but we had a lot of teams thinking it would be conservative and put it in the hands of one certain team," said Hembery.
"They want us to give everyone a challenge."