Pirelli has hit out at Red Bull for again criticising its tyres on the back of a dominant performance from Sebastian Vettel in the Canadian Grand Prix.
Vettel took a lights-to-flag victory in Montreal as low tyre degradation meant he could push harder and unleash the full potential of his RB9.
However, after celebrating a win that extended his championship lead over Fernando Alonso to 36 points, Vettel was still critical of Pirelli's tyres, suggesting that he has concerns about their safety.
Pirelli motorsport director Paul Hembery has told AUTOSPORT that he cannot comprehend why Vettel keeps criticising the tyres.
When asked if the stunning pace of Red Bull showed how far ahead the team is when tyre degradation is not so high, Hembery said: "I think it is a little signal, but even before Canada they were leading the championship.
"They have been strong, but some of the comments are very difficult to understand when you look at the performance.
"Maybe some other teams might have a reason, but you are leading the championship, and still complaining?
"You win the race and I have seen some complaints again here [in Canada], and those sorts of things are not helpful."
Red Bull has been the strongest critic of the aggressive tyre choices made by Pirelli this season, and it made a concerted push to get F1's official tyre supplier to move the tyres back towards a specification based on last year's rubber.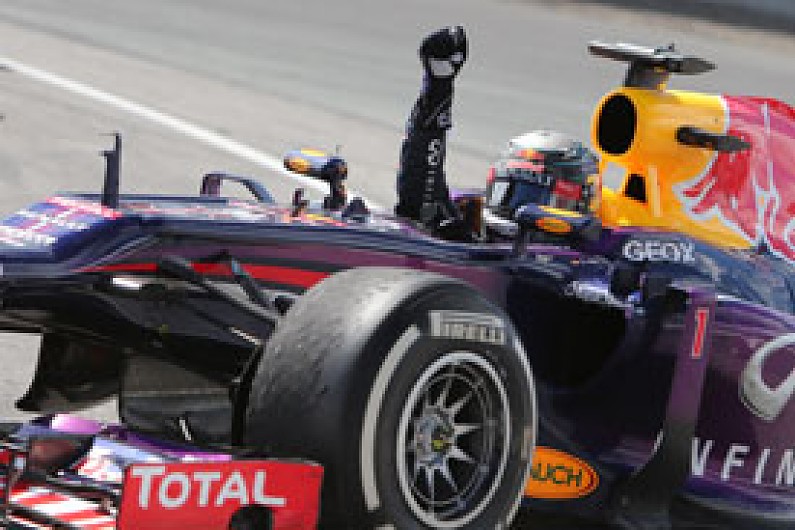 Those efforts have been thwarted by the lack of agreement from the team's rivals about such a move, but Red Bull is still questioning the safety of the tyres due to delaminations that have been encountered in the early stages of the campaign.
After his victory in Montreal, Vettel again said that his main focus was the safety aspect.
"The criticism we had or I expressed was not based on performance. I think it was based on safety," he said.
Pirelli has always insisted that there are no safety issues with the delaminations because the tyres stay inflated.
However it does want to eradicate the incidents because they do not project a positive image for its products.
World Championship standings (top five) after round seven:                

Drivers:                    Constructors:             
 1.  Vettel        132        1.  Red Bull-Renault          201
 2.  Alonso         96        2.  Ferrari                   145
 3.  Raikkonen      88        3.  Mercedes                  134
 4.  Hamilton       77        4.  Lotus-Renault             114
 5.  Webber         69        5.  Force India-Mercedes       51