Mercedes believes it will not be the only team facing tyre difficulties in the Canadian Grand Prix.
Although the Brackley-based outfit concedes it is not yet on top of the tyre degradation issues that have blighted its campaign, team boss Ross Brawn thinks that it is not alone in heading into the Montreal race with some trepidation.
For although Lewis Hamilton and Nico Rosberg will not be able to manage the pace as easily as they did in Monaco, Brawn reckons a green track and lack of practice running will prove a challenge for everyone.
"I think the thing that will be interesting is that if you get the balance slightly wrong and the track is going to be slightly green, then you can get into graining very easily," he said.
"The balance is going to be critical.
"I am hoping that everyone's cars are not dialled in as well as they would normally be, and we would have a bit of a chance. But because of the capacity to overtake we certainly cannot do a Monaco here.
"Fernando [Alonso] had the strongest car on long runs on Friday and is further back than he hoped, but I am sure he will make progress through the field. We saw Red Bull have some graining on their long runs.
"There will be others attempting to dial that out in the race, so it could be very interesting."
Mercedes found in Monaco that if its drivers take it easy on their tyres in the early stages of each stint then they perform better at the end.
That could mean they get exposed to being passed by other cars in Montreal though, because overtaking is much easier than at Monaco where their rivals were stacked up behind them.
Brawn added: "The first few laps with the tyres are the ones we have to be careful with.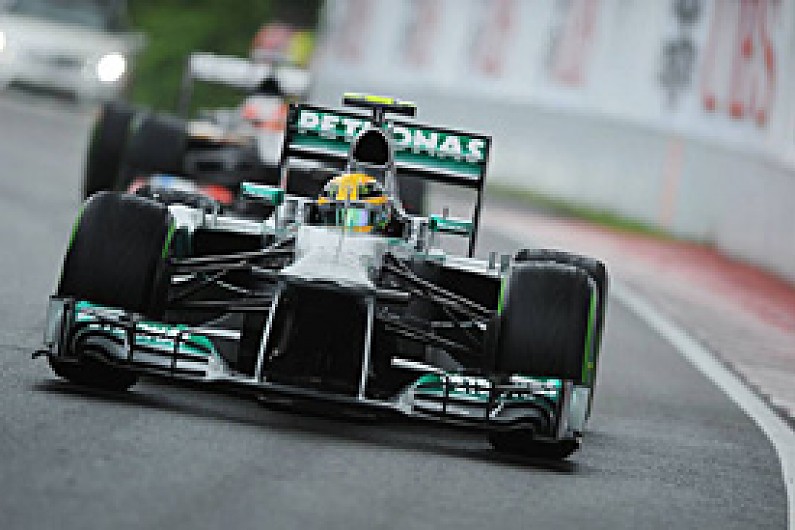 "One thing we did learn is we can tip very easily over the edge with the tyres, and then not get them back again.
"The great thing at Monaco is that we could take it easy in the first five to ten laps when it was needed to be cautious with the tyres and take it from there.
"We won't be able to do that here."
Nico Rosberg thinks Mercedes' tyre situation has improved in recent weeks, but the team was still not in a position to say it was comfortable.
"Barcelona is not long ago and it was a massive weakness we have had," he said. "We have been working on it and hoping that we have improved a little bit but we are not there yet and it is still not good enough."