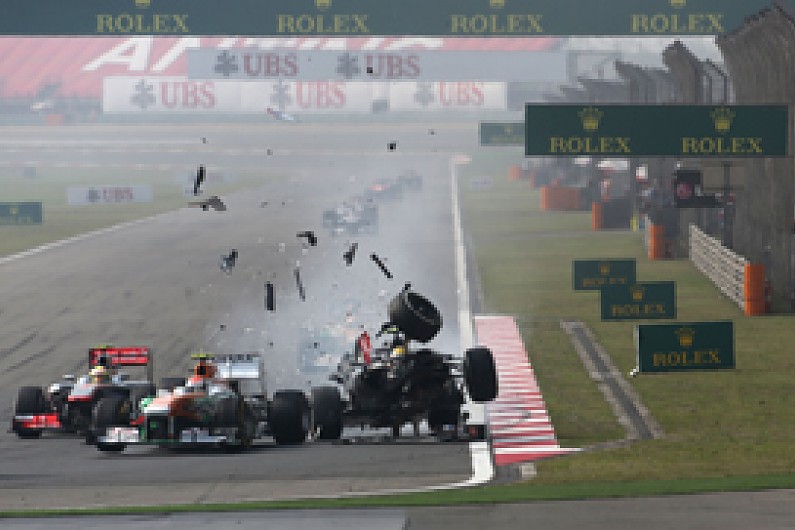 Plans for Formula 1 to introduce a licence penalty points system for drivers have been approved by the teams.
The matter now only needs to be rubber-stamped by a meeting of the FIA's World Council Meeting in June before being implemented in the 2014 regulations.
Following a meeting of team managers in Barcelona to discuss the matter, as first revealed by AUTOSPORT, the proposal of having a licence points system was approved by seven of the current 11 teams.
AUTOSPORT understands that the four outfits that were not in favour were Red Bull, Toro Rosso, Williams and Lotus.
The system will give stewards the right to impose points on top of more regular punishments for a host of driving infringements.
Stewards will be free to choose the level of points doled out for rules breaches, but will be given an advisory level for numerous infractions - such as three points for causing a dangerous collision and one point for failing to maintain the correct distance from the safety car.
Any driver that tots up 12 points over a 12-month calendar period will be handed a one-race ban.
Points will stay on a driver's licence for 12 months, but will drop off once that time period is up.
F1 drivers have generally been in favour of the idea of penalty points, although the resistance from teams like Lotus and Williams may well stem from the fact that their respective drivers Romain Grosjean and Pastor Maldonado have a history with race stewards.
Ferrari's Felipe Massa said about the idea: "From what I saw, I don't think it will be so different to what we saw until now.
"Drivers who are creating problems will suffer more than the others. What I did all my career was not be involved in this, so it is OK."
The proposal for the penalty points system will now go to the FIA World Council, rather than the previous route of requiring approval from the F1 Commission first, because the absence of a Concorde Agreement means that that rules process no longer exists.
The new Concorde Agreement has plans for a revised F1 Commission but until it is signed it does not officially exist.
'PENALTY LAPS' REJECTED
F1 teams also discussed the idea of introducing 'penalty laps' in Formula 1 as an alternative option to be given drive-through punishments in races.
They would have been used for offences where it was felt a drive-through was too much - and would require a driver to complete a lap five-seconds slower than his previous tour.
However, the matter did not receive the necessary majority support from the teams and has been dropped.