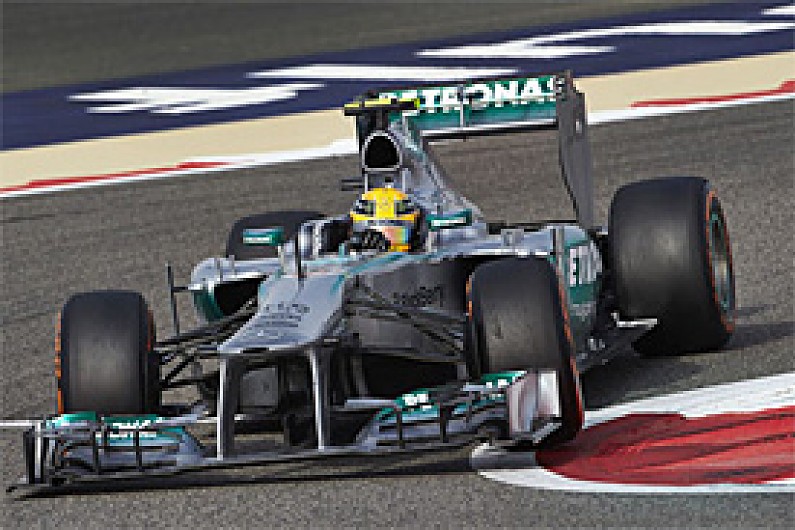 Mercedes has warned its drivers that it has not yet fully got on top of the tyre issues that have hit their race pace in the first four Formula 1 grands prix of the year.
Although Lewis Hamilton and Nico Rosberg have shown strong single-lap pace in the new W04, the car's characteristic of overheating its rear tyres has hampered its chances of delivering a win so far.
Team principal Ross Brawn says progress has been made on the tyre issue, but that the outfit was not expecting the matter to have been totally sorted by next weekend's Spanish Grand Prix.
"We have focused our efforts in two key areas; finalising our upgrade package for Spain and understanding our comparative lack of race pace in Bahrain," said Brawn about the work done since the last race.
"We have made progress in the latter area and will evaluate some developments over the upcoming race weekends to help improve the situation.
"We're not there yet but we are making progress and of course, performing in the race is what really counts."
DRIVERS PIN HOPES ON UPGRADES
Although the tyre issue will dominate the team's thoughts in Spain, both Rosberg and Hamilton believe that the Barcelona weekend will also show if it has the development potential to keep up its early season speed.
Like most teams on the grid, the team will deliver an upgrade package that it hopes will produce enough of a step to get a jump on the opposition.
Rosberg said: "It will be an interesting weekend and once we see how everyone performs in Barcelona, it should give a good idea of how the rest of the season will look."
Hamilton added: "I'm feeling very comfortable in the car now and we know the areas that we need to improve so a lot of effort is being put in to close that gap to the frontrunners.
"Barcelona should be a good test as we know the circuit so well having completed most of the pre-season test programme there.
"The weekend should be a good benchmark of the progress we have made since then."