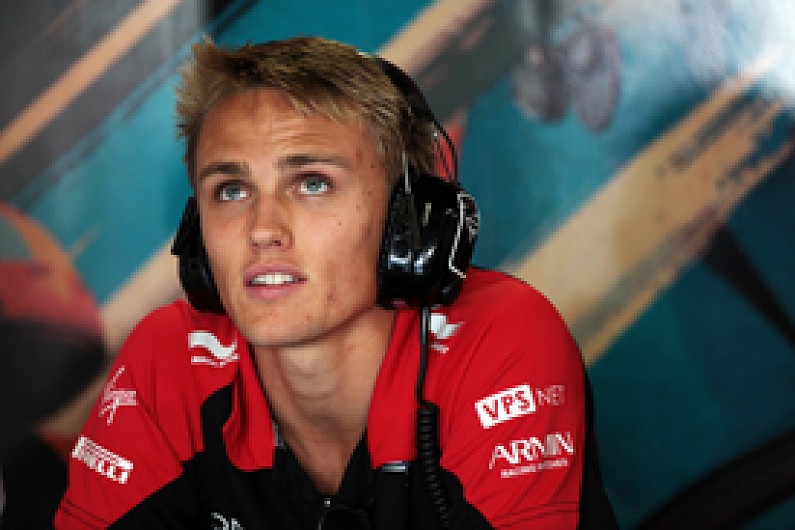 Max Chilton will make his Formula 1 debut next year after securing the second race seat at Marussia.
As predicted by AUTOSPORT back in September, Chilton has been given the nod to line up alongside Timo Glock in 2013 after being promoted from the reserve driver role he held at the end of this season.
Speaking about his F1 opportunity, Chilton said the six races where he worked with Marussia had proved invaluable in helping him prepare for next year.
"It's hard to put into words how I'm feeling today, with the announcement that I will be racing for the Marussia F1 team in 2013," said Chilton, who took part in Friday practice for the outfit in Abu Dhabi.
"It comes at the end of what has been a fantastic year for me, and those steps - my GP2 pole positions and wins, my performances in the F1 young driver test and in FP1 at Abu Dhabi - have given everyone the confidence in my ability to compete at the highest level of motor sport.
"I am very fortunate to have spent the last six races with the Marussia F1 team as reserve driver, which means that instead of a standing start, I am already up to speed and at ease with the people, the culture, the systems and of course, the 2012 package."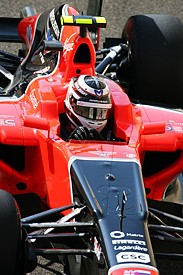 Click here for Tony Dodgins' feature on Chilton's first weekend on track for Marussia
Chilton's graduation to F1 comes after he emerged as a frontrunner in GP2 in 2012, winning the feature races in Hungary and Singapore. He had also been a race winner in British Formula 3.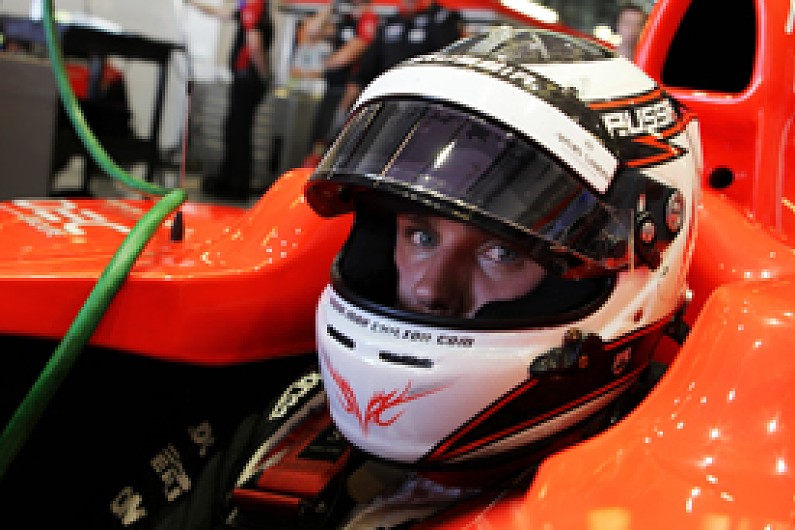 Marussia team principal John Booth said that the team was convinced by Chilton's potential ever since it promoted him to the reserve driver role in September.
"We have spent a significant amount of time evaluating his performances during 2012, both in our own car in a testing situation and also from the pitwall as we monitored his progress alongside the other members of our junior talent pool during grand prix support races," explained Booth.
"We felt confident enough in his ability and potential to appoint him to the role of reserve driver in September and since that time his development has been rapid in all aspects.
"First and foremost, he has shown himself to be extremely capable in the car."
Chilton's promotion to F1 means there will be four British drivers on the grid next year - with Jenson Button, Lewis Hamilton and Paul di Resta also competing.
AUTOSPORT SAYS
Edd Straw, F1 editor
Inevitably, the long-expected confirmation that Max Chilton would step up from GP2 to Formula 1 with Marussia will re-open the debate about pay drivers.
Earlier this season, Chilton was asked about the perception of him as a pay driver and he gave a very sensible response.
"I like to ignore it, but you can't because it gets brought up," he said. "But that's the way motor racing is. Not many people on the F1 grid would have started racing if they didn't have a wealthy backer to start with."
He's absolutely right, so let's take it as a given that, like many other drivers, he needed funds to secure the seat. There's no disgrace in that as it is the way of the world.
Given that pay driver is used as a pejorative term, it's important to note that Chilton is far from underqualified to race an F1 car.
He did, after all, finish fourth in GP2 last year, albeit in a year that has to be considered as one of the weaker in the category's short history in terms of depth of driver ability. But we can dismiss the idea that he's unworthy of sitting in a grand prix car immediately.
During his 2012 season, he won GP2 feature races (ie - the non-reversed grid ones) in both Hungary and Singapore and showed dramatically improved racecraft from his previous two campaigns. There have been plenty of drivers with patchier GP2 careers who have done a decent job when they stepped up.
That is firm evidence that he's a driver capable of improving and learning. At just 21, he still has time on his side. He's also level-headed and did a tidy job in test outings for Force India and Marussia, so he's clearly not overawed by F1 as some so-called pay drivers have unquestionably been in the past.
There are certainly some rising stars who have made a bigger impression in the junior ranks who you could argue merit a shot ahead of Chilton - Robin Frijns to name one - but that doesn't have to mean that Marussia's new driver is to be dismissed.
He comes into F1 with six years of single-seater racing under his belt having started out in British F3 at the age of 16. He has won in F3 and GP2. Just because he's had to bring a budget and, right now, wouldn't be considered one of the best 24 drivers in the world doesn't mean that he is incapable of doing a solid job in his first season.
Now that he does have an F1 drive, what he now deserves is the chance to prove himself either way.
2013 Formula 1 line-up so far:

Red Bull     Sebastian Vettel  Mark Webber
Ferrari      Fernando Alonso   Felipe Massa
McLaren      Jenson Button     Sergio Perez
Lotus        Kimi Raikkonen    Romain Grosjean
Mercedes     Lewis Hamilton    Nico Rosberg
Sauber       Nico Hulkenberg   Esteban Gutierrez
Force India  Paul di Resta     seat still available
Williams     Pastor Maldonado  Valtteri Bottas
Toro Rosso   Daniel Ricciardo  Jean-Eric Vergne
Caterham     Charles Pic       seat still available
Marussia     Timo Glock        Max Chilton


Autosport has produced a standalone special magazine to celebrate our 70th birthday. All current print subscribers will receive a copy for free. To order your copy of the 196-page Autosport 70th Anniversary issue, please go to: autosport.com/autosport70th