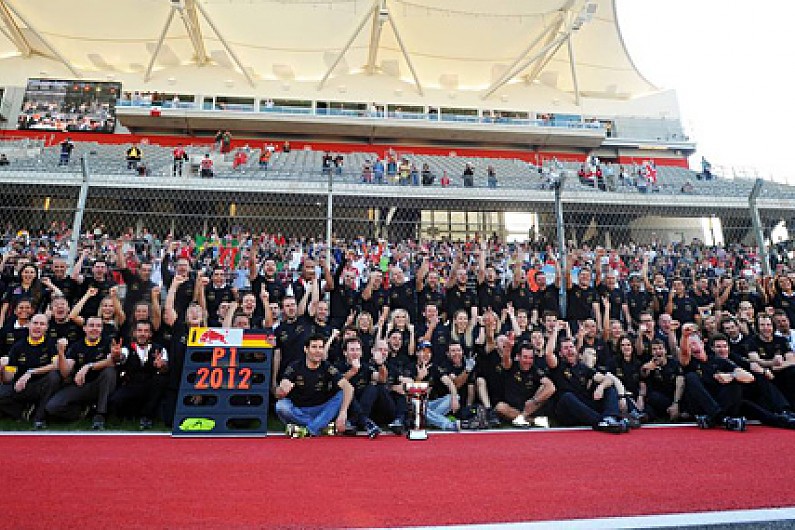 Red Bull boss Christian Horner says his team's third consecutive title may be a dream come true for the outfit - but its job for the season is still only half done.
Sebastian Vettel's podium finish in Austin was enough for Red Bull to clinch its third straight constructors' crown, and leaves him at the head of the drivers' standings heading to the finale in Brazil.
Although the constructors' success means that Red Bull will achieve the maximum prize money from the season, Horner said there would not be too many celebrations just yet because the drivers' battle was still wide open.
"We are halfway there," he said. "We have closed down one championship - and to have won a third consecutive constructors' is something that we could only have ever dreamed about a few years ago.
"To have achieved what we have in 2010, 2011 - and 2012 against the opponents we have in only our eighth year in the sport is something that is quite remarkable.
"It is testimony to the long hours, dedication and determination that there is within the team, that we have managed to achieve this - and it is something every member of the team is fiercely proud of."
Horner believes that there was little to choose between the pace of Vettel and eventual race-winner Lewis Hamilton in the United States GP, with only the backmarker mix-up between Narain Karthikeyan proving the decisive moment.
"I think it was nip and tuck between the two of them in the race. In the dirty air it was tricky to get too close, and Seb did a fantastic job in managing the gap to Lewis.
"Lewis was a little stronger than us in the first sector, but in sectors two and three we were able to eke out a bit of a gap. It was about not making any mistakes and Sebastian was driving immaculately well.
"I am quite convinced that without the backmarker he could have hung on, but that is motor racing. So to finish second, to have extended our lead by three points, is still a fantastic result."
He added: "We now head to Brazil with a 13-point lead and obviously still everything to play for. I have said all season that I think this season will go to Brazil and unfortunately I have been proven right today."
Autosport has produced a standalone special magazine to celebrate our 70th birthday. All current print subscribers will receive a copy for free. To order your copy of the 196-page Autosport 70th Anniversary issue, please go to: autosport.com/autosport70th