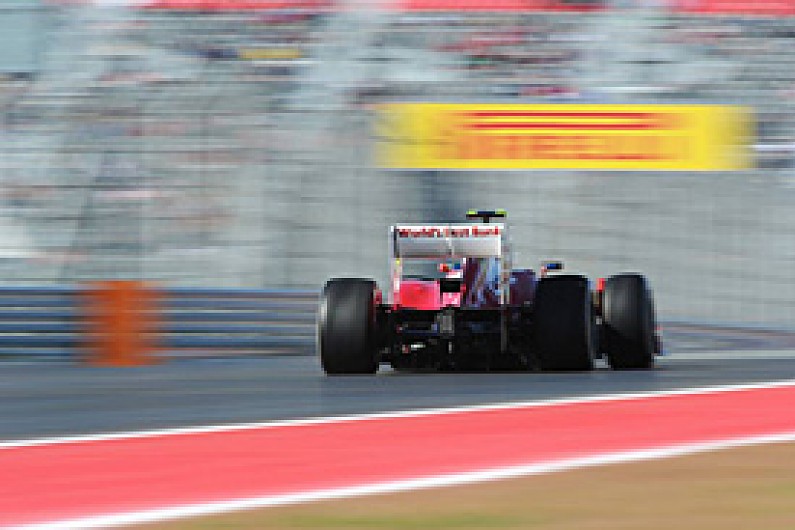 Felipe Massa believes the start of the United States Grand Prix will be a disaster for anyone on the 'even' side of the grid - where both Ferraris are set to start.
Although Massa and team-mate Fernando Alonso qualified seventh and ninth at Austin, they will both gain a place - and switch sides of the grid - when Romain Grosjean's gearbox-change penalty takes effect.
"I think it will be the biggest difference you ever saw at a start," said Massa.
"It will be massive. This morning I did the start on the left, and I was slower than in the wet."
The Brazilian said the start issues will be exacerbated by the difficulties with tyre warm-up at Austin, which he felt was Ferrari's key issue in qualifying.
"The problem we have here is the tyres are too hard for this track. The warm-up is really difficult," Massa said.
"You go out of the garage and it is like you are driving on ice. It takes forever to get temperature in the tyres.
"Every lap you do, you improve on the next lap, as you have the grip, so the best lap is always the last.
"It was better in Q2 than Q3, but I did more laps, so that was better for the tyres.
"In Q3 I didn't do a really clean, perfect lap, but I'm sure having less laps on the tyres was not helping."
Although Alonso's championship hopes are on the line with title rival Sebastian Vettel storming to pole, Massa said he would not just be trying to help his team-mate progress on Sunday as Ferrari was still in a constructors' championship tussle with McLaren.
"We're fighting with McLaren for second place in the championship," he said.
"It's very important for us. The target for tomorrow is to do the best we can to score points for the constructors' championship.
"Fernando is not starting in a great position, but if I can help him, for sure I will do everything I can to help."