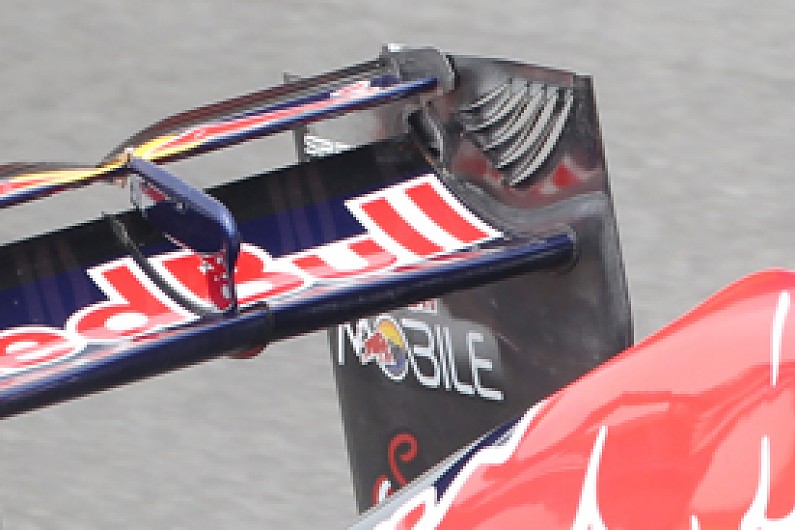 McLaren believes that rival Red Bull's upturn in form is down to a genuine step forward with its whole aerodynamic package, rather than simply the recent introduction of its double-DRS.
As detailed images of the hidden duct in the Red Bull rear wing emerged at the Korean Grand Prix, there has been a renewed debate about how much the concept has played a part in lifting the pace of Mark Webber and Sebastian Vettel since the Singapore GP.
But despite Red Bull taking its second consecutive front-row lockout in Korea, McLaren technical director Paddy Lowe does not concur with suggestions that double-DRS has been a 'silver bullet' for the champion squad.
Instead, he reckons that McLaren's main rival for the constructors' championship has delivered an overall improvement to its car - which puts the onus on Lowe's outfit to find more speed.
Asked by AUTOSPORT whether Red Bull's double-DRS would force McLaren to rethink its own plans for a device, Lowe said: "I don't know how you would know that - that they have done a great job with it.
"They appear to have made a good step on their car - but I doubt that is all down to their system. I doubt a lot of it was down to the system actually. You will find it is just general development."
Lowe believes that the benefits of the double-DRS are actually quite marginal - which is why only Mercedes and Red Bull are currently running with it.
Red Bull is believed to have raced its double-DRS for the first time at the Singapore GP, having tested it at events before then.
"It is difficult to know what they are gaining from it to be honest," said Lowe about Red Bull's step forward coinciding with its double-DRS's debut.
"It is interesting, as we have had three different types of circuits - and two of them were double-DRS. Lotus has struggled a lot with its [double-DRS] ideas.
"One of the things you find is that the performance trade-off will be quite marginal with anything like this, which is why you haven't seen a lot of cars rushing out. And once they have, they have all come out with different things.
"What you might gain [with aero], you might lose because of weight. It is a marginal opportunity, relative to when F-flap [F-duct] was permitted - and you had much larger gains on the table.
"Having shut down F-flap mostly, these are all developments of the same ideas. The gains this year are already pretty marginal and next year even those opportunities have been shut down."
When asked if McLaren was going to introduce its own double-DRS, Lowe said: "It doesn't necessarily mean we won't be doing that, but we won't do it for next year because it is [becoming] illegal."