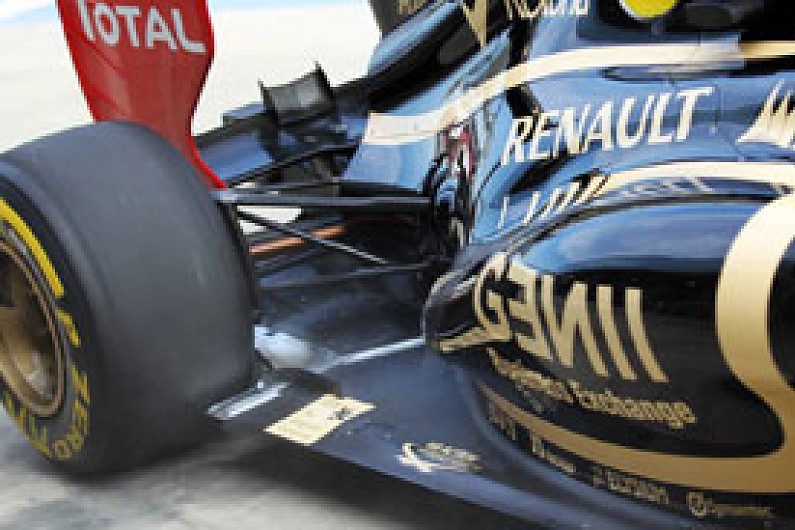 Lotus is set to keep its new Coanda-effect exhaust system on the car for the rest of the Korean Grand Prix.
The new package was initially trialled on Kimi Raikkonen's car in Yeongam practice.
Lotus technical director James Allison underlined that the upgrade was far from optimised, but indicated it would stay on the car into the weekend.
"We're reasonably happy with the way they are working," he said.
"We are at the beginning of a relatively long road with them. It's not straightforward to make them work from the start, but numbers we got are good so we are quite pleased."
Asked if Lotus would keep the exhausts on for Saturday, Allison replied: "I think so, yeah. We haven't decided yet but it looks like we will."
Allison added that Lotus had been working on the exhaust system since the start of the year, but had not prioritised the development as it was getting consistently strong results without it.
"At the point where we were committing to what we were going to start the season with, we had a Coanda path and a simple exhaust to optimise power," he said.
"At the time the Coanda solution was worth a bit more than the power maximising solution but you had to be confident that it was going to deliver on the downforce loss.
"Where we were when we launched the car, that was a finely balanced decision, and we got away and had a reasonably bright season and have been pretty competitive deep into the year.
"We worked on the other option because that was where the centre of opinion in the pitlane was.
"It got to the point where the gain of the Coanda system was sufficiently ahead of our previous race system that it was clearly something to look at this year and to make sure we were doing the right thing for next year.
"We could have committed earlier but things were going quite well for us on track."
Lotus's last major development was its double-DRS, which has yet to make it beyond practice as the team struggled to get the best out of the system.
"We're not giving up on it because there is some goodness in there, but that really is tricky. Well, we found it so," Allison said.
"So we will keep working on that, but probably you will not see it as much on Fridays.
"We will bring it out to play at the young drivers' test and hope to make some progress there."