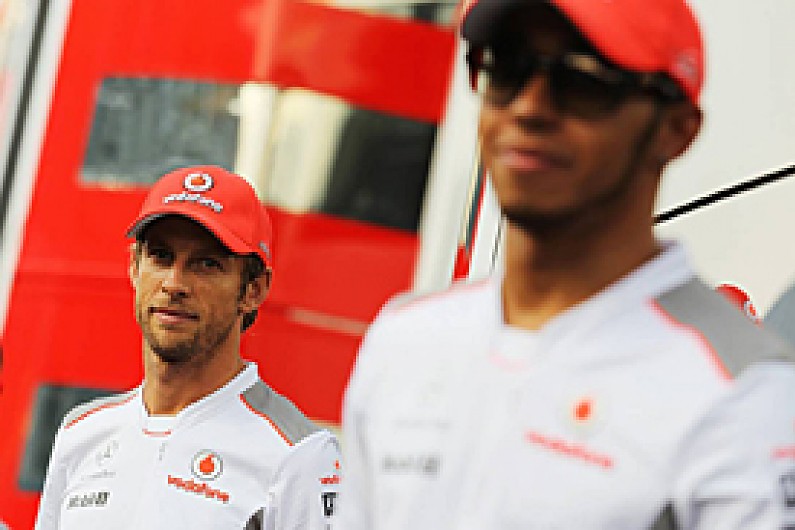 Jenson Button is adamant that McLaren's season is not at risk of being derailed by Red Bull's form and talk of tension between him and team-mate Lewis Hamilton.
Button moved on Thursday to brush off talk that there is any friction between himself and Hamilton over comments posted by his team-mate on Twitter earlier this week.
Instead, he said his priority is helping McLaren catch Red Bull in the constructors' championship.
"It is 41 points, which is not massive at all," explained Button in Korea about his focus on his team's battle.
"We didn't have a great race in Japan and only lost a couple of points. We can claw that back in one race which is the great thing.
"The constructors' championship is definitely on. Winning races is my focus but when I get out of the car at the end of the race and look at points, that [the constructors'] is the bit I look at.
"Winning the drivers' [title], is such a slim opportunity, if it happens it happens. But I am not going to get excited about it."
Twitter incident
Button's relationship with his team-mate was put under the spotlight earlier this week when Hamilton questioned his team-mate's 'respect' for him in a Tweet where he mistakenly suggested that he had been unfollowed. Hamilton later apologised for the mistake.
When asked if he had been surprised at Hamilton's attitude, Button said: "People have their own opinion...for me it is just amazing that we are sat here talking about it. Lewis came and apologised which is good."
Hamilton was also keen to move on from the Twitter incident.
"I just have to put my hand up. I made a mistake," Hamilton said. "Sometimes we do that, sometimes we say things in the heat of the moment and you don't actually mean what you say.
"But there's nothing we can do about it. I apologise. That is it. We move forward.
"I apologised to him. I couldn't get hold of him on phone, he had a late night out on Sunday, and then he replied, and I saw him."
The 2008 world champion, who also landed himself in trouble with tweets over the Belgian Grand Prix weekend, admitted that he might have to rethink his approach to social media.
"Perhaps me and Twitter don't go too well," he said. "I don't know what I am going to do.
"I like it because I like to be able to share the great experiences I have with the fans, but lots of people get it wrong - and I am one of those - so I will try and improve."
Drivers fine
McLaren chiefs are also comfortable that the relationship between its drivers will not become disruptive.
Speaking in a Vodafone teleconference on Thursday, McLaren managing director Jonathan Neale said: "Does it concern us in terms of the relationship within the team going forwards in our assault on the championship? It doesn't.
"Lewis has already spoken to Jenson out in Mokpo in Korea so I don't have any concerns about that. I think, as for Twitter itself, it's obviously an important part of marketing in news space, but it also has its drawbacks too, which is just one of those things.
"You just have to shrug your shoulders and consider it unfortunate. Lewis corrected the error he's made and he has spoken to Jenson. From inside the team we're fine and looking forward to this weekend actually."