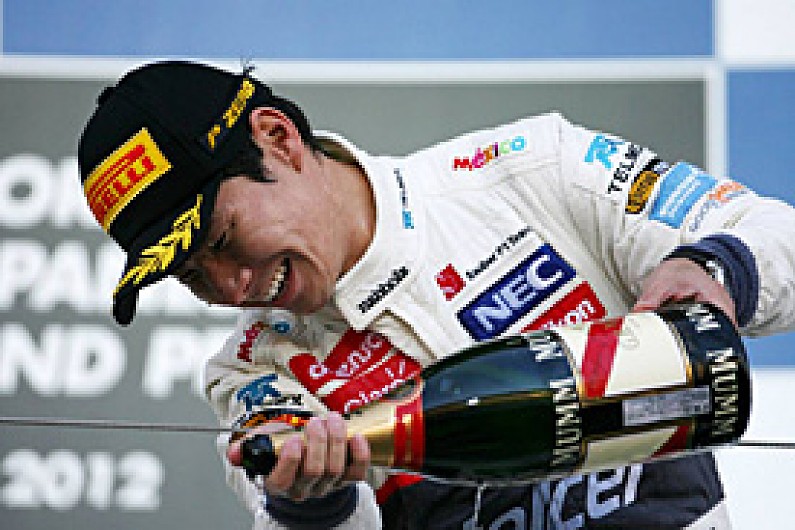 Kamui Kobayashi was always confident he could finish on the Japanese Grand Prix podium once he had got through the start unscathed and still in the lead group.
The Japanese driver has seen other potentially good races go awry on lap one this year - particularly in Belgium, where he qualified second but got away slowly and was caught up in the first-lap mayhem.
With his Sauber team-mate Sergio Perez delivering three podium finishes already in 2013, Kobayashi was under pressure to deliver. While Perez has sealed a McLaren drive for 2013, Kobayashi's future in the sport is currently uncertain.
But on home ground at Suzuka, Kobayashi started third, ran second in the first stint, and then after losing out to Felipe Massa's Ferrari in the first pitstops, he was able to resist Jenson Button's McLaren to the flag.
"It was a fantastic race," said the ecstatic Kobayashi.
"We were really working hard to get a podium and my team-mate has a couple of podiums already.
"I had a couple of chances in qualifying with good grid positions - but I never had luck. I've struggled on starts - many starts - but this time I think it was good to start in third. It was not a front row but the feeling was good because we had a long run on Friday and that was pretty good pace.
"I was confident through the week so when I gained position after the start I was pretty sure I could be on the podium.
"Then at some point we struggled a lot to hold Jenson off. The last stint was very tough."
Kobayashi's result equalled the best ever finish for Japanese drivers in Formula 1 - achieved by Aguri Suzuki at Suzuka in 1990 and Takuma Sato at Indianapolis in 2004.
It was received with huge enthusiasm by the Japanese crowd.
"I think finally finishing in points is fantastic, especially in front of my home grand prix," said Kobayashi.
"This is my first podium and it's amazing. I am happy for the fans and so many people supporting me.
"When you look around circuit, it is amazing. So thank you to the fans and we need to keep going for the future."