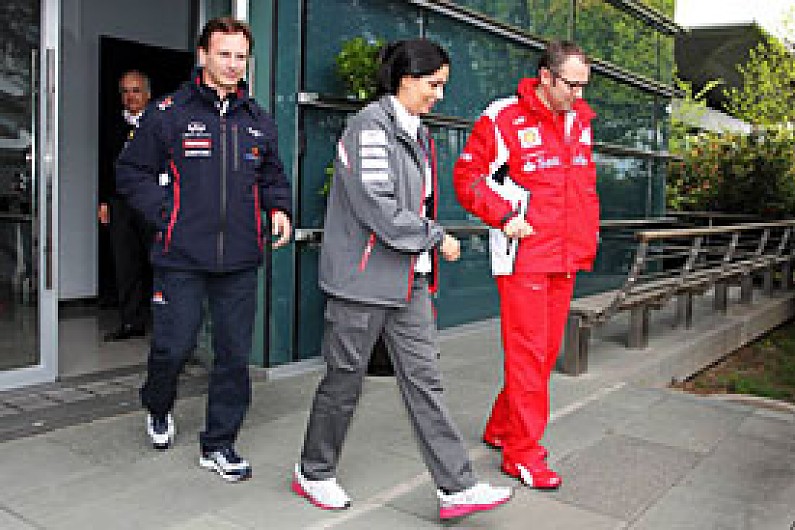 Formula 1 chiefs have called teams to a summit meeting in Paris for later this month to try and finalise a deal to secure the sport's future.
Amid ongoing negotiations to frame a new Concorde Agreement and sort out F1's financial framework going forward - which includes cost controls and FIA funding - the teams will meet with the governing body and Bernie Ecclestone in Paris on October 23.
Although a majority of teams have agreed commercial terms with Ecclestone for a new Concorde that will run until 2020, there remain issues about the FIA's involvement and responsibilities.
As AUTOSPORT revealed, seven teams wrote to the governing body last week expressing concerns about future regulation changes that were due to become a part of the Concorde Agreement.
These included the fact that only six teams would be present on a new Formula 1 Commission, that entry fees were rising dramatically, and that the FIA should make a bigger push to guarantee a Resource Restriction Agreement is implemented fully in 2014 and becomes voluntary next season.
There are also issues relating to the fact that the 2013 sporting regulations included 'listed parts' that help define what an individual constructor would produce. This prompted concerns that rules could be forced through, without approval from teams, to remove these and open the door for customer cars.
The meeting in Paris comes ahead of a likely October 31 deadline for entries to next year's championship.
The date had been moved back from its original slot in June because the governing body wanted more time to try and finalise cost cutting regulations.
Teams are reluctant, however, to lodge entries at the moment because they are unsure of exactly how much the entry fees are going to be. This should be clarified at the October 23 meeting.