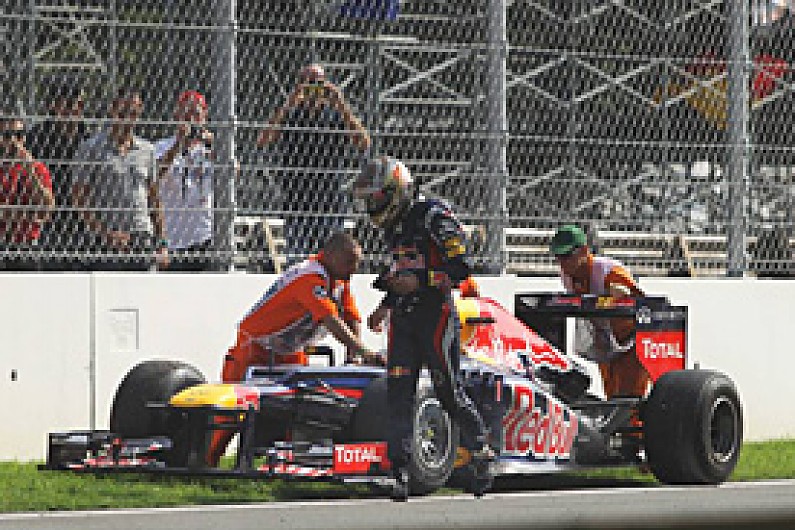 Renault is confident that it will be able to get to the bottom of what is causing the alternator failures that have hit Sebastian Vettel this year.
Vettel retired from Monza with a repeat of the problem that put him out at Valencia earlier this season, when he was on course to win the European Grand Prix.
Following the reigning world champion's retirement on Sunday, Red Bull team boss Christian Horner has told Renault that it cannot afford such repeat issues.
Although Renault does not yet know the exact cause of the failure - which also stopped Vettel in FP3 - the French car manufacturer says investigations planned for this week should shed light on the matter.
Renault's head of F1 track operations Remi Taffin told AUTOSPORT that the chances of finding an answer had been boosted by the fact Lotus made a precautionary alternator change on Jerome D'Ambrosio's car after qualifying - so that part could give it clues about what is going wrong.
"If there is a big cloud just above us, there is a small light behind it, because we could save the alternator from d'Ambrosio which was about to fail," said Taffin.
"We really hope that we can strip it and eventually understand what is going on, so we can put our finger on our failed mechanism. It is not a difficult part to understand."
Taffin does not believe that there is any obvious explanation as to why it has suffered alternator failures at Valencia and Monza, despite suggestions that it has something to do with high ambient temperatures.
After Vettel and Romain Grosjean retired from Valencia, Renault suspected a batch problem so reverted to older stock for subsequent races. It then introduced a new design with 30 per cent greater capacity.
"It is bigger but it has failed again," explained Taffin. "If you can make a parallel to Valencia it is only that both alternators failed after around 500km, and here was the same.
"The three units were 500km old, so when you ask me what we can do, then we need to test to 500km and it starts to get a bit tricky. I think we are facing a big mountain but we will climb it."
Taffin explained that the failure is caused when the alternator's internal temperature gets too hot for it to be able to produce the electrical energy that the car requires.
He also accepted criticism of Renault's general performance in last weekend's Italian GP.
"This weekend has not been acceptable from either a performance or a reliability point of view," he added. "We have to apologise to Red Bull for the failures on Sebastian's car.
"Clearly these types of issues should not happen and we will work tirelessly between ourselves and our suppliers to be back on form in all areas in Singapore and for the rest of the season."