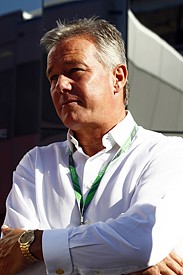 Craig Pollock's PURE company has been forced to suspend development of its engine for 2014, AUTOSPORT can reveal, on the back of an issue with its investors.
The Cologne-based operation is hoping to provide a supply of customer power units for the new 1.6-litre turbo engine V6 era, but it has been forced to cease work due to a funding issue.
Pollock, who set up the company, told AUTOSPORT on Friday that he hoped the matter would be resolved in the next few days - but that there was no possibility for it to continue its operations right now.
"The situation is very simple," he said. "The investor is US-based, but the bridging finance must come out of the EU as Swiss authorities are insisting upon that because of the tax situation.
"We expect bridging finance to be in place by the end of the month (July) and it will come from the EU."
Pollock said work had been quite advanced on the new engines, which were being assembled at facilities that were formerly used by the Toyota F1 team.
"We have been manufacturing the parts and putting engines together in Cologne, but that has ceased as of today."
PURE's technical director Gilles Simon sent an email to suppliers apologising for the situation, but said that it was vital that the team had the right funding in place if it was to continue.
In the email, a copy of which has been seen by AUTOSPORT, Simon said: "I would like to warn my colleagues working in Cologne that we are obliged to suspend our activities from August 1.
"In effect, the funds that we were expecting from our investors are not available and that will not allow us to begin this project on the correct footing.
"We hope that this situation will be resolved quickly but I have no idea when that might be possible or when we might be able to get the project up and running again. I apologise for this situation which is out of our control."
PURE was launched last year with the full backing of FIA president Jean Todt, and originally had hoped to be supply its engines for 2013. However, a delay in the introduction of the new V6s meant it had to revise its plans.