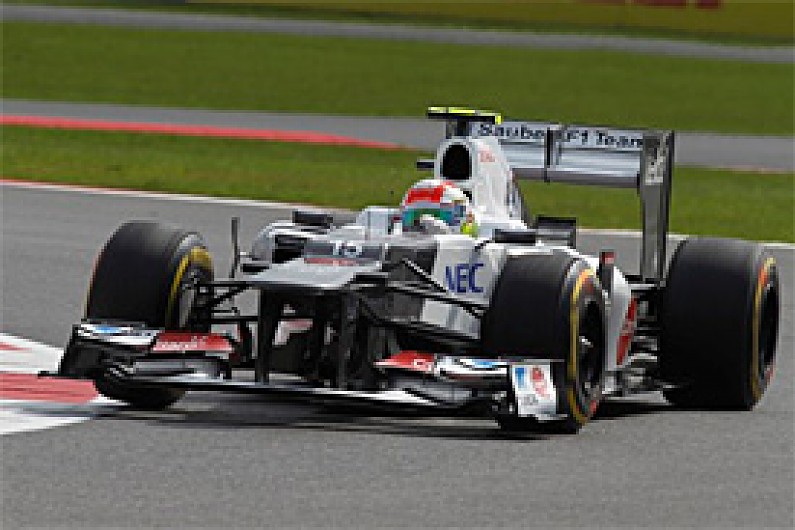 Sergio Perez has called on the FIA to take action against Pastor Maldonado, after the pair of them collided during the British Grand Prix.
The two were battling for position in the early stages of the race when Perez tried to go around the outside of his Williams rival at Brooklands.
Maldonado appeared to lose control of his car as he turned through the left hander and ran into Perez - with the pair of them spinning on to the grass. Perez retired on the spot, while Maldonado was able to return slowly to the pits for repairs.
A furious Perez hit out at Maldonado afterwards - claiming the Williams driver was a danger to his rivals and calling on the FIA to teach him a lesson.
He said the spate of incidents that Maldonado has been involved in - including one with him in practice in Monaco and one with Lewis Hamilton in Valencia - showed that his rival needed to calm down.
"Pastor is a driver who doesn't respect other drivers. It's just a matter of fact," Perez told the BBC. "I was already in front, and if not he should have given me enough space not to crash, but he tried to push me all the way to the outside. I don't understand the way he is driving.
"I really hope the stewards can make something because the last three or four races he has done something to [other drivers].
"It is not the first time he has damaged my weekend. He did the same [to Hamilton] in Valencia, and they gave him a drive-through, which I think is not enough. This guy will never learn if they don't do something, because he is a very dangerous driver and he can hurt someone."
Perez said he was not alone in feeling concern about Maldonado's driving - on the same weekend when drivers were told by the FIA not to defend positions too harshly.
"Everybody has concerns about him," he added. "He is a driver who doesn't know we are risking our lives and has no respect at all. It is not a matter of close or not. He has no respect at all.
"The way he is driving I think the stewards really have to do something because it is not the first time he has done something. He affects a lot of drivers; I am not the only one."