For someone who "wasn't bright enough to go to university", Autosport's new technical expert Tim Wright has enjoyed a motorsport career that would be the envy of most engineers.
From running Alain Prost to back-to-back Formula 1 world championship titles in 1985 and 1986, winning Le Mans as a race engineer at Peugeot in 1992 to working with the likes of Ayrton Senna, Michael Schumacher and Fernando Alonso, Wright has been at the heart of the action for the past 40 years and remains involved in engineering today in sportscar events around the world.
Starting out as a draughtsman and working his way up to race engineer, he's been in teams with some of the most powerful and significant figures in motorsport, including Jean Todt, Ross Brawn and Ron Dennis, had input into legendary machines such as the all-conquering McLaren MP4/4, and seen first-hand the transformation that resulted from the adoption of ground-effect and the data revolution.
There are few better qualified to bring you the best insights into the latest technical developments in F1 and beyond.
Wright, 71, started his career with a four-year apprenticeship with Babcock and Wilcox, a company making nuclear and steam boilers, before moving onto ejector seat company Martin Baker where he was bitten by the motorsport bug and started racing Mini 7s with money inherited from his grandfather.
After a tough first year, during which Wright admits he was "pushed around a bit", he acquired a purpose-built engine from Mini specialist Richard Longman and took a second place at Brands Hatch - "that was the first time my name ever appeared in Autosport" - before an altercation with an earth bank at Mallory Park spelled the end of his short-lived racing career.
Determined not to give up on his motorsport dream, he then got a draughtsman job at March Engineering in 1974, and was thrown into the deep end working on "everything from Formula 3, Atlantics, Formula 2 and sportscars".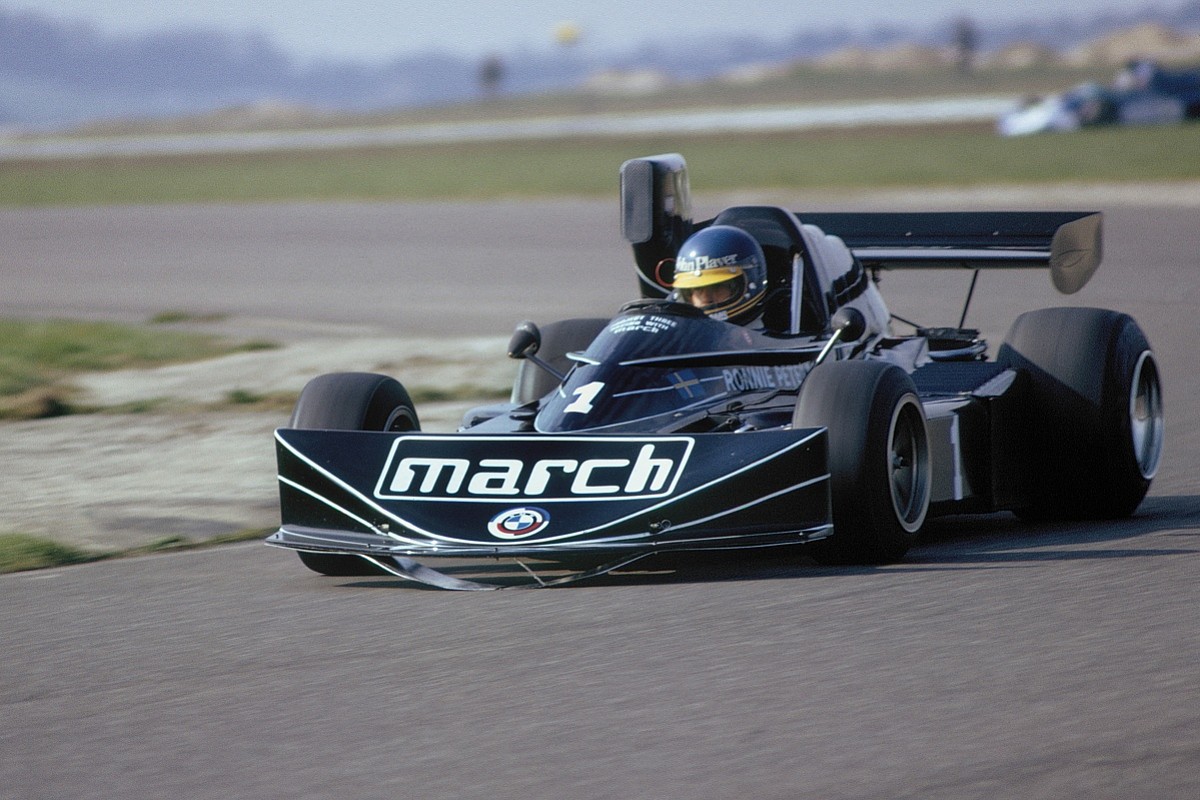 "During the off-season, I put together assembly drawings of all the different types of cars and their constituent components, which was rarely done in those days," he says. "At March you tended to size up a couple of bits for a Formula Atlantic from a Formula 3 car, but it had to be that much beefier and more rigid."
His F1 involvement while at March was limited to sorting the suspension on the radical six-wheeler 2-4-0 that never raced, yet for Wright it proved "a really good grounding before I went on to places like McLaren".
Prost won on Wright's debut as a race engineer in Brazil, and went on win another four times on his way to the 1985 world title
F1 became Wright's sole focus when he arrived for his first spell at McLaren in late 1976, as Teddy Mayer's team was in the midst of transitioning from the elderly M23 to Gordon Coppuck's new M26. Wright recalls Coppuck - who Wright would later team up with again at Spirit - as an "incredible engineer" but concedes that he was "lost" when the ground-effect craze took hold, instigated by unrelated name-sake Peter Wright and Colin Chapman at Team Lotus.
"Gordon was struggling with the concept of ground effect and the one car that really outlined that was the M28 [used in 1979]," he says.
"The car was far too flexible and it was too long. Considering the amount of downforce the ground effect was giving, the chassis just couldn't cope with it."
One podium for John Watson aside, McLaren was in a tail-spin, which continued into 1980 and would only be righted when Dennis and John Barnard took the reins the following year. But by then Wright had left to follow McLaren's charismatic team manager Alastair Caldwell to the Fittipaldi team.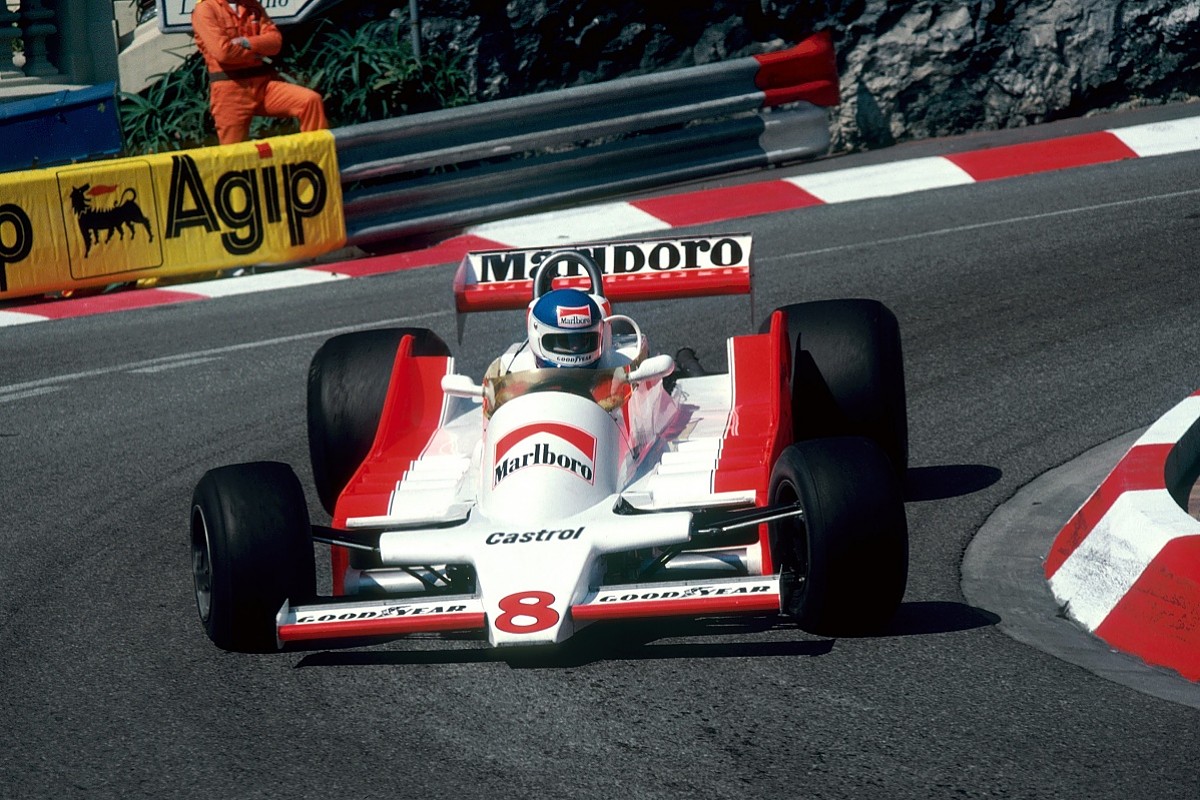 Former Lotus team manager Peter Warr and future Ferrari technical director Harvey Postlethwaite led its technical staff, a young Adrian Newey had joined the team fresh out of university, while two-time world champion Emerson Fittipaldi and future world champion Keke Rosberg were its two capable drivers.
But the team never fulfilled its obvious potential and folded after a miserable 1982 season, prompting Wright to join the tiny Spirit team co-founded by Coppuck and John Wickham for 1983 as "a means to an end to stay in F1".
Using an adapted Formula 2 car fitted with a turbo-charged Honda engine built in the kitchen of a rented house on the outskirts of the Slough trading estate, Spirit was up against it from the start. Even the best efforts of a determined Stefan Johansson counted for little, but the experience gave Wright an insight into life beyond the drawing office for the first time.
A return to McLaren beckoned for 1984, and it was a very different outfit to the one he'd left.
"It wasn't much bigger, but everything was slicker and much tidier," recalls Wright. "It was all part of Ron's OCD, everything was very clean and clear cut, and John was meticulous with how we approached the design. There was a lot more optimism about the place."
McLaren had swept the drivers and manufacturers titles in 1984, with Niki Lauda pipping Prost by half a point, but by 1985, Prost's race engineer Alan Jenkins had fallen out of favour with Barnard and Wright was offered the opportunity of a lifetime. Prost duly won on Wright's debut as a race engineer in Brazil, and went on to wrap up the 1985 world title.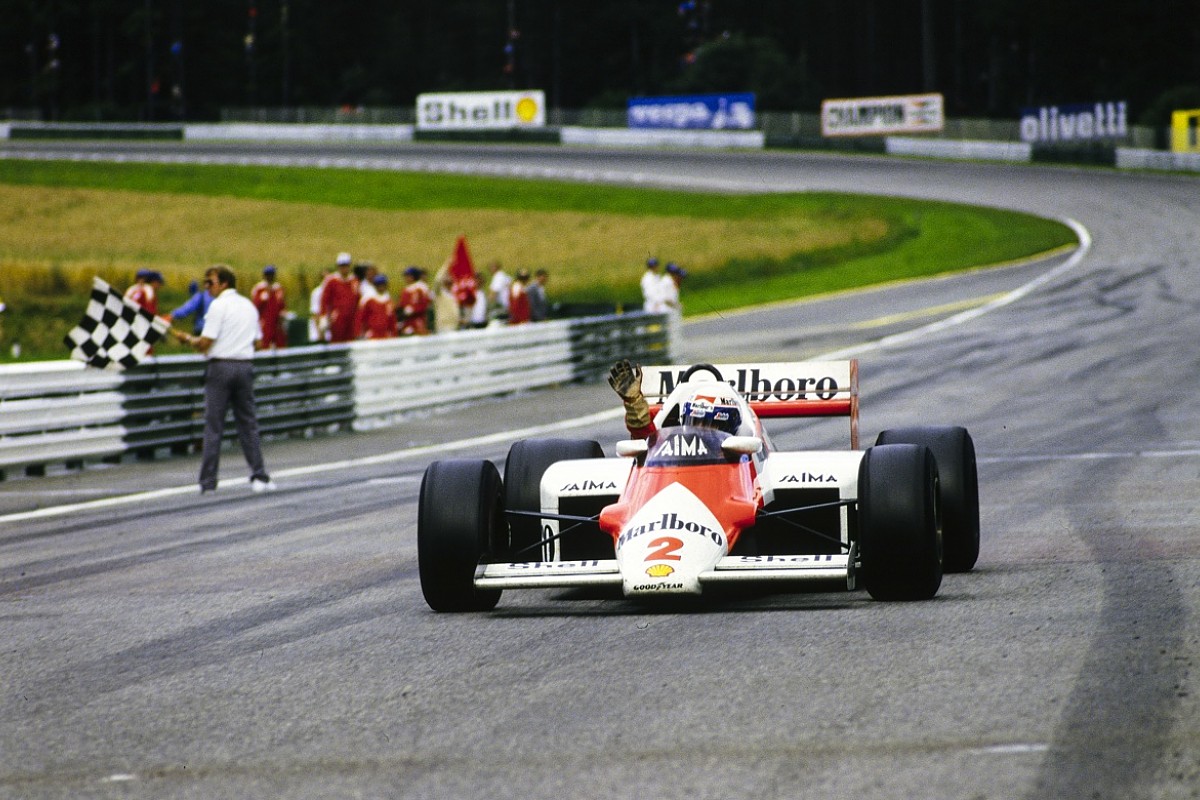 Prost then doubled up in 1986, but it was anything but a cakewalk as the Honda-powered Williams FW11 - benefitting from the early engine development done by Spirit - proved the car to beat. Yet in the absence of a clear pecking order at Williams, Nelson Piquet and Nigel Mansell took vital points off each other to allow Prost a fighting chance, which he ruthlessly took when Mansell suffered a dramatic tyre failure tyre in Adelaide. Wright cites it as the race of his life.
"Those last five or six laps, we didn't know if he was going to run out of fuel because the Bosch metering system was new and on their computer readout, we were minus," he recalls.
"We thought, 'Any lap, he's going to run out of fuel.' And virtually as he crossed the line, he did."
"Gerhard, as good as he was, was too much of a playboy. You can't maintain that level of intensity without balancing it with fun, but Gerhard took that too far"Tim Wright
Wright was given McLaren newcomer Johansson for 1987 as a vote of confidence in the Swede, but he endured a difficult year - not helped by hitting a deer in Austria - and departed at the season's end to make way for Senna.
At Dennis's behest, Wright then spent 1988 and 1989 travelling backwards and forwards to Japan to oversee the development of the new Honda V10 and V12 with future Le Mans ace Emanuele Pirro, who Wright rates as the best test driver he's worked with.
"You needed someone who was reliable, good feedback, someone you could depend on not to do silly things and get the right information," says Wright. "That's what Emanuele gave me."
Wright also attended occasional races overseeing the spare car, and was on duty at Monaco in 1989 when Senna requested to use it. All the while, he was still on the design team 'Helping out with designing bits and pieces as they were needed'.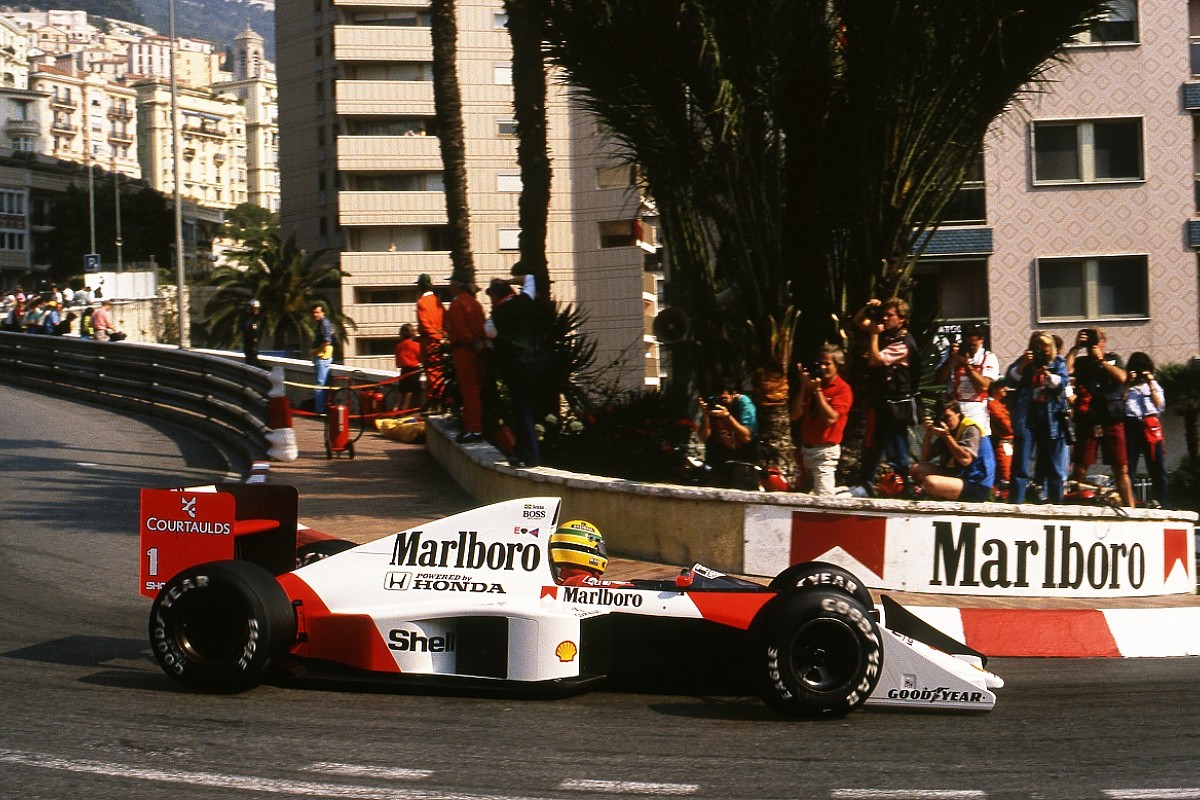 "It was a non-stop period for two years," says Wright. "It was incredibly intense, plus travelling to races and so on, but I was still active in the drawing office. By that time, there were a lot more people so we had people designing parts of the car that I didn't need to be involved in.
"But having been involved with the dyno testing with Honda, I did a lot of work on the oil tank and the pipework for the V10, it was quite tricky to get it to breathe properly."
With Prost heading to Ferrari, Wright was back on the race team for 1990 overseeing new arrival Gerhard Berger. He had to reconfigure the pedals to get the tall Austrian comfortable in the cockpit, but it made little difference to his prospects and he finished a distant fourth in points.
"He was great fun to engineer and he had more outright speed than Stefan, but he never really managed to keep up with Ayrton," Wright recalls.
"The one that stands out for me was Suzuka, when Ayrton took out Alain at the beginning of the race and Gerhard came around in the lead. I told him to be careful at Turn 1 because there would be crap all over the circuit, but for whatever reason he didn't take any notice and skidded off. He could have won that race easily.
"Gerhard, as good as he was, was too much of a playboy. You can't maintain that level of intensity without balancing it with fun, but for me Gerhard took that too far."
At the 1990 German GP, Wright was propositioned by Rosberg - Prost's McLaren team-mate in 1986 - to join Peugeot's nascent World Sportscar attack for 1991. The 905 was the first car built for the new 3.5-litre era of Group C, but the Finn's early optimism that Todt could replicate the marque's success in the Group B era of the World Rally Championship was soon replaced by concern.
"He asked me if I would go and help because in his opinion, they needed some direction as to how to engineer the car properly," says Wright, who quickly had to scrub up on his schoolboy French.
"The biggest problem was the car company was dictating what the car should look like and what bits that we should be using, it was very messy."
"We had to say to Todt, 'Look, I understand this is all political, but if you really want to be successful, you've got to take some of this stuff away from them'" Tim Wright
The chassis was built by aircraft company Dassault, which was more accustomed to hitting safety standards than pushing the boundaries of performance, with the result that the chassis was too heavy, the fixings were overcomplicated and it was aerodynamically deficient.
"The gearbox was horrendous, it weighed 80kg on its own and it kept breaking," Wright continues. "To enter 1991, they had to run it in Canada and it didn't last very long. Keke said that it had potential, but nobody there really knew how to engineer the car. A lot of detailed things needed looking at."
Philippe Alliot and Mauro Baldi won the opening round of the 1991 WSC at Suzuka when both Jaguar XJR-14s failed to finish, but the Peugeots were unable to challenge them over the season. Both 905s retired at Le Mans, and it was only at Magny-Cours, the sixth round of the season, that team leaders Rosberg and Yannick Dalmas reached the finish. They won, thanks to improvements to the chassis led by Wright and a new gearbox designed by Xtrac's Mike Endean.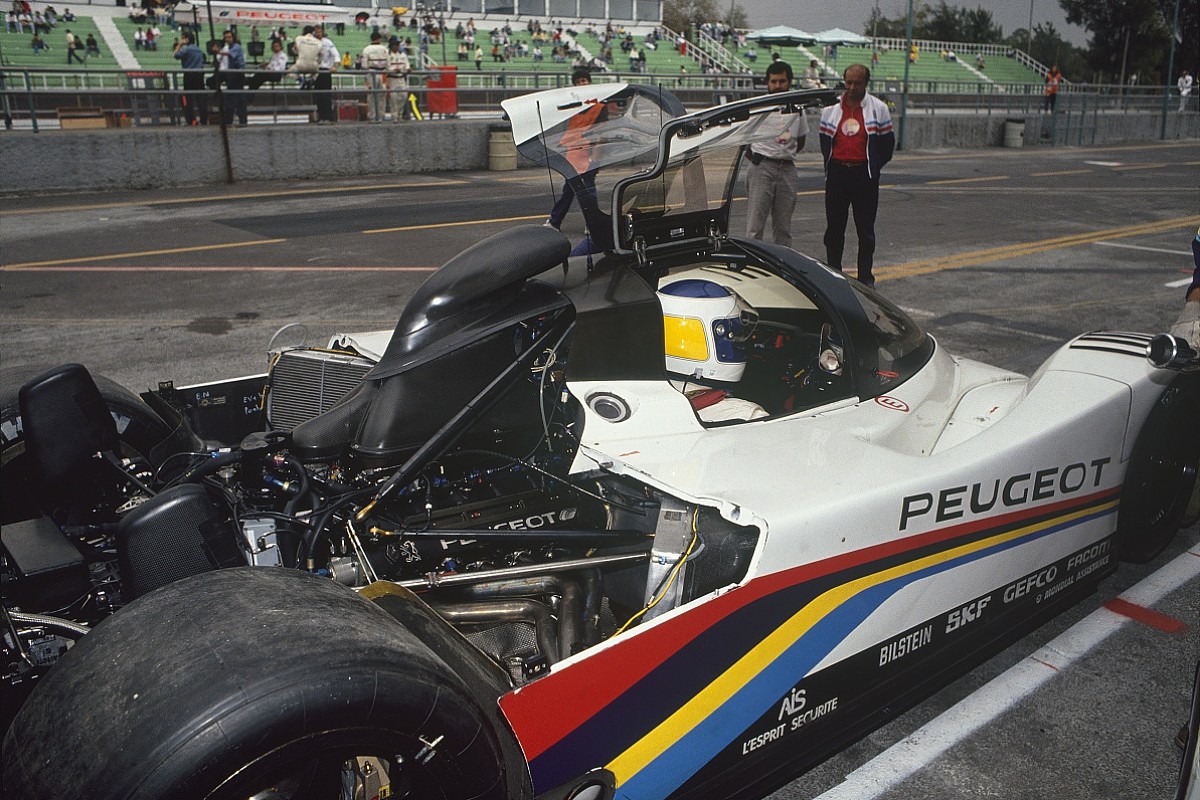 "That was a huge improvement as it was a sequential design that did away with the troublesome long traditional linkage," says Wright, "and I got guys I knew in the UK to beef up the suspension as well.
"A lot of the mechanics had been on the rally team before and they were good guys, but the whole design philosophy was being dictated by the car company. We had to say to Todt, 'Look, I understand this is all political, but if you really want to be successful, you've got to take some of this stuff away from them.'"
After the disappointment of 1991, Peugeot upped the ante for 1992 and were much better prepared for Le Mans the second time around. Although the withdrawal of Jaguar and Mercedes removed two major impediments to success at La Sarthe, it still had the Tony Southgate-designed Toyota TS010 and 1991 winner Mazda to contend with.
Wright was responsible for overseeing the Dalmas, Derek Warwick and Mark Blundell car which aside from a battery failure, enjoyed a clean run to victory, and subsequently the world championship title.
"We were doing 24-hour testing at Paul Ricard all winter, one a month for probably five months," says Wright.
"We took six cars to Le Mans in 1992 because they had three qualifying cars and three race cars. By that time we'd put thousands and thousands of kilometres on the cars, so we knew they were fairly bullet-proof.
"I don't think 905 was particularly easy to drive, but it was robust, it had a good engine and it used its tyres well."
The world championship collapsed at the end of 1992, leaving Le Mans as Peugeot's only major event of 1993. F1 veteran Thierry Boutsen had joined Dalmas and Teo Fabi in Wright's car for the 24 hours - won by the sister car of Geoff Brabham, Christophe Bouchut and Eric Helary - and when the Belgian extended the invitation for Wright to join him at Jordan, he "jumped" at the chance to get back to F1.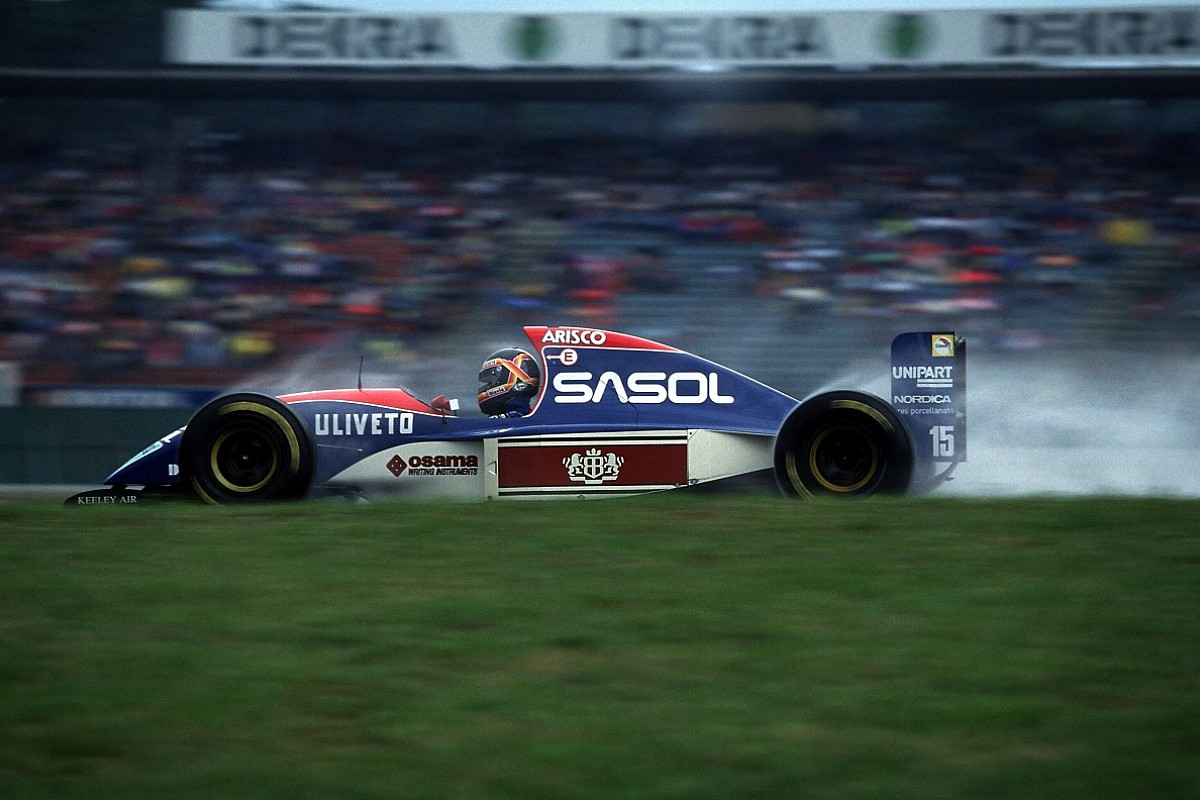 However, Boutsen wouldn't last long, and was replaced by Italians Emanuele Naspetti and Marco Apicella before Eddie Irvine took the hot seat at Suzuka, famously upsetting Senna by unlapping himself on his F1 debut.
"Ayrton didn't like that one!" chuckles Wright.
"We talked about it later on when I bumped into him at testing and had a bit of a laugh about it. Ayrton had that side to him, he was obviously very passionate about his racing but when he was relaxed, he was philosophical about things."
Andre de Cortanze, who had been the technical director of the Peugeot effort, then invited Wright to join him at Sauber for 1994 where Wright started the year engineering Karl Wendlinger. Wright admits he never felt comfortable in Hinwil and matters were made worse when the promising Wendlinger was seriously injured at Monaco.
"One time at Barcelona, we found something with the suspension that worked particularly well for Johnny, Michael asked what we had done and then improved his position" Tim Wright on his spell at Benetton
His replacement, Andrea de Cesaris, had previous history with Wright when he had balked Berger in qualifying for the 1990 Spanish GP: "I was totally incensed so I went marching off down the pitlane and I virtually picked De Cesaris up and pinned him against the pitwall!" says Wright, who considers working with the erratic Italian in 1994 his penance.
"He had no idea how to race, he would complain about everything. Nothing was ever right, he was just a nightmare to work with.
"I bumped into Ross Brawn, who I knew from Group C, and he was looking for an engineer to run Johnny Herbert, so I joined Benetton."
There, he got to work at close quarters with Schumacher, Brawn and Rory Byrne - the axis that would go on to dominate F1 in the early 2000s. But while Schumacher romped to the 1995 title, Herbert largely struggled and his two wins at Silverstone and Monza both came after his team-mate had been taken out by Damon Hill.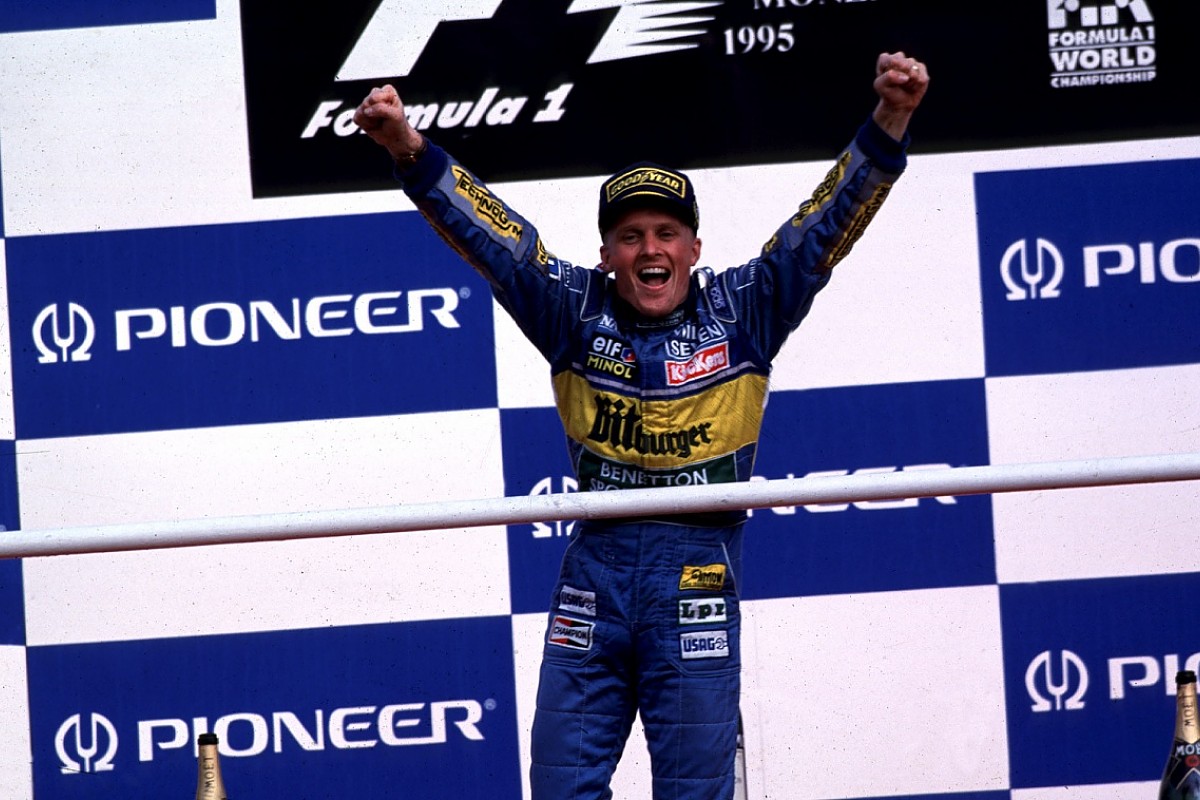 Wright maintains that Herbert was given every chance to make good on the opportunity.
"If there were new bits, they went to Michael, but we treated them as equally as we could," he says.
"There were times where he was slightly quicker than Michael, then Michael would ask me what we had done. One time at Barcelona, we found something with the suspension that worked particularly well, Michael asked what we had done and then improved his position. We gave him equal opportunities, Michael was just better."
Brawn had planned to set up a test team for 1996 prior to his departure for Ferrari, which Wright headed up while occasionally standing in for Pat Symonds as a race engineer whenever he was unavailable. He remained until 2009, by which time Benetton had become Renault and won back-to-back titles with Alonso in 2005 and 2006.
"We did all the straightline testing and track testing with a completely separate team," says Wright. "I also took on the role of overseeing reliability, doing a lot of the dyno testing with Renault running tests with different gearbox configurations and so on.
"Then in 2008 when they announced that they would try and cut the amount of money being spent on development, I decided I wanted to get back into race engineering and I've been freelance ever since."
He worked for the centrally-run MSV Formula 2 championship as part of a pool of eight engineers running three drivers per weekend and rotating between them. Building relationships was impossible, by design - akin to how W Series operates today.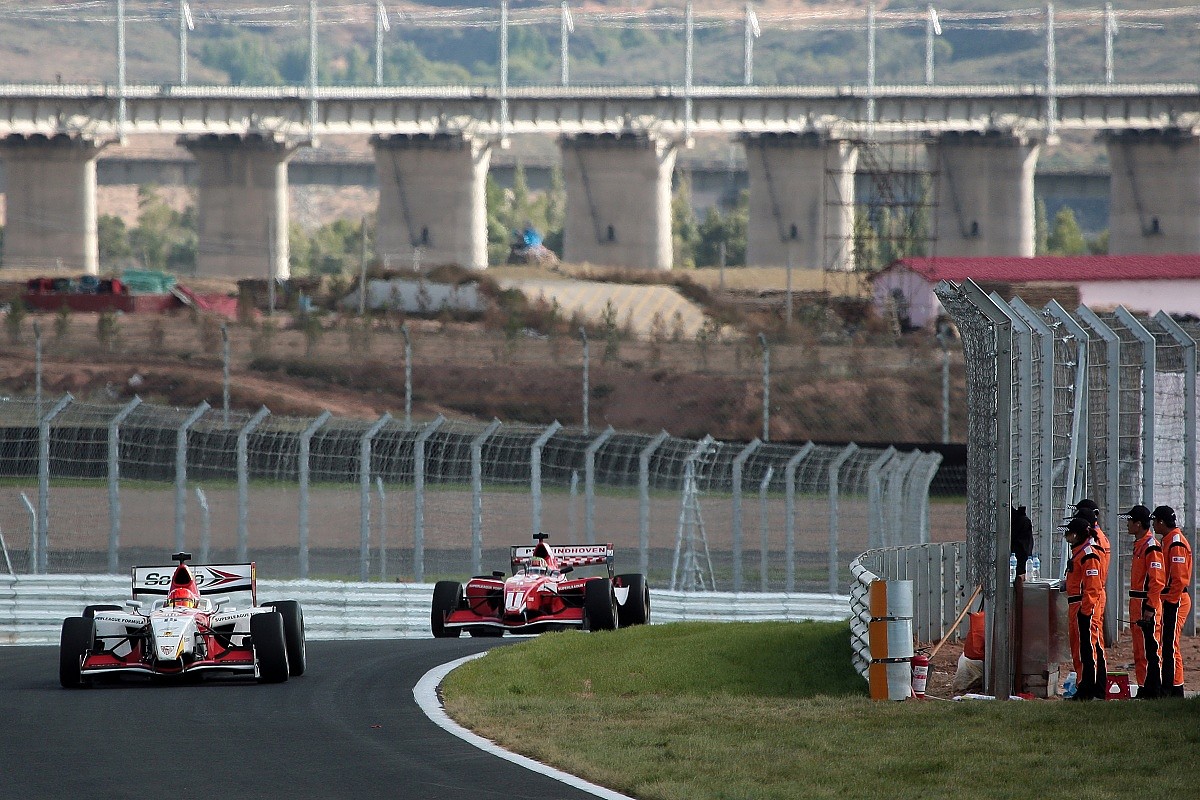 He then went on to engineer in the football-themed Superleague Formula championship, before moving onto the Emilio de Villota team in Formula 3, a spell at Lotus running its Evora at Le Mans with drivers Johnny Mowlem and James Rossiter, then GT Open with Teo Martin Motorsport and most recently British GT with Century Motorsport, winning the 2018 GT4 title.
Wright was a fan of the Superleague cars - "they were good to work with, engines were phenomenal, big old V12s and the chassis was like a brick shithouse, it was a really good chassis" - but less so the series organisers and their choice of venues. Ordos in Inner Mongolia (pictured above) particularly sticks out in the memory.
"They had two different types of hotel, one was for Europeans and the other for the locals," Wright recalls. "We couldn't get into a European one so they put us in the basement of one of their regular hotels, which turned out to be a brothel with guards on the lifts and stairs..."
Whether it's single-seaters or sportscars, Wright enjoys having a direct relationship between the driver and says all cars share the same core mechanical principles.
"They've all got springs and dampers and wishbones," he says. "It's just a matter of tuning them to each particular type of car.
"You don't need to be looking at computers all the time to get an answer. The driver tells me what the car is doing and I can help you, because I understand how cars work. Yes, it's useful to have that data and look at split-seconds where you could maybe improve your braking, but ultimately it comes down to an understanding of how the mechanics of a car work. They're all made the same.
"The one thing that John Barnard drummed into me was to understand the mechanics involved with making the tyres work correctly. You can expand on that with aerodynamics and so on, but that's a whole different field. To get a feeling for how a car reacts, it's just understanding mechanical efficiency."