The word 'legend' is used far too often, but there's no doubt that it should be applied to Niki Lauda. A triple Formula 1 world champion, he led a life of remarkable achievement, on and off the track, in motor racing and with his airline business.
Lauda will always be remembered for his accident at the 1976 German GP, which almost claimed his life. His subsequent comeback, overcoming physical and mental challenges to return to the very top, is surely one of the most extraordinary stories in sporting history.
He was also an utterly unique personality, never afraid to say exactly what he thought, and always ready to offer perceptive insight in any situation.
Lauda coupled that with a wicked sense of fun, which belied the outwardly serious and dour image that he had inadvertently fostered during his Ferrari years, when he scored grand prix wins with metronomic precision.
Born Andreas Nikolaus Lauda in Vienna on 22 February 1949, he grew up in privileged circumstances, with a wealthy paternal grandfather. He showed little interest in formal education, and instead gravitated towards cars. In April '68, he acquired a Mini Cooper, and, without his parents' knowledge, made his competition debut with second place at a hillclimb.
A subsequent row led to an estrangement from his father, and Lauda was thereafter obliged to make it on his own. He quickly traded up to a Porsche 911, and then moved into Formula Vee in 1969. In '70 he gained further experience in what was a wild era of F3, but accidents punctuated his season.
In 1971, Lauda bought an F2 seat with March, securing a best result of fourth at Rouen - during an era when the field was usually packed with established grand prix drivers. That year he also made his F1 debut with a year-old March on home ground at the Osterreichring, but he retired after qualifying a humble 21st.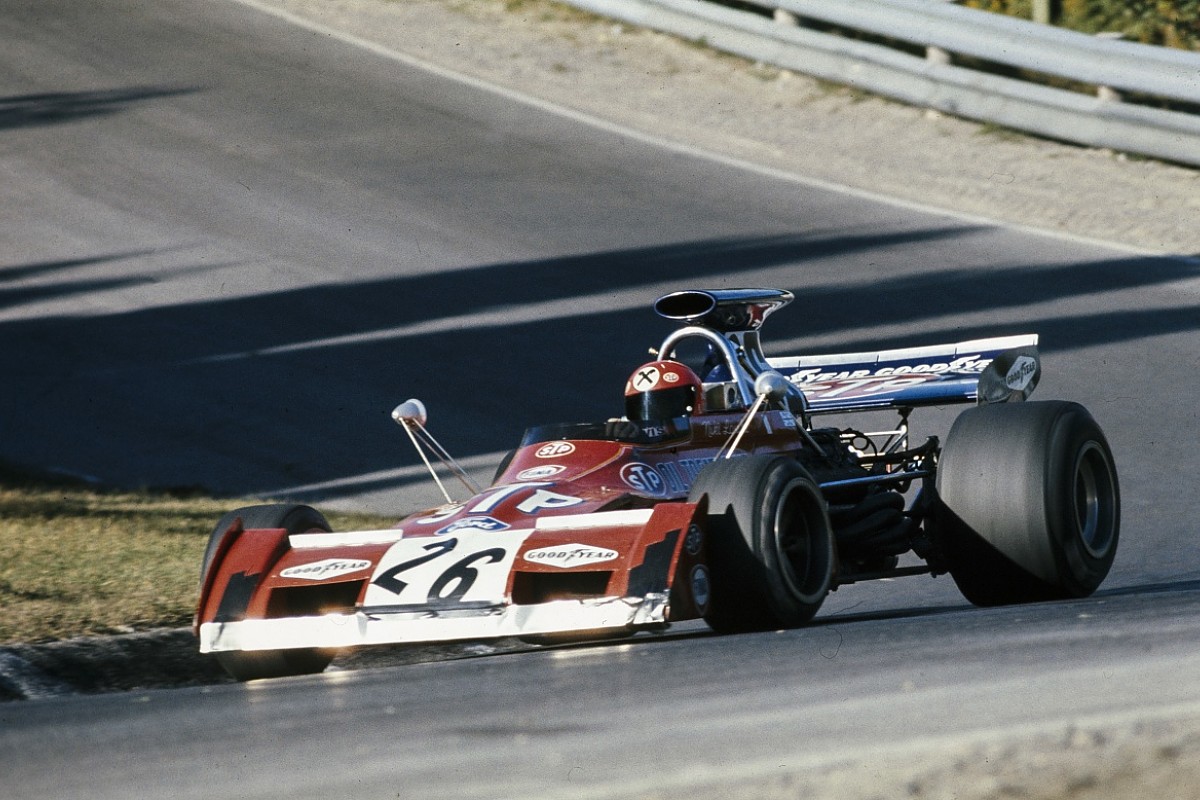 He financed his 1972 F1 season as Ronnie Peterson's team-mate at March with a bank loan, confident that he would eventually succeed and be able to repay it. But it was a fruitless year with difficult and uncompetitive cars, although he showed signs of progress in F2 as he took three podiums and fifth place in the European championship.
But by the end of the year Lauda was still in debt and out of a drive - and few gave him much chance of ever succeeding.
He then concluded a deal with Louis Stanley to race for BRM in 1973. It was a typical bold Lauda move - he took another bank loan and promised Stanley that he would bring some backing. He knew that the sponsorship would not be forthcoming, but was convinced that he would do so well that he would eventually be paid to drive for the team, which is what transpired.
Lauda was given the last rites in 1976, but through sheer determination and iron will he pulled through
There were few good results, but Lauda showed sparks of genuine promise, and he did enough to impress Enzo Ferrari, who duly signed him for 1974. It was to be the start of a remarkable partnership. The team had hit a low in '73, but Lauda energised Maranello and brought a new technical focus, forming a close bond with engineer Mauro Forghieri.
Lauda was well versed technically, and adept at honing a car. He also took physical preparation to previously unseen extremes, kickstarting the modern era of gym and physio work. He was the complete package.
He also showed incredible speed that year, taking nine pole positions, and scored his first wins in Spain and the Netherlands. However, a string of retirements in the latter part of the season meant he drifted out of title contention.
But he made amends in 1975. Armed with the iconic 312T, Lauda again took nine poles, but this time came five wins and consistent scoring that carried him to Ferrari's first world championship since '64.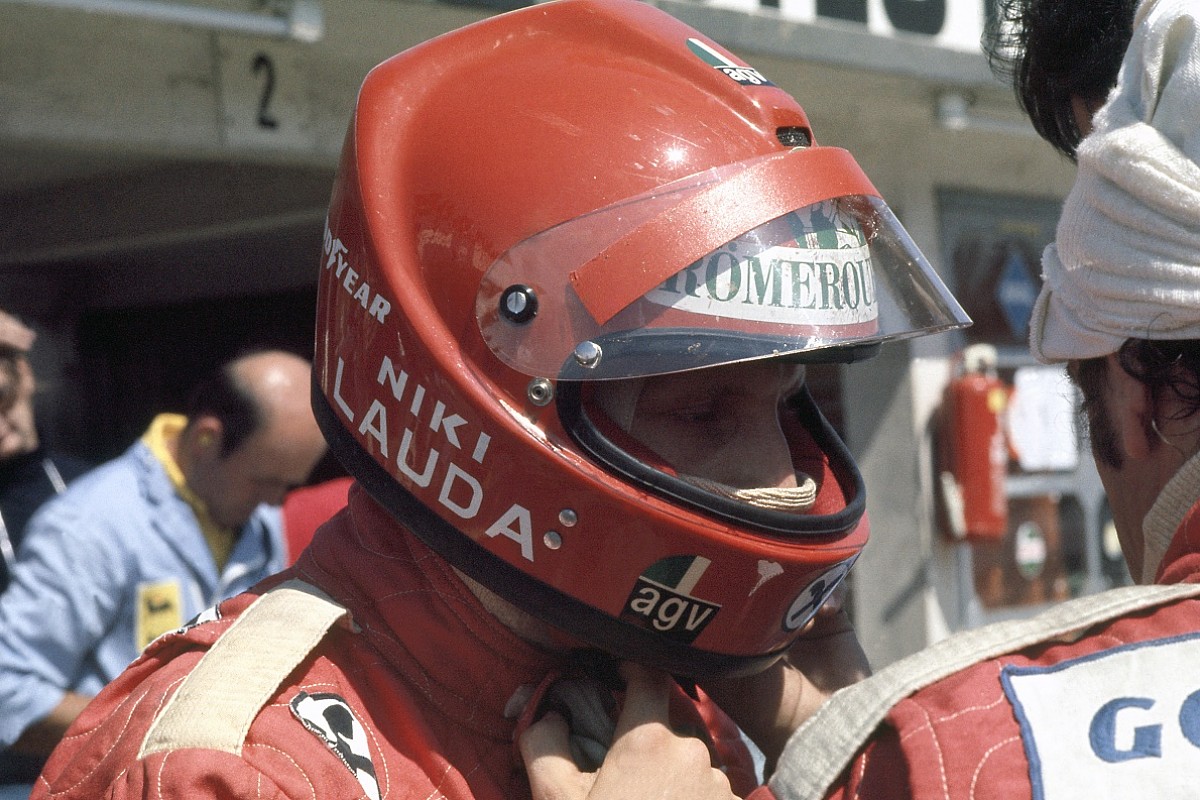 He maintained that form into 1976, logging four wins and two second places in the first six races. But as the season went on, James Hunt and McLaren began to gather momentum, and the battle between their teams became mired in controversy. However, despite an escalating on-track rivalry, the two men remained good friends.
Everything changed at the Nurburgring on August 1 that year, when Lauda was pulled from his crashed blazing car by his fellow drivers and rushed to Mannheim hospital with severe burns and lung injuries. He was given the last rites but, through sheer determination and iron will, he pulled through - and from the start of his recovery his focus was on returning in the cockpit.
Defying the odds, he was back in his 312T2 at Monza just six weeks later, overcoming not just physical difficulties but also challenges on the mental side. He would make no secret of the demons he had to overcome getting back up to speed.
Lauda fought valiantly to defend his title over the remaining races of the 1976 season, taking an astonishing fourth on his return in Italy, and third place in the USA. But in the soaking wet finale at Fuji he famously pulled into the pits and parked up - and later made no attempt to disguise the fact that he simply didn't want to carry on in the atrocious conditions. Hunt duly secured the third place he needed to pip Lauda to the title by a single point.
In South Africa early in 1977, Lauda scored his first win since the accident, and went on to add two more successes and seven other podium finishes as he secured his second title by a comfortable margin.
But there was considerable tension behind the scenes that year, which stemmed from Ferrari headhunting Carlos Reutemann as his replacement while Lauda was still in hospital. Long before the end of 1977 he had agreed terms with Bernie Ecclestone to race a Brabham-Alfa in '78.
Lauda was happy at the British team, enjoying the atmosphere fostered by Ecclestone, designer Gordon Murray and team manager Herbie Blash. The first season of the new partnership included wins in Sweden (with the controversial BT46 fan car) and Monza, but the team lost its way in 1979 as ground effect technology moved on apace.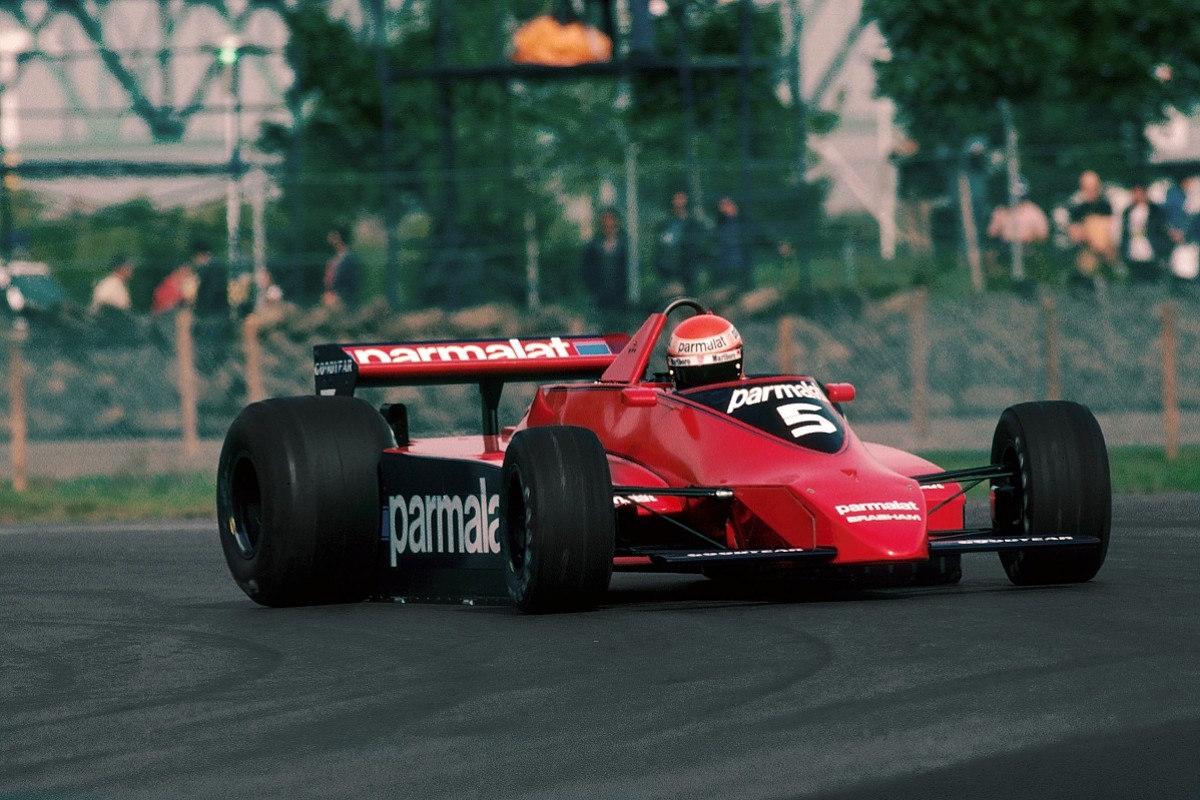 By the end of that year, Lauda, already busy with setting up his airline business, began to question his commitment. After running a few practice laps at the Canadian GP with the new Cosworth-powered BT49 - a promising package that should have caught his attention - he'd decided that he'd had enough and walked away from F1.
He stayed away through 1980, but by the summer of '81 he was having second thoughts about his choice. Ron Dennis, who ran him in the '79 BMW Procar series and had by now taken charge at McLaren, kept badgering him about a possible return.
A visit to the 1981 Italian GP led to a test in John Barnard's revolutionary carbon MP4 at Donington, and, having demonstrated both to McLaren and himself that he was still quick and motivated, he signed up for '82. However, Dennis played hard ball on the money, and the initial contract gave the team an option to ditch him if didn't work out.
After leaving F1, Lauda was subsequently able to devote his energy to building Lauda Air
But Lauda soon silenced any doubters, taking a solid fourth in his comeback race in South Africa, and winning third time out on the streets of Long Beach. He would log another victory at Brands Hatch that year, and he took fifth place in the world championship.
The 1983 season proved to be tougher for the Cosworth-equipped McLaren squad as the swelling ranks of turbo cars began to dominate and finally find reliability. Lauda had pushed Dennis to find a turbo engine, and he helped to broker the deal for Porsche to design and manufacture a V6, to Barnard's specification, with finance from TAG.
At Lauda's insistence, the engine was readied for an early race debut at that year's Dutch GP, and useful data was gathered by the team in the four races it contested.
In the meantime, Dennis had had an unexpected chance to further strengthen the McLaren package when Alain Prost came on the market after just missing out on the 1983 title with Renault at the final race. He was quickly snapped up to be Lauda's team-mate.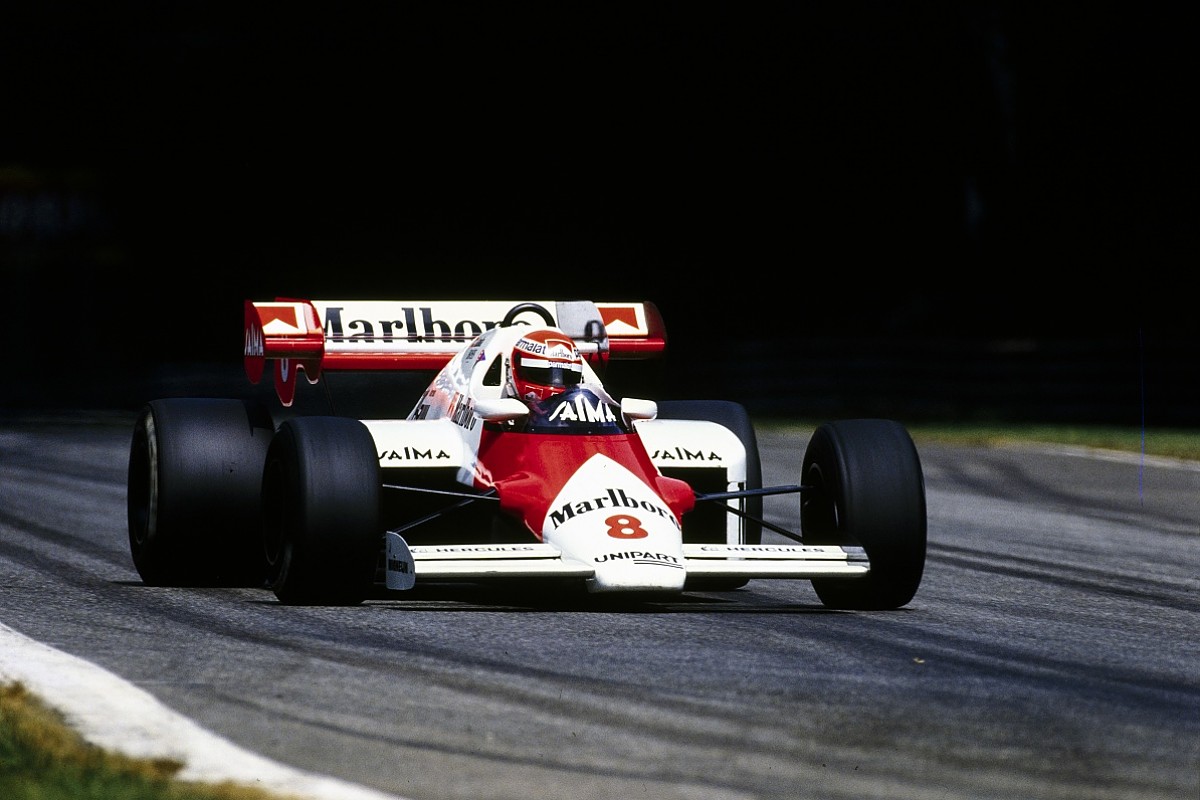 McLaren would enjoy a sublime 1984. The TAG engine proved to be very competitive, especially in race trim, helped by an effective electronics system. The championship developed into a battle between veteran Lauda - he was 35 at the time - and the younger, relentlessly ambitious Prost.
Both drivers were known for taking a methodical and technical approach to their racing and, after coming to the conclusion that he couldn't beat his team mate in qualifying, Lauda focussed on preparing his car for the races. It paid off as he scored five wins and pipped Prost to the title by just half a point at the Estoril finale.
In 1985, Lauda suffered a string of retirements as Prost built up the momentum that would lead to his rival securing his first title. At the same time, Lauda felt increasingly frustrated in the McLaren camp, and his relationship with Dennis began to unravel.
At his home race, he announced that he was retiring at the end of the season - and his only win of 1985, in the very next event at Zandvoort, gave him huge satisfaction. He briefly led his final F1 race on the streets of Adelaide, but a brake failure pitched him into the wall. This time, Lauda walked away from the cockpit for good.
After leaving F1, Lauda was subsequently able to devote his energy to building Lauda Air. But the crash of one of his 767s in Thailand in May 1991, caused by a Boeing technical failure, which claimed the lives of 223 passengers and crew, hit him hard.
In 2000, Lauda Air became a subsidiary of Austrian Airlines, and was later absorbed. Lauda then started a second airline under the Niki name, this time focused on the budget market. More recently he would run a third airline, Laudamotion.
But he never strayed far from motor racing, and he enjoyed a long second career as a vocal and popular TV pundit - never afraid to speak his mind. He successfully dovetailed that with management stints at three different teams. Spells at Ferrari and Jaguar bore little fruit, and his brutally honest assessments of any situation were not always well received.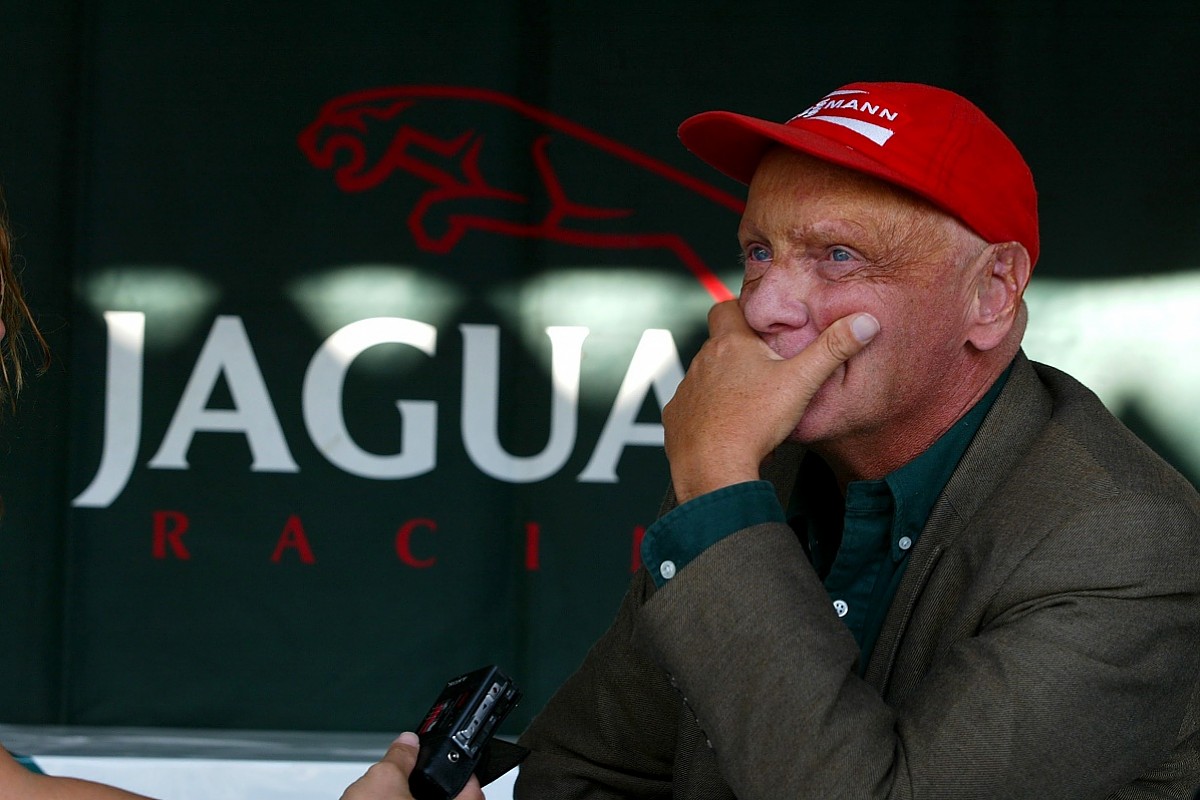 Then in September 2012 he was announced as non-executive director of Mercedes Grand Prix. Nico Rosberg had won that year's Chinese GP, but at the time the former Brawn team was probably fourth in the pecking order, and Michael Schumacher's comeback had not been as successful as had been hoped.
But Lauda knew that Mercedes was well advanced with its hybrid engine programme for 2014, and he played a key role in convincing Lewis Hamilton to leave McLaren. In '13, the last year with the V8 powerplants, Hamilton scored his first Mercedes win in Hungary, and Rosberg added two more successes in Monaco and at Silverstone. There was momentum building at the team, and when the hybrid power units did arrive in '14, Mercedes was ahead of the game by some margin.
Lauda subsequently played a huge part in steering Mercedes - working in conjunction with Toto Wolff - to five consecutive double world championships. He served as a crucial link to the company's top management.
Over the years he had two kidney transplants, and last August a lung transplant. He had struggled with health issues ever since but, although he was unable to fulfil his usual hands-on role at the track, he remained in touch with what was going on at Mercedes.
There's still a long way to go this season, but if Mercedes is ultimately able to secure a sixth straight world championship-double in 2019, such a record-breaking achievement would stand as the perfect tribute to a man who did so much for the team, and for F1 as a whole.