You wouldn't have blamed Lewis Hamilton for using the final two races of the 2018 Formula 1 season to wind down, revel in the glory of victory and drop his guard. But this is a driver at his peak and, after spending much of the season grinding the opposition to dust, his Abu Dhabi Grand Prix triumph was not a valedictory one. Instead, it was the start of the next campaign.
For Sebastian Vettel, who chased him in vain, Max Verstappen, who ended the race with a faceful of oil from the Honda engine he's placing his title hopes on and Valtteri Bottas, who finished more than 45 seconds down, there was little hope to draw from what happened. This was Hamilton underlining that, far from being more vulnerable next year or resting on his plethora of laurels, he intends to be unbreakable.
"I really wanted to end the season strong, and on a personal note I was able to do that," said Hamilton. "I wanted to end the way that I plan to start next year, that was kind of the new psyche. It's been a strong weekend, which I'm really happy with."
Hamilton with a new, better psyche? Any of his rivals hearing that comment cannot fail to carry it in the backs of their minds throughout the winter. And perhaps that's not only the point of Hamilton's determination to finish powerfully, but also the reason why he pointed it out because psychological warfare is something he also does very well. Hamilton, in his present form, leaves no stone unturned, knows he cannot relent even for one moment and that the next battle starts before the last war even ends.
The Mercedes driver clinched the world championship in Mexico, with two races to spare. But after his Esteban Ocon-assisted victory in Brazil two weeks ago, he signed off with an emphatic 11th victory of the year in Abu Dhabi. It was a triumph that encapsulated much of what has made Hamilton so extraordinary this season, making things look far more straightforward than anyone else would.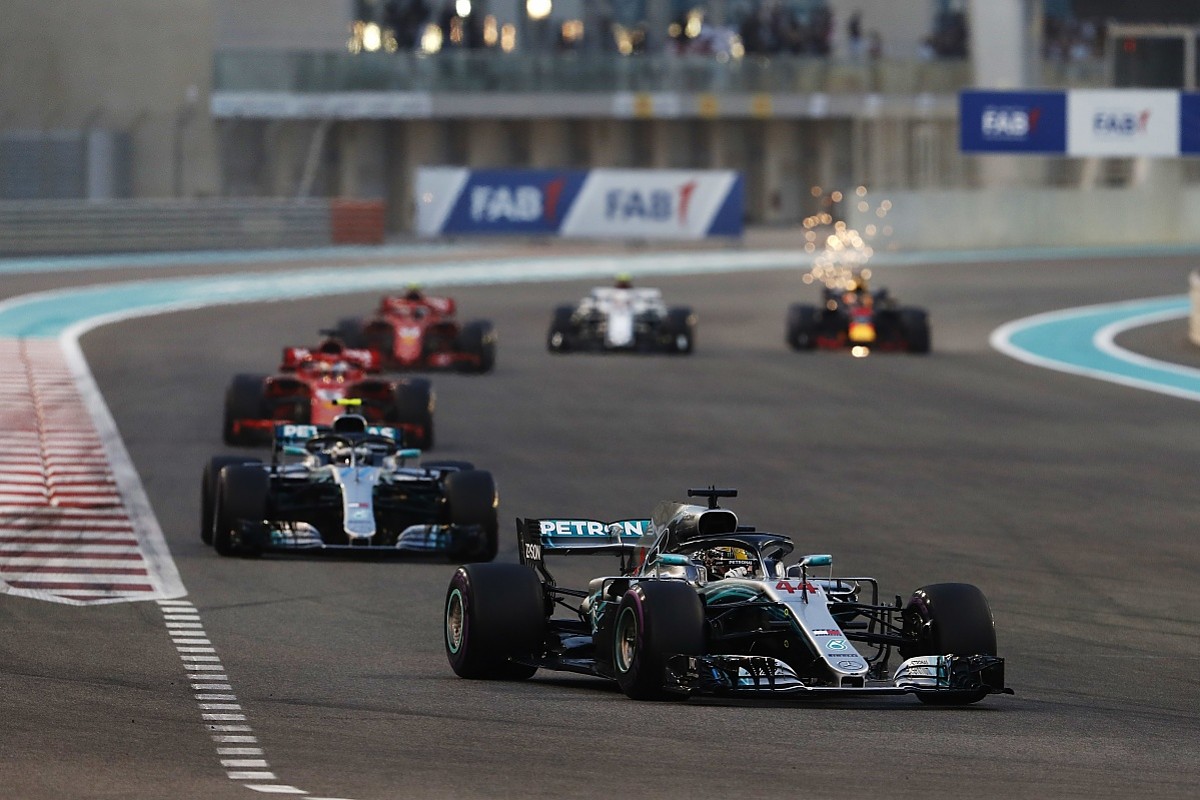 Several of the key characteristics that have made Hamilton's 2018 season the best of his career were showcased around the twists and turns of the Yas Marina circuit. A brilliant qualifying lap, finding half a second on his final run in Q3, blew Mercedes team-mate Bottas out of the water and left Vettel a distant third. He then made a perfect start to hold onto the lead, repeating that at the safety car restart necessitated by Renault driver Nico Hulkenberg's world being turned upside down on the opening lap.
Then there was the decision to pit under the virtual safety car triggered by Kimi Raikkonen parking on the main straight, which relegated Hamilton to fifth place and a spell at the back of the lead battle.
As we've heard many times this season, he questioned the call and wondered if the team realised just how much traffic he had been plunged into. But he didn't let his head drop, as he occasionally did in his younger days, and spent the next 26 laps patiently staring at the rear end of a Red Bull, first Max Verstappen's, then Daniel Ricciardo's. His reward was the lead once his rivals pitted.
"We knew that the supersoft would go to the end. It could actually cover a whole race distance, so we wanted to cover against an undercut" Mercedes team boss Toto Wolff
And amid repeated questions about whether his set of supersofts would last to the end of the race, and protestations that he didn't have the same pace as Sebastian Vettel - the former 2018 title rival who passed Bottas and closed the gap to 2.6s at the chequered flag - Hamilton managed those concerns brilliantly. This was measured, calculated - a classic example of the great making their achievements seem almost mundane.
Just to underline how good Hamilton was, Bottas ended up a distant fifth - robbed even of fastest lap by Vettel late on - proving that a driver who might be described as 'very good' can easily end up with a far less spectacular result. It shows how difficult it really is to win a race like this, something Hamilton does routinely.
The key moment came when Raikkonen ground to a halt with an electrical failure, parking on the start/finish line at the end of the sixth lap. The virtual safety car was deployed, and Mercedes decided to call in leader Hamilton, who was then running comfortably ahead of Bottas.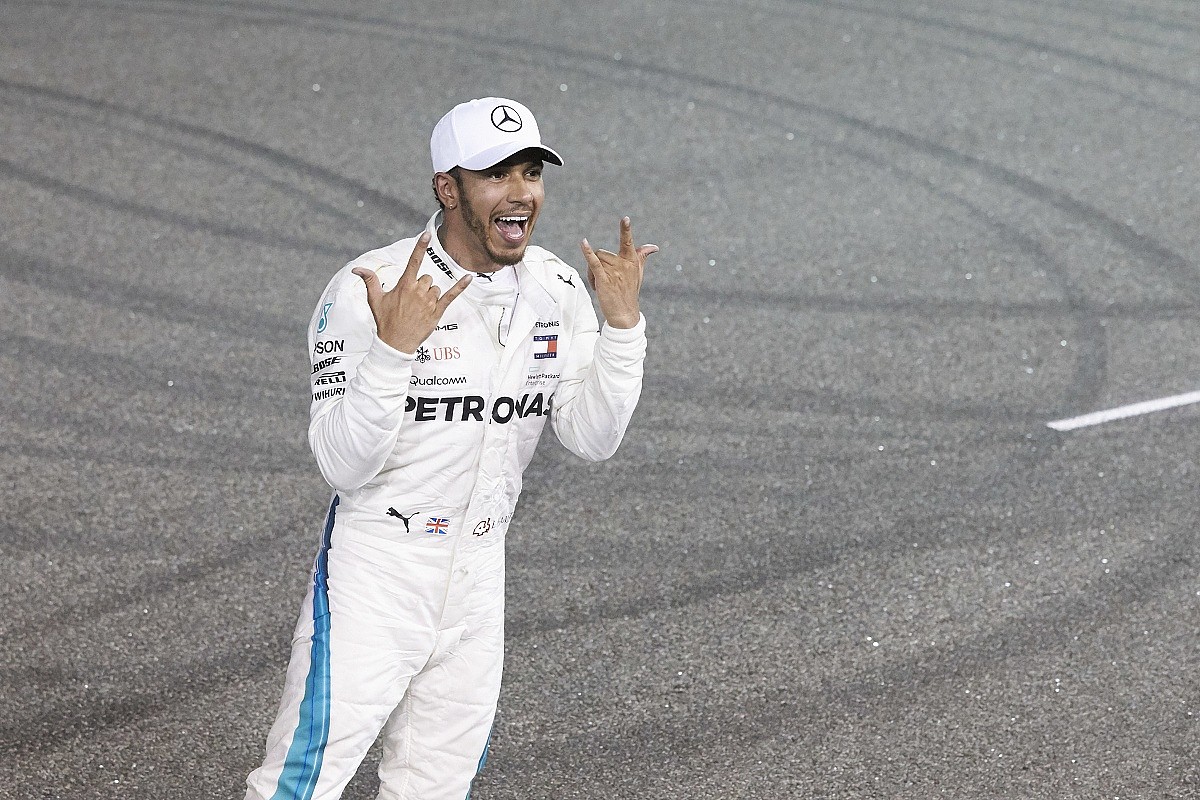 He was the only driver not to start on hypersofts who stopped (Charles Leclerc and Romain Grosjean also came in), so by definition this was the alternate strategy. But it made sense for Mercedes to split its cars, and had he not come in there's every chance Vettel or a Red Bull would have done.
"We knew that the supersoft would go to the end," said Mercedes team boss Toto Wolff. "It could actually cover a whole race distance, so we wanted to cover against an undercut or no VSC/safety car later on. Knowing that the tyre could go to the end with a little bit of management, it was the safer strategy."
This put Hamilton back to fifth place behind Verstappen and he set a justifiably conservative pace. The only demand the team put on him was to ensure he didn't fall 10s or more behind new leader Bottas, for this would have allowed the other Mercedes to stop under the safety car and stay ahead. It wasn't a difficult task, and Hamilton just had to be patient and wait for the cars ahead to pit.
Vettel blinked first at the end of lap 15 and pitted from third place, meaning Mercedes responded with Bottas a lap later to insure against a Ferrari undercut. Once Verstappen, who was complaining extensively about his front-right Pirelli, came in from behind team-mate Daniel Ricciardo on lap 17, Hamilton was up to second and behind only the Australian.
Hamilton inevitably closed in on Ricciardo, who was in his farewell outing for Red Bull, but held the gap at around 2.5s to avoid getting close enough to suffer any tyre damage. He had Bottas covered, and just needed to wait for Ricciardo to stop. The arrival of light rain threw a potential curveball into the mix, but it was never anywhere near heavy enough to make a switch to intermediates a possibility.
Red Bull opted to extend Riccardo's stint while the lap times held up in the hope of getting safety car assistance, which at one stage could have earned him second place, and to increase his tyre advantage in the second stint. But he was called in after 33 laps, once Bottas and de facto third-place man Vettel had moved inside that window.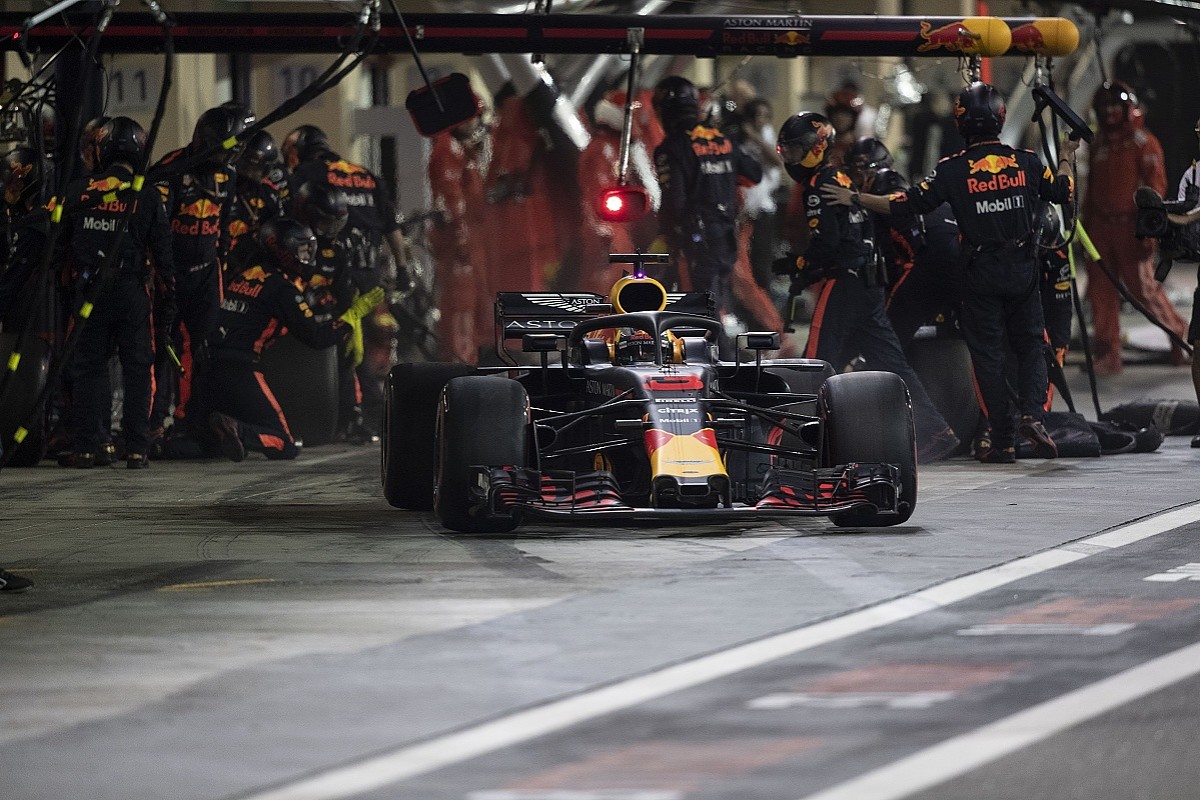 At this point, a Mercedes one-two seemed likely but Bottas was in trouble. When he emerged from the pits, he had an advantage of 3.6s over Vettel. He was comfortably keeping the Ferrari at arm's length when he locked up into the first chicane, just before the hairpin, and lost time. This allowed Vettel to pass him on the long run out of the hairpin with the assistance of the DRS.
Once Vettel took second from Bottas, he was 6.9s behind Hamilton but had to spend a couple of laps regrouping thanks to the amount of battery energy used to chase and pass the second Mercedes. But he did have a pace advantage, and with the gap at 7.680s at the end of lap 36, he had 19 laps - on supersofts eight laps younger - to make an impression on the leader.
"I tried everything until the last lap, I really enjoyed [it]," said Vettel of the chase. "Catching a little bit, a little bit, but he controlled the pace at the front."
"The race sums up the season quite well. It started off quite well and then everything turns to s**t" Valtteri Bottas
And he certainly threw the kitchen sink at it. For the first 18 of those laps, Vettel was the fastest on track and lapping an average of 0.206s quicker than Hamilton. But it wasn't enough, and he started the final lap still 3.981s behind. Hamilton gave away a further 1.4s cruising to the flag, meaning the final gap of 2.6s exaggerated the closeness. He had it absolutely in hand.
"Lewis had the pace, you could see it at the end when he saw Vettel coming closer," said Wolff. "He was able to increase the pace just in the way it was necessary."
Behind, any hope of two Mercedes drivers on the podium ended when Verstappen attacked into the left/right/left at the end of the second back straight. Bottas held the inside line and got into the corner ahead, believing he had covered the move, only for Verstappen to carry great speed into the corner and get around the outside of the Mercedes in the right-hand part. Bottas turned in on the Red Bull at the left-hand element and contact was made, but Verstappen was through.
When Ricciardo then took fourth place, it made sense to bring Bottas in - especially given concerns about his right-rear wheel. As a result, he finished in no man's land between the top four and the best of the 'Class B' runners - Carlos Sainz Jr.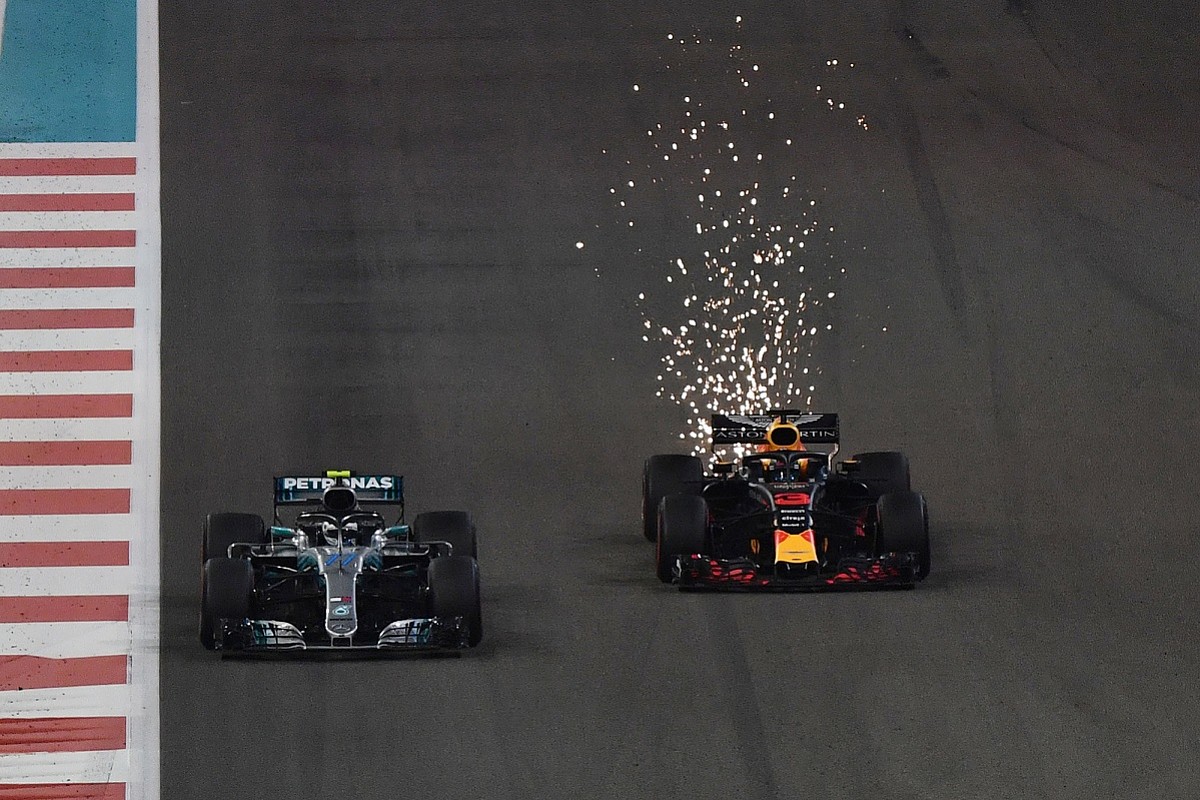 "Overall, the race sums up the season quite well," said Bottas. "It started off quite well and then everything turns to shit. I had initially a lock-up into Turn 5, when Sebastian got close, and then he got DRS and overtook me. Initially, I thought it was purely my mistake - which in the end it was - but the wind suddenly turned around, so for the wind I would've had to brake a bit earlier.
"But at the same time, the team found some vibration on the rear-right brake and some issue, so sometimes the front brakes had to work harder than the rear brakes to compensate and that meant there were sudden lock-ups. Same thing happened when I went straight and Verstappen got close. So we still need to investigate what was exactly the issue with the brakes. And when I touched with Max there was quite big floor damage."
So, if your first title rival is your team-mate, Hamilton has reason to be happy to have comprehensively outperformed Bottas in what we might call 'race zero' of the 2019 season. As for his biggest title rival this season, Vettel, the Ferrari driver is already thinking about how much progress needs to be made to get onto the same level as Mercedes and its spearhead next year.
"It's a big operation, so a lot of small things need to come together, but I think everybody's there," said Vettel. "Obviously, we lost our path a little bit halfway through the year. Things didn't come together so we did a step back towards the end of the year, which enabled us to be more competitive again but I think we've understood what went wrong. We'll obviously try to do a better job in the future.
"On the other hand, we had a lot of lessons. It was a tough year in general and I think the team is strong and has potential, but surely it was a lot of things that happened inside the team. The passing of our chairman, Mr [Sergio] Marchionne, had an impact so it's up to us to look into every single detail and make sure we come out as a stronger group, enabling us to build a stronger package for next year and for the future."
And that stronger package includes Vettel raising his game. Having been outclassed by Hamilton over the season, he needs to recharge over the winter and come back not just at his best, but better than he has ever been before, to have a chance of beating Hamilton. As for Verstappen, who celebrated a fifth consecutive podium finish, spending the closing stages of the race struggling to see through oil on his visor spilled by Toro Rosso driver Pierre Gasly's failing Honda engine, is a reminder that the Japanese manufacturer needs to make a big step.
"I find that a really difficult question, because you're so dependent on the package in F1," said Verstappen when asked about his prospects of a title push in 2019. And with the Red Bull RB14 probably the strongest chassis of this season, that means the ball is in Honda's court. But at least it was a strong race to finish the season after tyre troubles in qualifying then a slow start, because of engine overheating following a long hold on the grid, briefly relegated him to 10th.
Of the six drivers who finished behind Hamilton, down to Leclerc in seventh, who also gave a taste of 2019 by dicing with the leaders in fourth early on, all but Sainz have realistic designs on toppling Mercedes either next year or, in the case of Ricciardo, further down the line with Renault. But what Hamilton has done by dominating what he sees as the first race of next year is avoid giving any of them any more hope than they already have, or show the slightest chink in his increasingly impregnable armour.
"Next year, we fight back," said Vettel on the slowdown lap, speaking for everyone defeated by Hamilton and Mercedes in 2018. But what Hamilton did this weekend proves just how hard it's going to be to get close to him, let alone knock him off his perch.