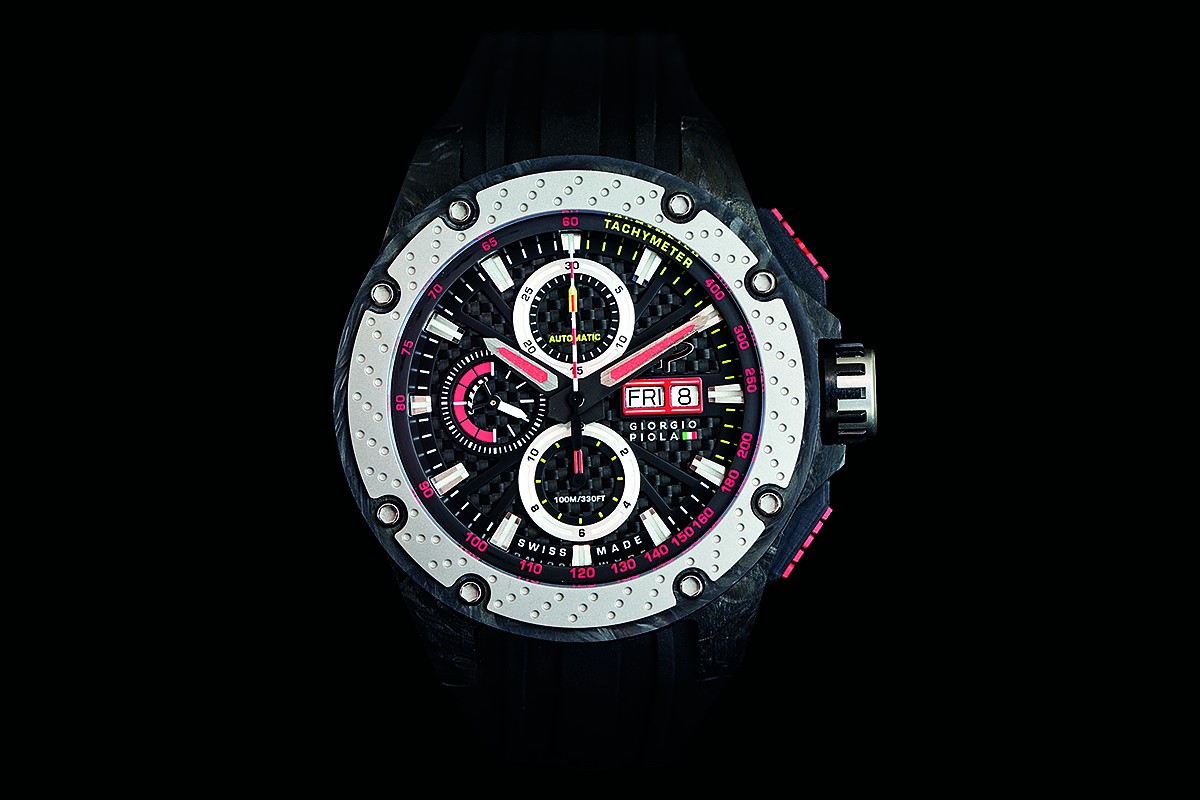 Giorgio Piola G5, Strat-3 and Strat-3 Blue
Price $590-$2,985
Legendary F1 illustrator Giorgio Piola has designed three limited-edition timepieces inspired by his illustrations from grands prix around the world.
This timeless Swiss-made collection includes the G5, the Strat-3 and the Strat-3 Blue, all designed and created using the latest F1-inspired materials including: carbon fibre, titanium, aluminium, crystal and rubber, and all featuring his signature attention to detail.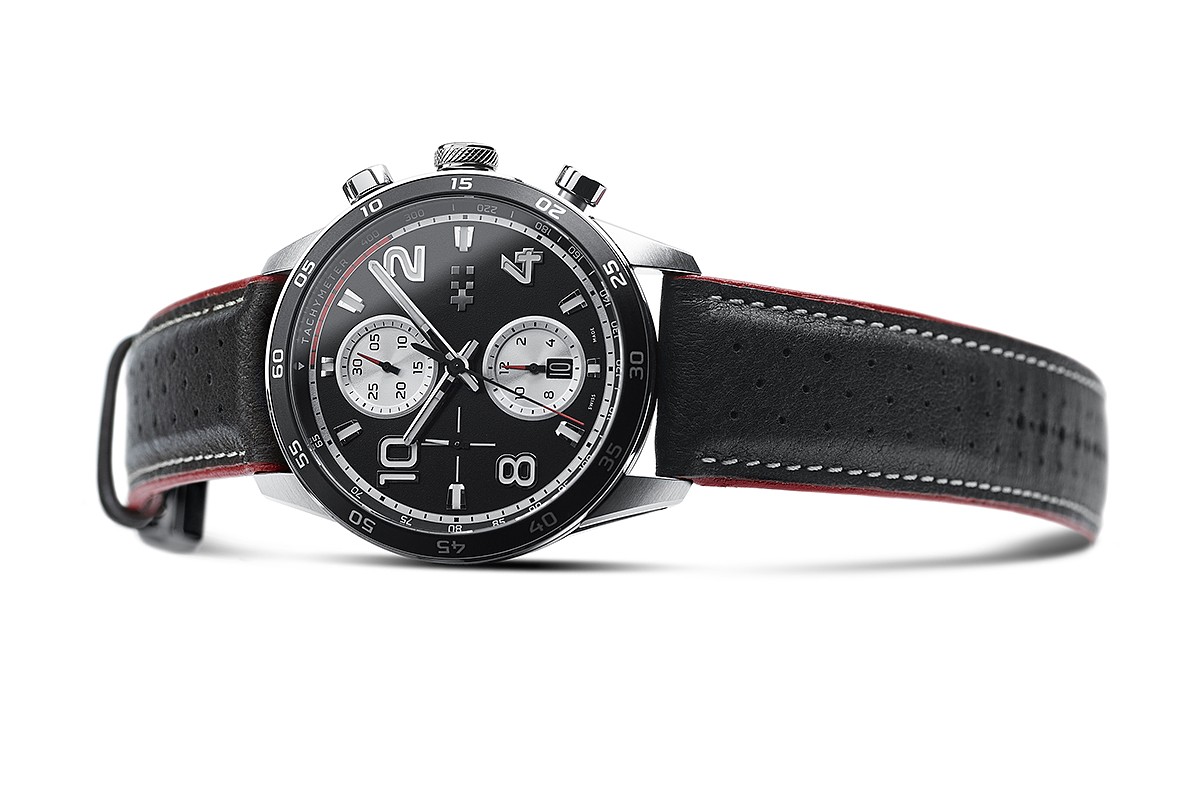 C7 Rapide Chronograph Automatic
Price £1,495
Founded in 2004 by friends Chris Ward, Mike France and Peter Ellis, this Swiss watchmaker offers quality timepieces at reasonable prices.
The brand's latest chronograph, the C7 Rapide, is inspired by the motorsport world's shared values of technical precision and innovative design. It features the Valjoux 7750 movement, one of the most dependable mechanical chronographs available. It also has a themed dial design housed within a four-piece case, and comes with four different strap options.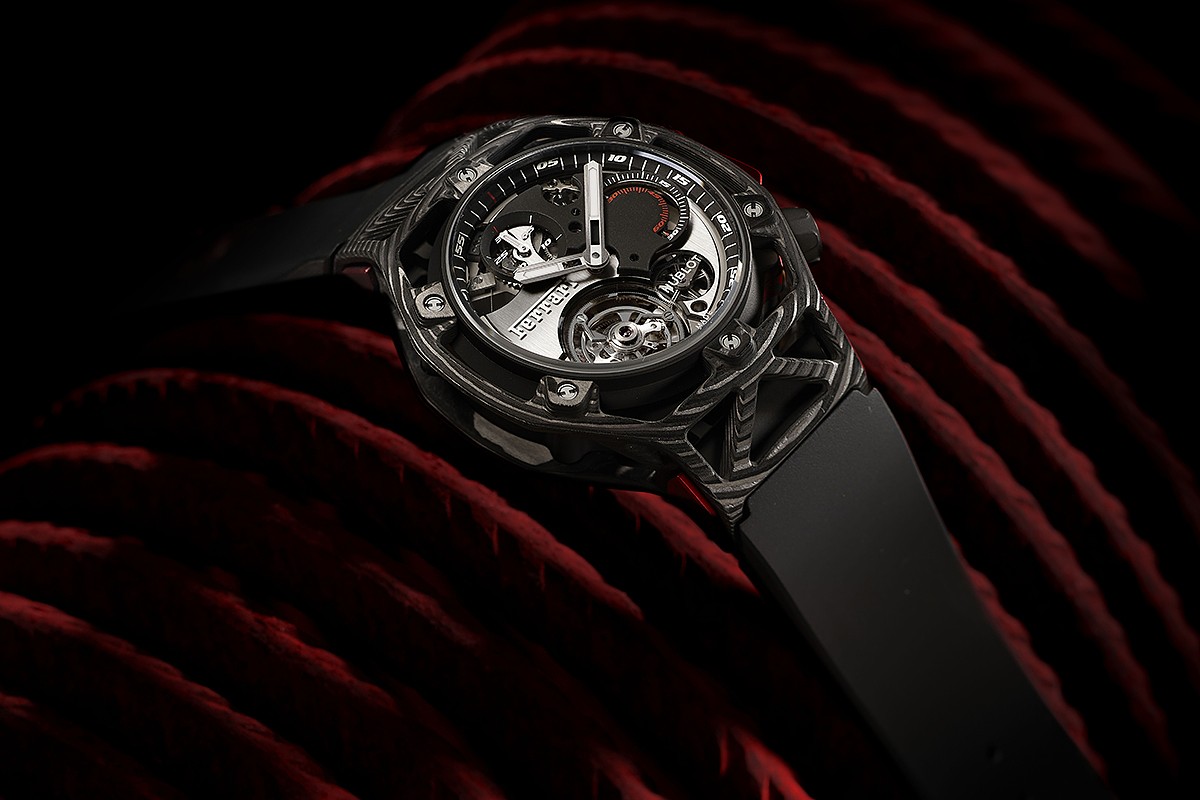 Hublot Techframe Ferrari 70 years Tourbillon Chronograph
Price $127,000-$158,000
This new collection, in three editions, celebrates Hublot partner Ferrari's 70th anniversary. The design is from Maranello, with Prancing Horse styling on a skeletal, modular, three-component structure with two lateral push buttons in P485 Ferrari red.
It's driven by a Hublot movement with a manual winding mechanism that has a five-day power reserve. The three choices, in ascending price order, are: Titanium, PEEK (Polyether Ether Ketone) Carbon and King Gold, each produced in a run of 70.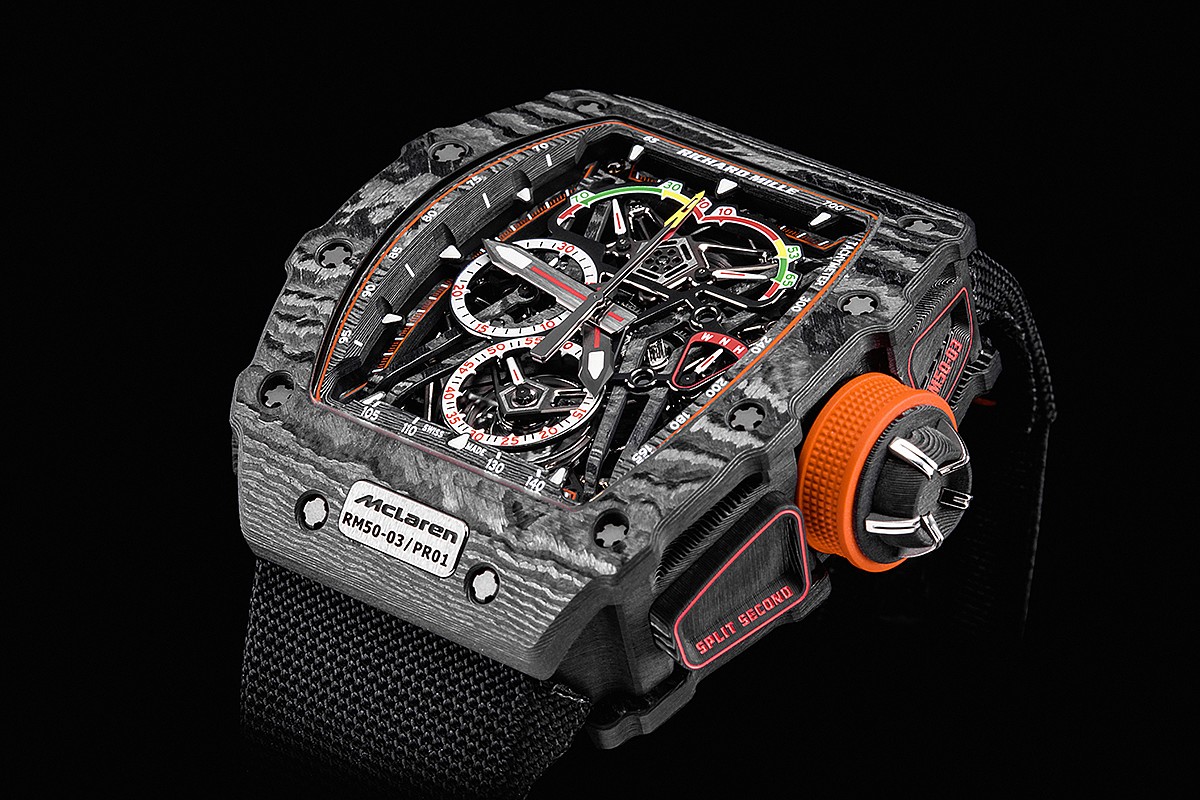 Richard Mille RM 50-03
McLaren F1
Price £1,000,000
Yes, you read that correctly. One million pounds. For a watch. While McLaren continue to slumber in terms of on-track F1 performance (yes, the bit that really matters), they can't help trumping the opposition in the frivolities.
So what's so special about this timepiece from Richard Mille? It's all about science, apparently, and the application of a new material. Graphene - six times lighter than steel, 200 times stronger - which was isolated by its 'discoverer' in 2004 (earning him a Nobel Prize). And after a collaboration between Manchester University and McLaren it has been used on this... device (the term 'watch' somehow seems inadequate). The run is limited to 75... we'll take two!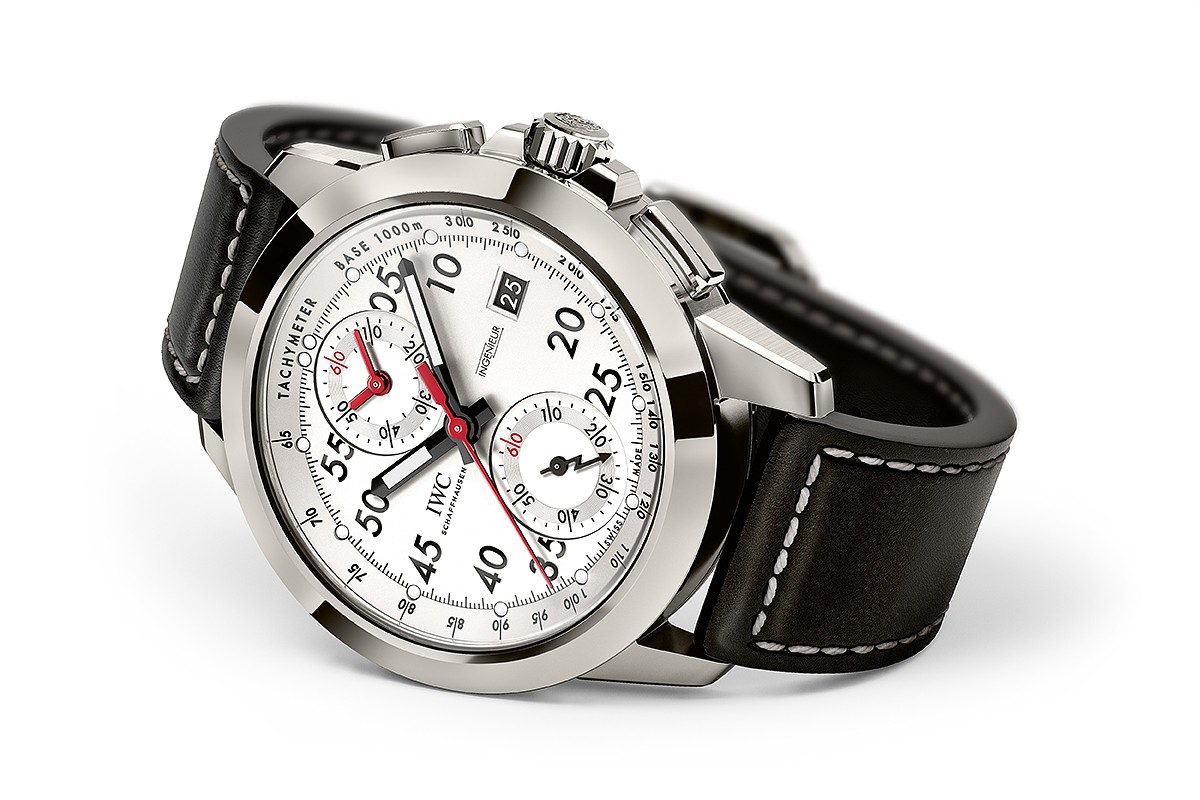 Ingenieur Chronograph Sport Edition '50th Anniversary of Mercedes-AMG'
Price €13,000
The International Watch Company, based in Schaffhausen, relaunched their Ingenieur Collection earlier this year with an exclusive special-edition tribute to Mercedes-AMG.
This limited run of 250 watches features a silver-plated dial, black hands, a titanium case, and a black calfskin strap. A soft-iron cage protects the movement from magnetic fields, with the lower part visible through a sapphire-glass back designed in the style of a Mercedes-AMG disc brake, complete with bores arranged in radial formation.
This beautiful watch is part of a collection that has become more vintage in character, the lighter, elegant design harking back to IWC watches of the 1950s and '60s.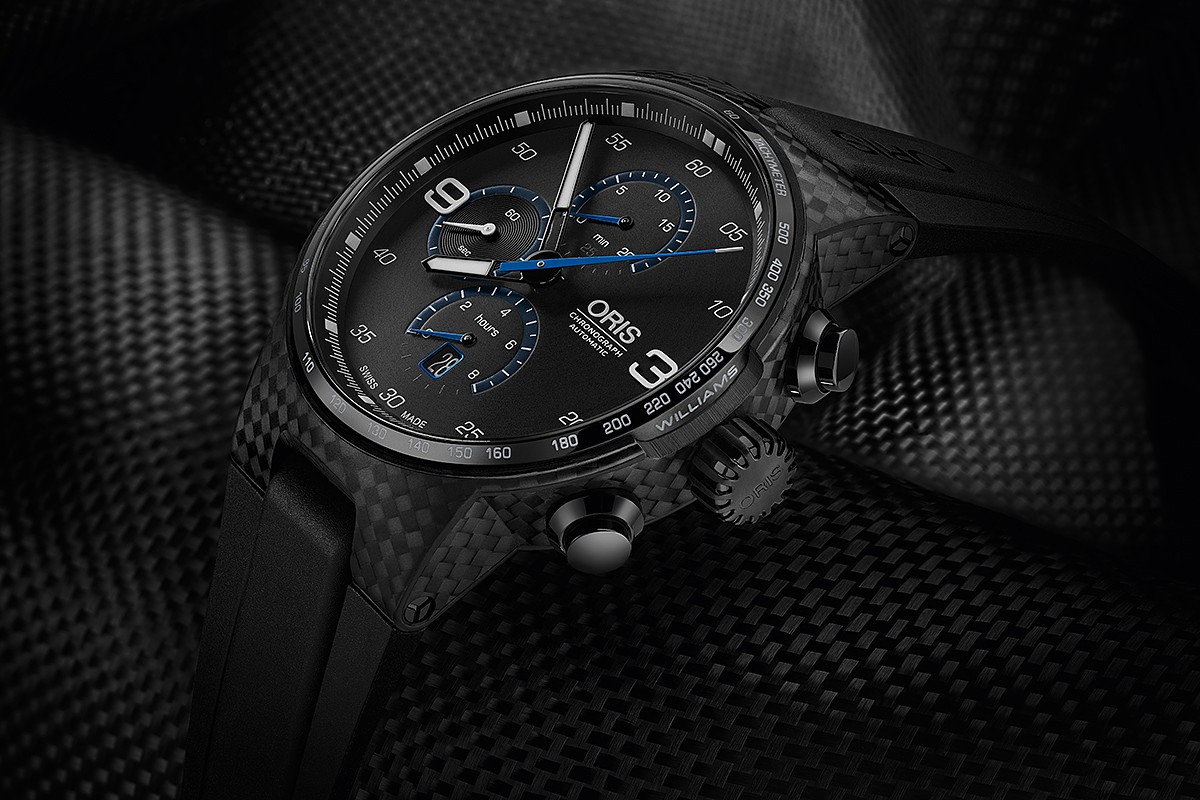 Oris Williams Chronograph Carbon Fibre Extreme
Price £3,160
The Oris-Williams partnership, dating back to 2003, takes another step with the release of this chronograph made using carbon- fibre processes common to F1, but never before seen in watchmaking.
The strength-to-weight ratio of carbon-fibre polymer makes it ideal for monocoque- and steering-wheel construction, and it's used here on the middle part of the watch's case. DLC-coated titanium elements are used for the bezel, crown, push buttons and case back. It's powered by an Oris Calibre 674 movement and features Williams blue in its design.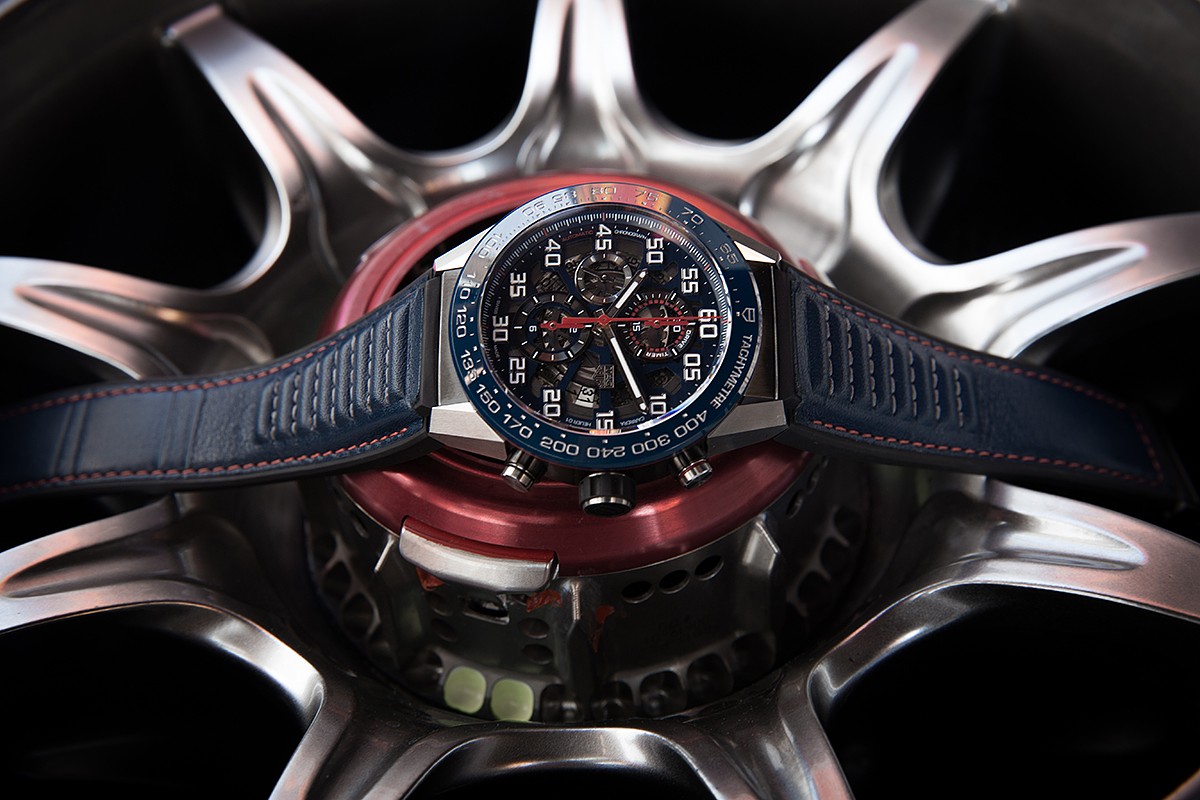 Red Bull Racing Formula One Team Carrera Heuer-01
Price €1,300 approx
Red Bull's Renault engines have been badged as TAG Heuers since 2016, so naturally a range of watches has followed. This is a brand with an illustrious history of creating motorsport-themed timepieces, and the Red Bull Racing Carreras follow
in that proud tradition.
This 45mm steel chronograph is styled in the team's midnight blue and red, with a blue skeleton dial and a sapphire case back featuring the team logo. There are two versions: one with a steel bracelet and one with a blue leather strap with red top-stitching. Will it be as collectable as Steve McQueen-blessed Monacos in the future? Perhaps not. But like all Carreras, the timepiece has class - for a sliver of the price demanded by certain other racing watch makes.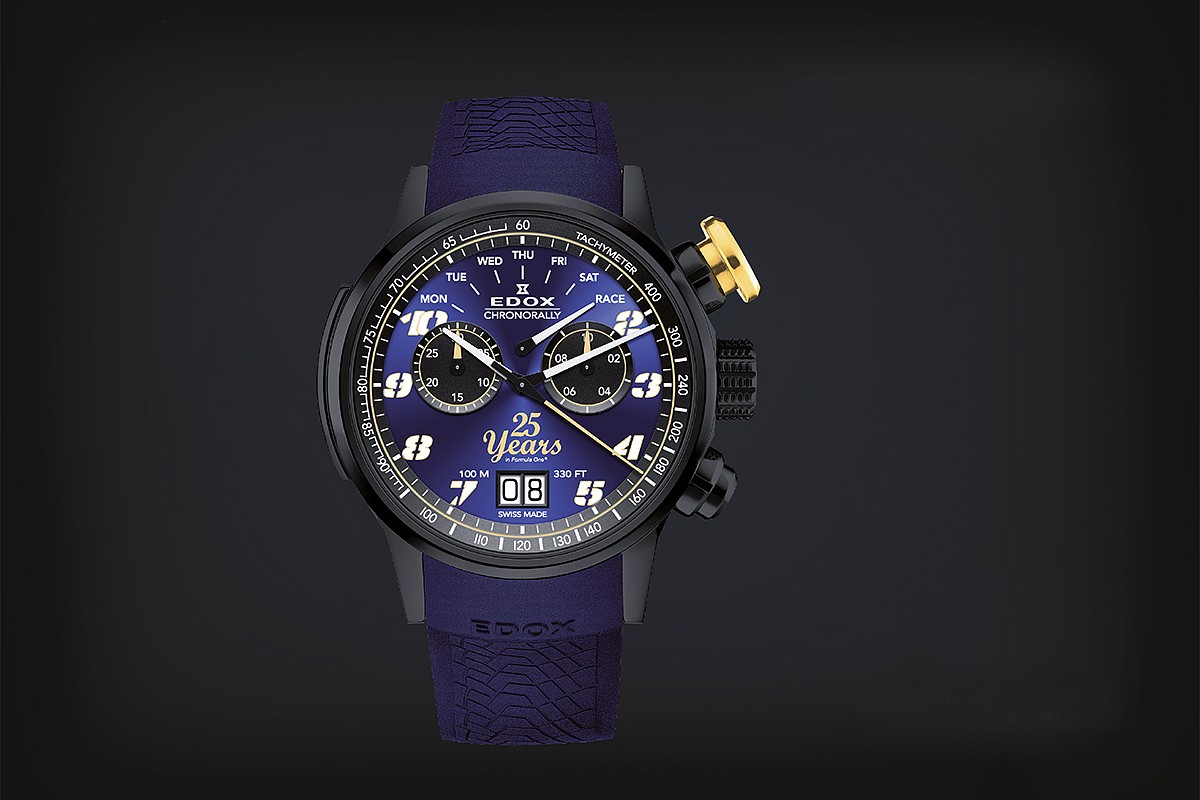 Edox Chronorally Sauber F1 Team '25th Anniversary' Limited Edition
Price £1,400
The Sauber team's 25th anniversary timepiece competes only in name and length, and definitely not in terms of price, compared with those from Mercedes and Ferrari.
It's made from lightweight titanium and there are obvious nods to its F1 pedigree: the oversize chronograph pusher, the speed scale on the inner bezel and slick-tyre-tread rubber strap, not to mention the bold '25th anniversary' logo across its face.
It's water-resistant to 100m and comes in a presentation case that celebrates the fourth oldest surviving team in F1. Now there's a thought...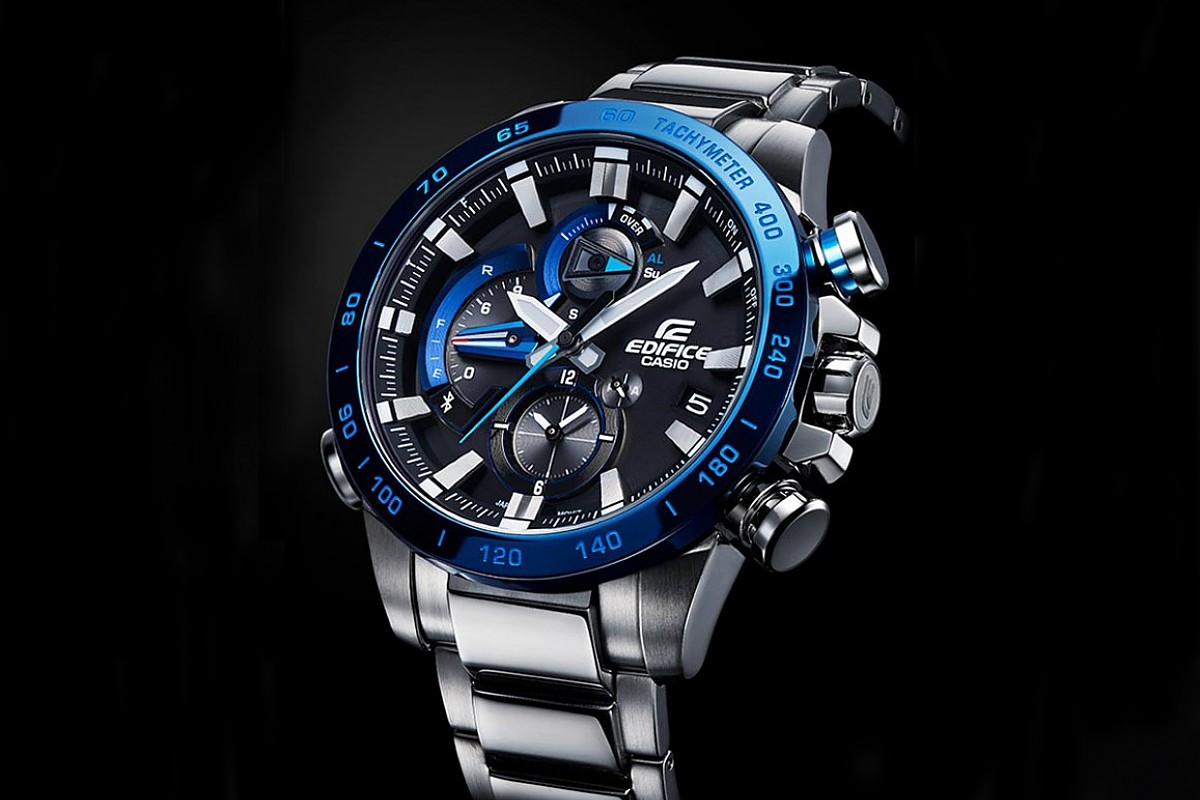 Casio Edifice Race Lap Chronograph EQB-800
Price £350
This latest Casio Edifice timepiece, the EQB-800, has been developed in conjunction with Toro Rosso, hence its strapline: 'Supervised by professional race team.'
The watch features Bluetooth 4.0 connectivity, and if you pair it with the Casio app on a smartphone, you can log lap times and data from any race track. The stopwatch records to 1/20th of a second and has elapsed time, lap time and split time modes.
Dual time, which displays the time in two different time zones, is another nod to F1 fans, as is the phone-finder feature: press a button on the watch and your phone emits a tone.