Dieter Rencken: Can you describe your current aims at the FIA?
Jean Todt: I would like to bring the organisation up a level, to build the sport, starting from grassroots to the highest level of motorsport for a better situation.
I would like to improve on Mobility, the future of the motorist, talking about modern programmes like Connectivity, or speaking about scourges like road accidents.
It's not a question of me being a team director in the past, or a team principal or a CEO. I have a different mission, a different task - I'm a volunteer, a working volunteer. Fortunately I can be a volunteer because I've been a well-respected manager.
So now, if possible, we are building things in a kind of most-peaceful environment, which is the best for everybody. Because, of course, the economy is not very good.
What's your biggest concern?
It's the cost. Generally motor racing costs a huge amount of money. And we need to control it at all levels.
I really would like to make motorsport more affordable to any kind of user, from the smallest to the biggest. I have a vision on rallying, I've a vision on cross-country [rally raids]. We must allow people to develop motorsport from grassroots to help them.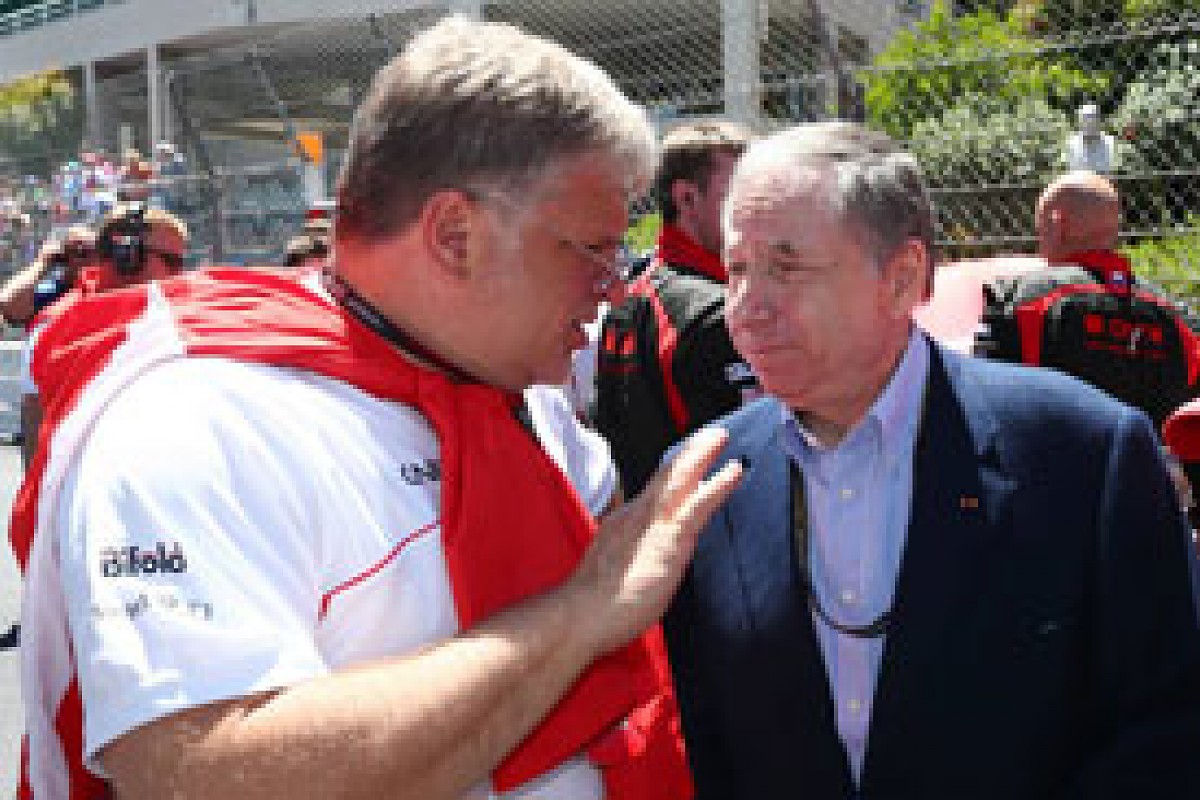 Todt is adamant the FIA must take an active role in reducing costs © XPB
We want to help clubs all around the world host a karting race, maybe in a mall, a parking place which is closed over the weekend to allow - respecting safety - them to do some racing, you know? So that's what we need to do. But it costs money.
And then if you go to the pinnacle of motorsport - definitely we see a lot of teams are struggling, so we need to work on that. Because some say, 'It's fine, leave it to us.' But if we leave it to them, in my opinion, we are going to kill any kind of category of motorsport, including Formula 1.
So here we have a big responsibility, and it's why we are discussing with the teams. And for me, it's my number one item: cost reduction. I feel it's kind of insane.
We don't need to have 800 people [in F1 teams]. I think you can do a proper job with half or one third of this amount of people. So on that we have a responsibility, together with the commercial rights holder. We will be stronger if we work hand in hand, because we have the same interests.
How can you implement cost reduction with the new powertrains in Formula 1?
It's true that the new powertrain has generated more costs, so maybe we should have been more restrictive on the allowance on the development of the engine. But we're here now, so definitely it's something we need to address.
My predecessor [Max Mosley] did a very good job by limiting the number of engines, which was very unpopular, incidentally, at the beginning.
You know, before you had one engine for free practice, one engine for qualifying, one engine for the race. Same for the gearbox. Now, last year you had eight engines for the season. Everybody was happy.
In a way, I feel the cars have become too reliable. I think you need this kind of flavour, when you don't know if the car is going to finish. So now everybody is emotionally saying, 'We may not have cars at the finish of the race.' Let's wait for the first race.
I hope that some cars will retire, create some unpredictability. But I will be very surprised if a lot of cars retire.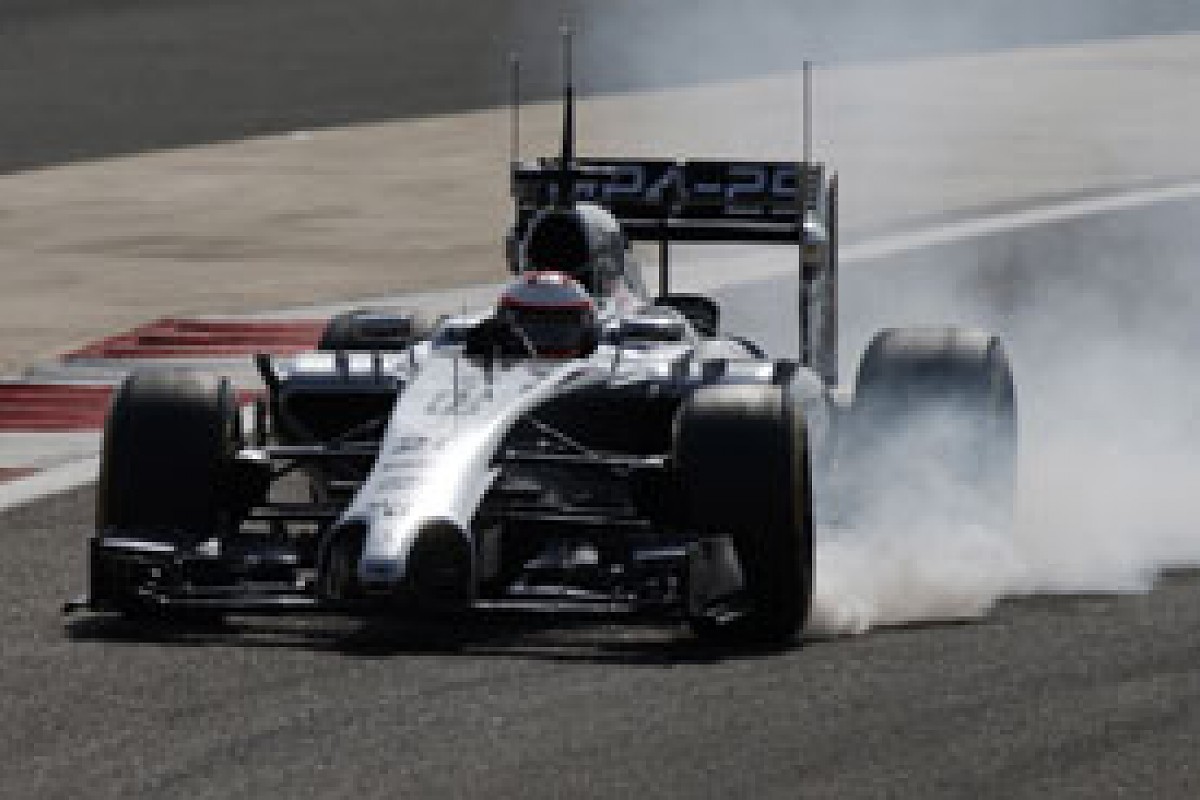 Of F1's new rules, double points has been overplayed according to Todt © XPB
What's your feeling towards the double points for the final grand prix in Abu Dhabi?
Every day I read a lot of things - 'they did not follow the right governance' - on these double points. But, I mean, it's a little fog in a big picture.
If you ask me 'what do you feel?', honestly I'm not very excited about it. But it's such a little parameter, compared to so many other things.
On one side I must sympathise and say, 'How can we create more interest to the end of the championship?' Because it's true: if the championship is settled, you have less interest, which is natural - it will happen in any kind of sport.
Whether it was Bernie who proposed - and incidentally, maybe, I'm not sure, I proposed it a long time ago - that the last race could count double, it creates more attention. After some discussions it was unanimously agreed at the Strategy Group, with some not so much in favour but still saying, 'If everybody agrees, I will accept.'
If it was a bad move, after one year we can say, 'OK, we step back, the idea was not good.' But, anyway, we're not changing the world of Formula 1 by giving double points at the last race.
What do you feel is truly important to Formula 1 at the moment?
For me it's much more important to speak about the revolution in Formula 1, to speak about the new powertrain. I'm deeply convinced that F1, being the pinnacle of motorsport, needs to take into consideration the world, which is changing.
I don't think it would be healthy to have F1 closed, inside golden gates, and not opening its eyes to what is happening.
If you go to the Geneva Motorshow, you will see that all the manufacturers around the world are speaking about hybrid, electric, hydrogen - it's the future. And we as the governing body, we have the mandate, the obligation, the responsibility to make motorsport more affordable at all the levels.
After listening to experts, having tried to have a better vision of the future, we thought that four cylinders was more suitable to the future of F1. And it created a certain unhappiness, which I listened to carefully.
But for me, it wasn't a problem to say, 'OK, I understand that people do prefer six cylinders rather than four cylinders,' but I'm convinced that four cylinders would probably have been a better choice, was probably a better vision.
And incidentally, I visited Porsche one week ago, a high-tech company, and they are participating in the World Endurance Championship with four cylinders. So I will say it's fascinating, the way things are changing.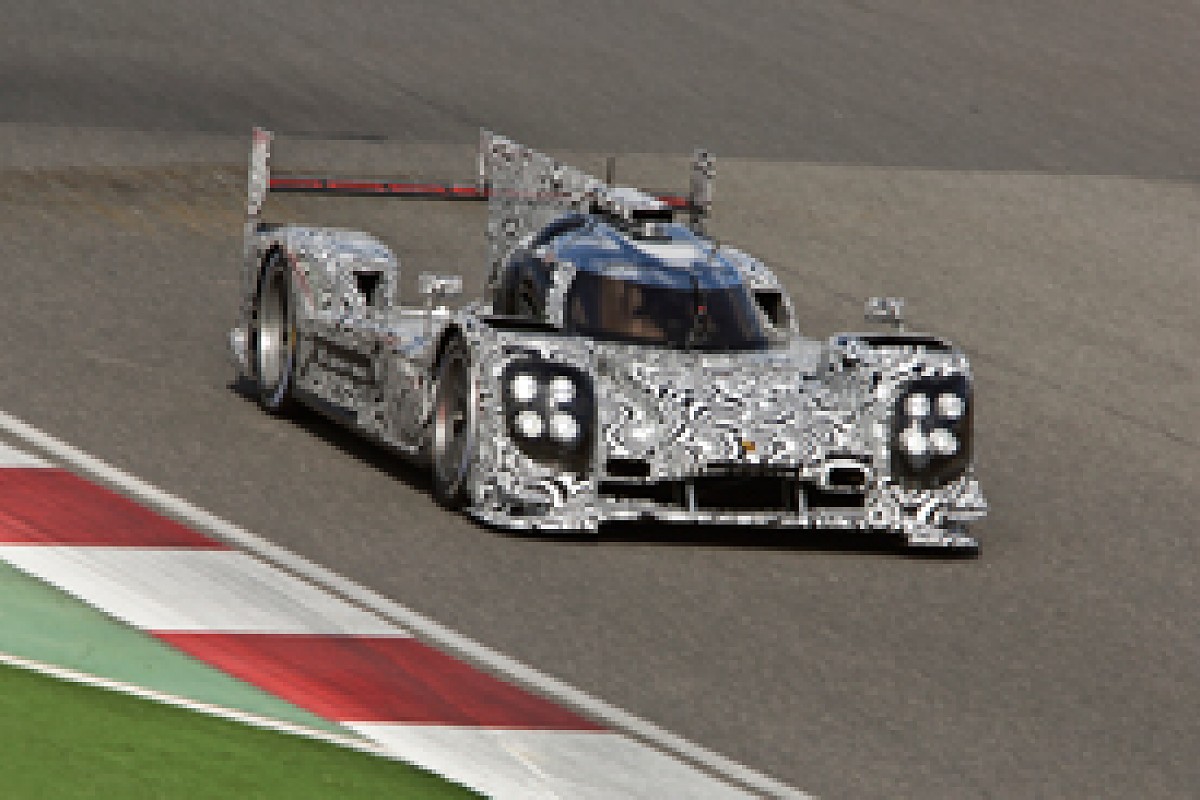 Todt favoured a four-cylinder engine, as Porsche is using for its sportscar return
If it turns out that you should have gone four cylinders it would be a very expensive change...
The choice was made because it made most of the people involved in the business happier. Which is fine. But if we see that the Porsche engine is absolutely spectacular, we will not change. We need stability with our engine regulations.
That's why I said we must make sure that we make the right choices, because until 2020 we will not change the engine.
And incidentally, those new rules have allowed Honda to come back. Honda would never have come back without those new rules, so I hope that it will allow some other manufacturers to join the championship.
If we look at the cost of the sporting regulations, is there not an element of kneejerk? Take qualifying for example...
But you see it's constructive to have a little review of qualifying. In Q3 some people say, 'No, no, we cannot go out, we don't have enough tyres.'
We have one more set of tyres, we give them out, so that's what we are going to address. We're not talking about getting involved in a revolution. By doing a little refinement, a little fine-tuning, we can get at something.
Can you explain the drop in F1's TV audience?
I don't think it's a fair statement when you say the figures are not good, simply because there is less interest for TV.
Now you have iPad, iPhone, so in a way it's more comfortable for you when you're on the train, when you're in the plane, to have a different way of communicating, of being informed.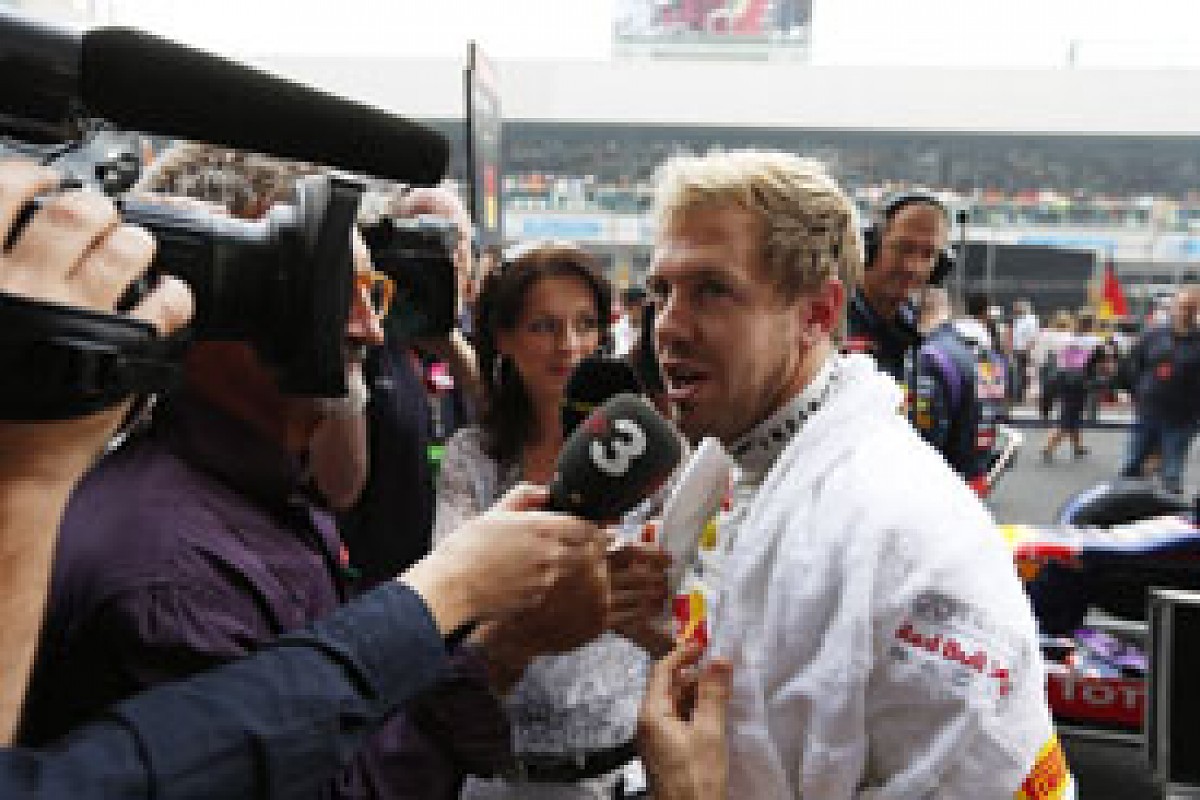 New media and a move to pay-TV led to a drop in F1's TV audience, says Todt © LAT
It's like if I say, 'Mmm, there is a drop in the use of fax machines,' it's true, it has almost disappeared. Why? Because now it's email. We have a more modern way of communicating and it's what I feel is happening with TV.
It's true as well there have been some contracts signed with pay-TV [broadcasters]. In France, we have less TV viewers. Because from TF-1, which is a free-access, we have gone to Canal+ [a pay-to-view channel].
Here I speak passionately about Formula 1... When I watch a grand prix I watch on TV, and on my iPad I follow Q1, Q2, Q3.
What are your thoughts on the recent F1 tests?
So... Red Bull and Renault have already lost the championship? Do you want me to react to that? I mean, honestly, it's ridiculous.
Maybe they will find the little problems that were occurring and then... hmm... Red Bull and Renault are favourites. So again, it's too much emotion.
But emotion is passion, Jean...
Not always. You know, I think if you want to be successful, you must rationalise emotion. You must control it and then be pragmatic.
I've worked in this kind of environment, when I was at Ferrari: there was so much expectation, so much emotion, so much passion, and being able to control that allowed us to be very successful, because we were trying to work in a rational way, not an emotional way. Which was not easy. Probably it was the most difficult thing I had to achieve.
I think we can have passion, without having to say that Red Bull and Renault have already lost the championship.
Also, the noise of the engines... it will be a different noise, but 30 years ago it was a different noise, with the turbo engine, and nobody complained about it.
Should there be some form of rationalisation across world motorsport?
It's a fact of life, you know? You could rationalise your shirts, it will save you shirts. We can't avoid anyone running a commercial series, in rallying, in touring cars, in GTs, in Formula 4, 3, 2, 1...
So our responsibility is to try to make the best of it, and encourage people to follow what we organise as the governing body and working with the promoter.
That's what we're trying to do now, building this pyramid, and I must say Gerhard Berger did an excellent job on that.
Berger has been tasked with rationalising Formula 3 © XPB
I think Formula 3 is coming back well again, which is very important. We want to address the Formula 2 situation. It's something I want to discuss as a priority with the commercial rights holder of F1.
In rallying we have created something that will make things more affordable. We now have the World Rally Championship, with different categories - R1, R2, R3, R4, R5 - with the pinnacle being R1.
We now have one FIA European Rally Championship. We are working on building one regional championship each in Africa, in Latin America, in Asia.
So we are trying to develop motorsport. When I started my career as a co-driver, rallying was different to what it is now.
Sometimes I have nostalgia for what it was, but broadly speaking there were no limitations on the road. I remember on a normal road section in Monte Carlo, the average was 90km/h. So you were flat-out to make your service. That can't happen anymore.
So we have to take that into consideration. I'm a big defender of road safety, and I can't say we have to improve our safety on normal roads and not care about safety during racing. It's the opposite: I think racing must be the example of what can be done.
Jacques Villeneuve said that current F1 is too artificial. What's your response?
No, I will not respond. I'll tell you why. Because for me, number one, I'm in favour of freedom. So whoever has something to say should say it.
I don't have any problem with that. I can say that too often people speak without really knowing what they're talking about.
We'll have some more testing in Bahrain, then next week we will have the next thing. But definitely we will have a different understanding.
When we talk about costs, is it not a matter that the structure is such that there isn't enough money trickling down to the lower categories and also to the teams? Is there any other way you could develop the grassroots?
Each international organisation has its own specificity. The FIA is not a very wealthy organisation.
Take other organisations that promote sport: UEFA, FIFA, or the Olympic Games. Of course, they generate more revenue and can create a bigger distribution. We have little opportunity of distributing funding to our organisations, which is something we are correcting, starting now.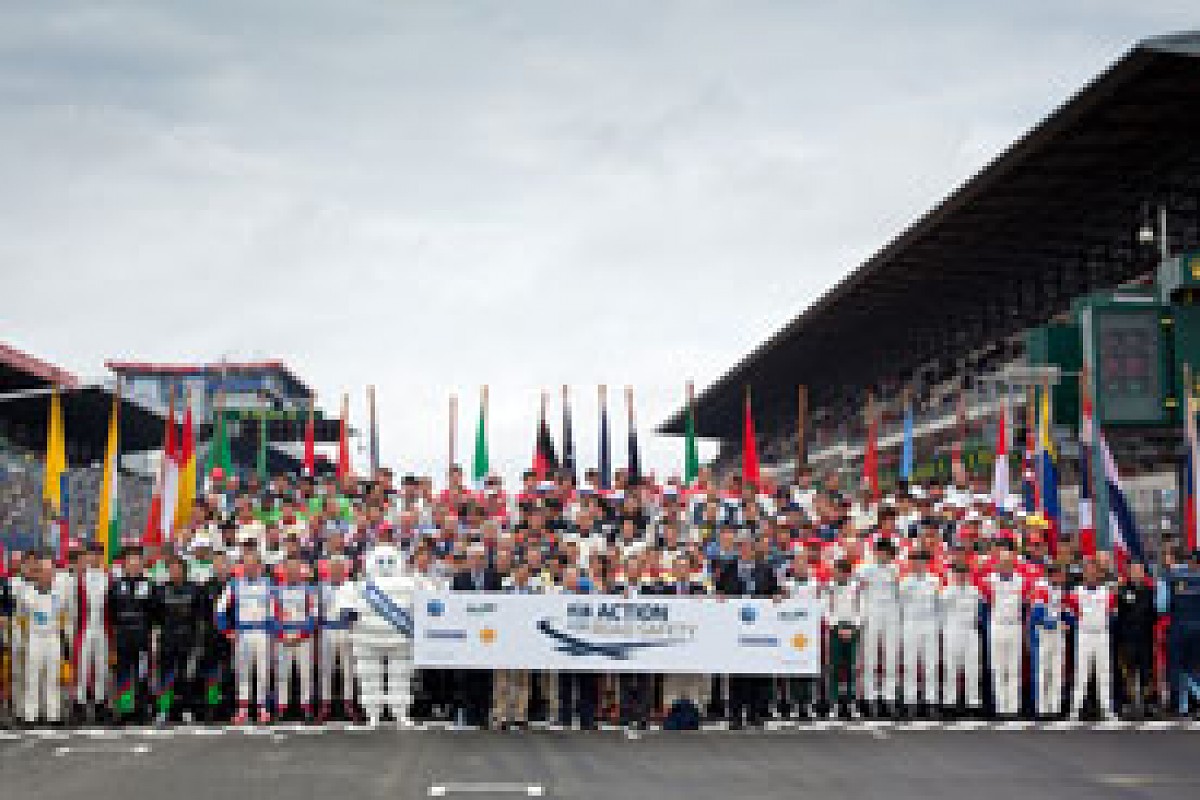 Promoting the Road Safety campaign at the start of the 2012 Le Mans 24 Hours © LAT
In a way, it already started four, five years ago with what we call the Motorsport Safety Fund development, which was coming from a certain amount of money which was then distributed to the clubs, to help safety, to manage education.
It was different for young drivers, a different programme. Now we will use part of the extra money we have been getting through quite a good agreement, which has been settled between the FIA and the commercial rights holder, without reducing the influence of the FIA in the sport, which was always for me an essential thing.
I think the governance is quite well balanced, the way it is. So we will have more revenues and it will allow us to develop programmes for and together with our ASNs all around the world.
There was talk at one stage of a commissioner for Formula 1...
That was prior to my first election. I thought it was a good idea at the time. It wasn't only for F1 - it was a commissioner to all FIA world championships.
Simply, I don't think we need them. I think the way the governance is settled we don't need to have a commissioner.
On the question of Bernie's situation in the courts, how do you feel this affects F1 in particular and the FIA generally?
At the moment it doesn't affect things at all. Bernie has done an outstanding job, developing F1 over the last four decades.
I'm very sad for him to have all those concerns he has to deal with and I really hoped he wouldn't have to go through this unpleasant time. It doesn't mean any change for us.
That's all I can really say. Formula 1 now belongs to a fund called CVC.
With the chairman, Donald McKenzie, they have created a strong structure, Formula One Group with Peter Brabeck-Letmathe and some other members, so there is a strong organisation, with Bernie as actual CEO. He's still going to carry out his job.