The Red Bull Ring's announcement that it will host the Austrian Grand Prix on July 6 2014 could throw the spanner in the works for several venues' traditional dates next season.
The Hungarian Grand Prix weekend generally provides hotel-booking websites with cause for much glee, albeit for reasons broadly unconnected with the eastern European event's popularity.
Talk during the weekend traditionally centres around speculation over next season's calendar, usually after first drafts have been distributed to team bosses by Formula One Management CEO Bernie Ecclestone.
The usual procedure is for the F1 tsar to issue a discussion calendar, with dates being progressively firmed up, with the FIA's World Motorsport Council provisionally rubber-stamping the list during its early September meeting. Last-minute hiccups - such as payment of sanction fees and FIA circuit approval (where required) - are then ironed out ahead of the December meeting, when the final calendar is confirmed.
The discussion calendar, though, provides a fairly good pointer to the schedule ahead, and thus racing generally takes a back seat in Hungary as hacks, snappers and other F1 personnel with budgetary constraints trawl the internet for hotel and flight deals.
However, it seems that convention has been turned totally on its head, what with an announcement by Red Bull Ring sources in Austria that the former A1-Ring (nee Zeltweg) had been allocated a July 6 date - despite noise level and maximum crowd exemptions not (yet) having been granted by local authorities.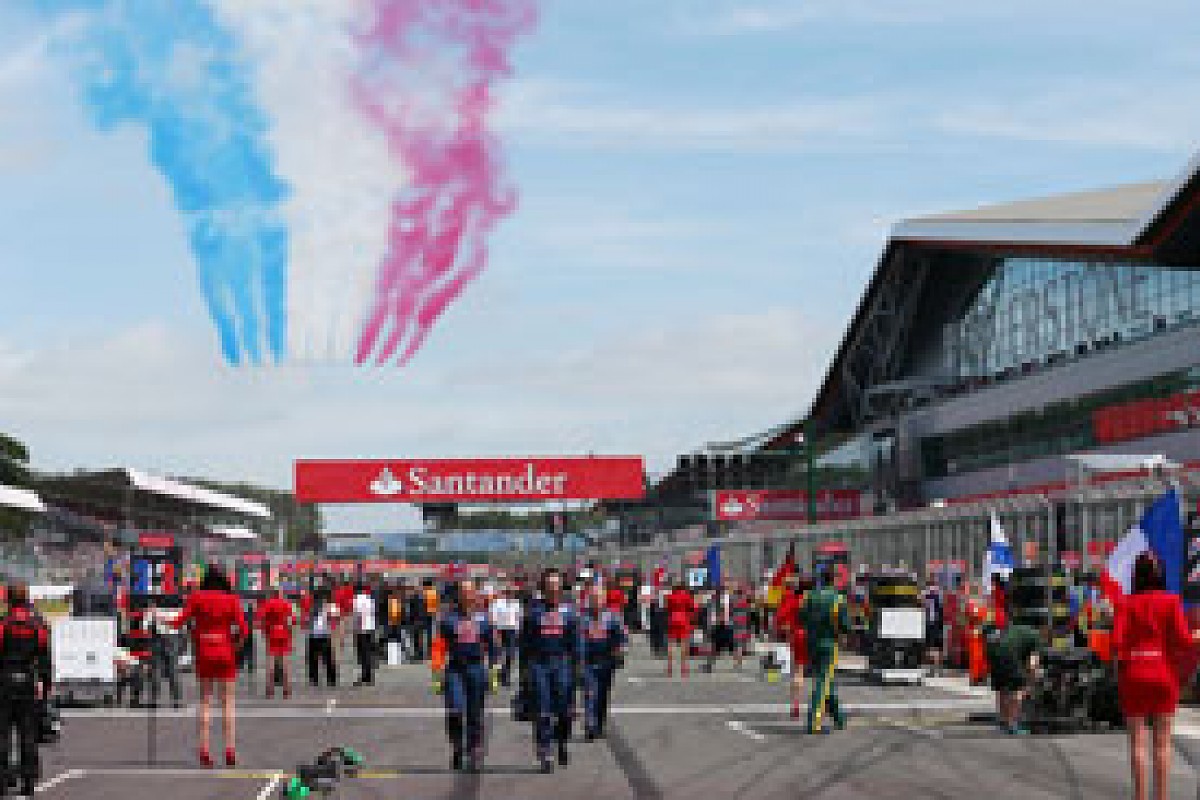 Next year's British GP could be moved to accomodate Austria... © XPB
Assuming the date is confirmed - and Ecclestone and Red Bull top man Dietrich Mateschitz are extremely close - this holds major implications for the race historically held in early July: the British Grand Prix.
Shortly after Red Bull's announcement came the next one: Sochi promoters let it be known that the 2014 Winter Olympic venue on the Black Sea is down to host the first Russian Grand Prix on October 19, with the contract running - like that of the Austrian circuit - through to 2020.
Note the year. Not only do the commercial deals struck by Ecclestone with 10 (of 11) teams run through to the end of the century's second decade, but so, too, does the draft commercial agreement - erroneously referred to in some circles as the Concorde Agreement - currently under negotiation between the FIA and FOM. This deal forms the topic of next week's column.
However, it was an announcement by the FIA after its June WMSC session, namely that the mid-June weekend will in future be reserved solely for Le Mans, that truly threw the calendar process into turmoil, for usually the first weekend in June has been allocated to the Canadian GP, twinned with a US leg where applicable and appropriate.
With New Jersey being just six hours by road from Montreal and punting strongly for a race, the obvious assumption was that the two North American legs would be held back to back.
The FIA's decision to grant Le Mans preference over F1 in June, though, scuppers that - assuming Canada retains its habitual weekend. However, that doesn't kill New Jersey's chances of following in Montreal's footsteps, as a spokesperson for the former event this week indicated.
"We're still on for 2014," the source said. "We don't comment on speculative reports, but we'll have a statement following the FIA World Motor Sport Council announcement of the official 2014 FIA Formula One World Championship schedule."
The race could simply be postponed for a week, with the two American rounds straddling Le Mans. True, that would entail a double shuttling of personnel across the Atlantic over a three-week period, but given the cost, availability and duration of such flights, an arrangement like that would represent little obstacle.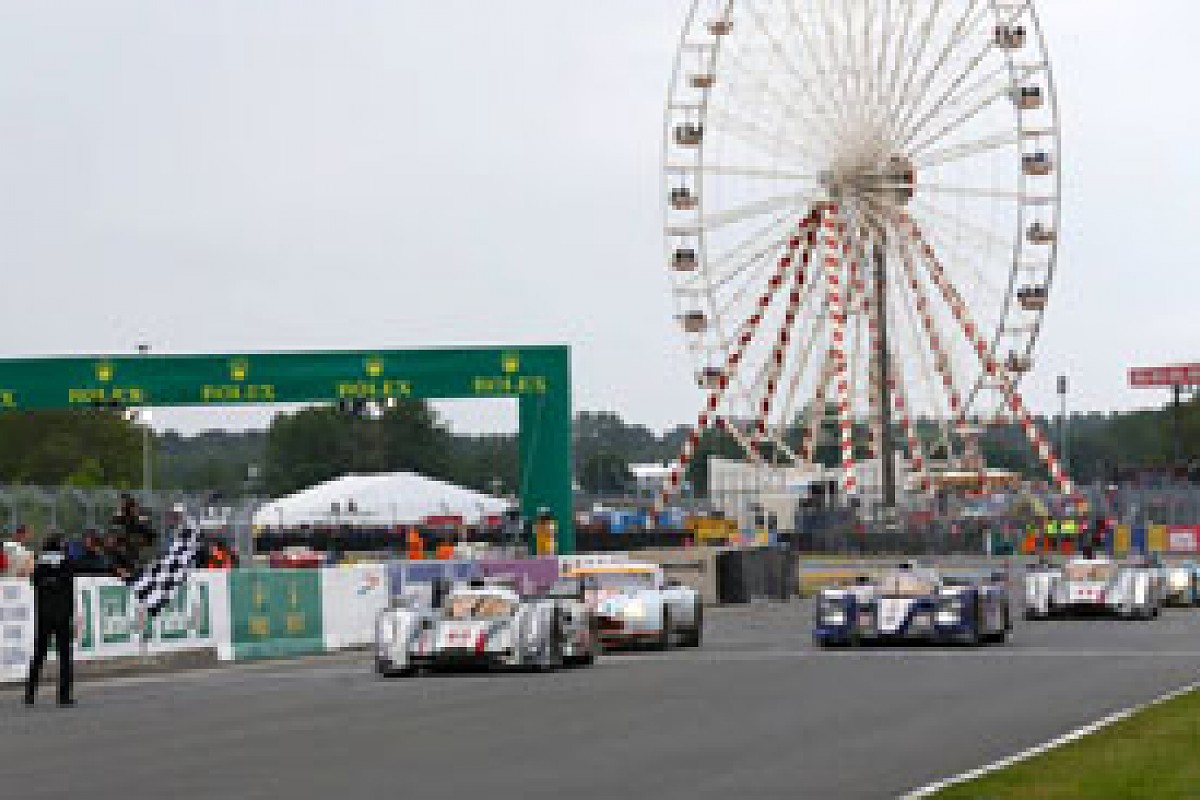 ...while the ring-fencing of Le Mans on June 14-15 could also compromise next year's calendar © XPB
After all, the costliest factor (for FOM and the teams), the freighting of cars and kit, would not be affected because they would remain across the water. And what does FOM care about team and media airfares?
Assuming these events all come to pass, that would add three races to the current 19 - yet just this week Ecclestone indicated to his coterie that the number of 2014 rounds would be "less than 21", as one team principal put it. Make that 20, then.
Which races, therefore, could be dropped? According to sources, India is extremely shaky due to the country's extremely stringent tax regime, which penalises teams, drivers and, crucially FOM - the last-named priding itself on its (almost) zero-sum tax structure in the United Kingdom - on all earnings accrued in the country.
So concerned are the players about the implications that this year's round is said to be under threat, suggesting that 2014 is a no-go.
Korea's race has failed to even vaguely fulfil expectations after the country's industrial might refused point-blank to support the event in any shape or form, and is believed to be on the endangered list. When all is said and done, could there be a better candidate for the axe?
To further complicate matters, the teams and tyre supplier Pirelli (assuming, of course, its contract is extended) have requested the opportunity to test the new-spec 2014 cars under hot conditions, with one of the Middle Eastern circuits being the most likely host.
All four circuits - Dubai Autodrome, Yas Marina in Abu Dhabi, Bahrain International and Losail in Qatar - have been identified as candidates for the scheduled two four-day tests, but all this depends upon the rates offered and circuit availability. However, given the choice of a desert climate or Jerez in January the answer is a no-brainer.
Logic dictates that the first race for the untested technology be held at the same venue before the cars are shipped across the world to Australasia, and from there to China.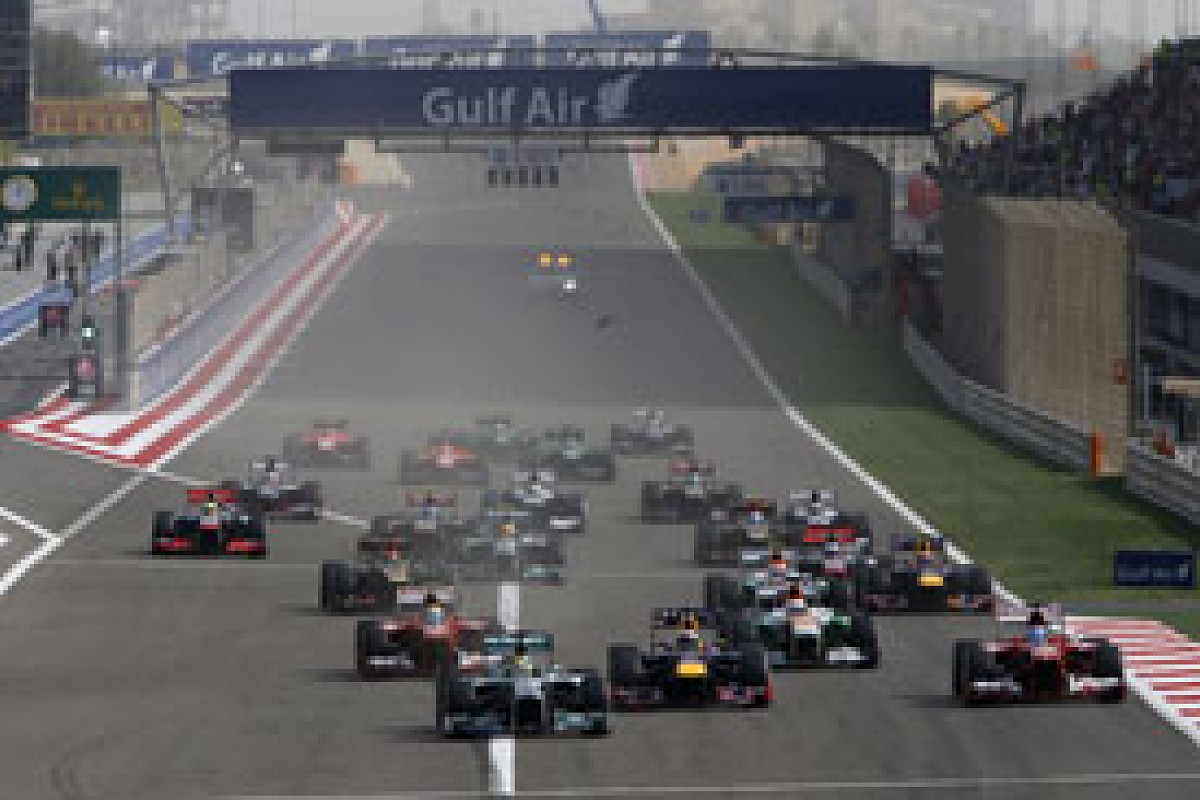 Could Bahrain open proceedings in 2014? © LAT
So, make Bahrain the opener; then again, Australian Grand Prix Corporation boss man Ronald J Walker and Bernard Charles Ecclestone have been bosom buddies for many years, so friendship may yet decide the opening slot.
The calendar gets even more convoluted upon F1's return to Europe.
Given that July is due to be filled by the Austrian, German (at Hockenheim, given the circuits even-year deal) and Hungarian races - the latter confirmed through to, obviously, 2020 - Silverstone needs to be slotted into either late April or early May to enable Spain (either Barcelona or Valencia - the second of these if the mooted rotating deal comes to pass) and Monaco to take their usual places ahead of Canada and New Jersey.
Every four years, the FIFA World Cup - to be held in Brazil in 2014 from June 12 to July 13 - throws a spanner in the works. Fortunately, though, western time zones spring to F1's rescue for all but the North American rounds, with the only race directly affected being Le Mans (June 14-15).
However, Monaco usually hosts its biennial Historique festival a fortnight ahead of the F1 equivalent, but this could conceivably be held seven days before the GP. The 2014 Historique dates have been confirmed as May 9-11, pointing to the possibility of a May 18 date for the Big Un.
Forget not, though, that in 2000 the British GP was held during Easter weekend - with disastrous consequences, but does FOM care any more than it did then, even if hard paving has since been laid in most car parks?
Another scenario has Austria on July 6, with Silverstone a week later and Germany and Hungary twinned a fortnight later. The teams, however, are anti back-to-back races in Europe due to their disruptive effects; thus the less the better for all concerned. Again, though, that's a minor consideration for the calendar architect.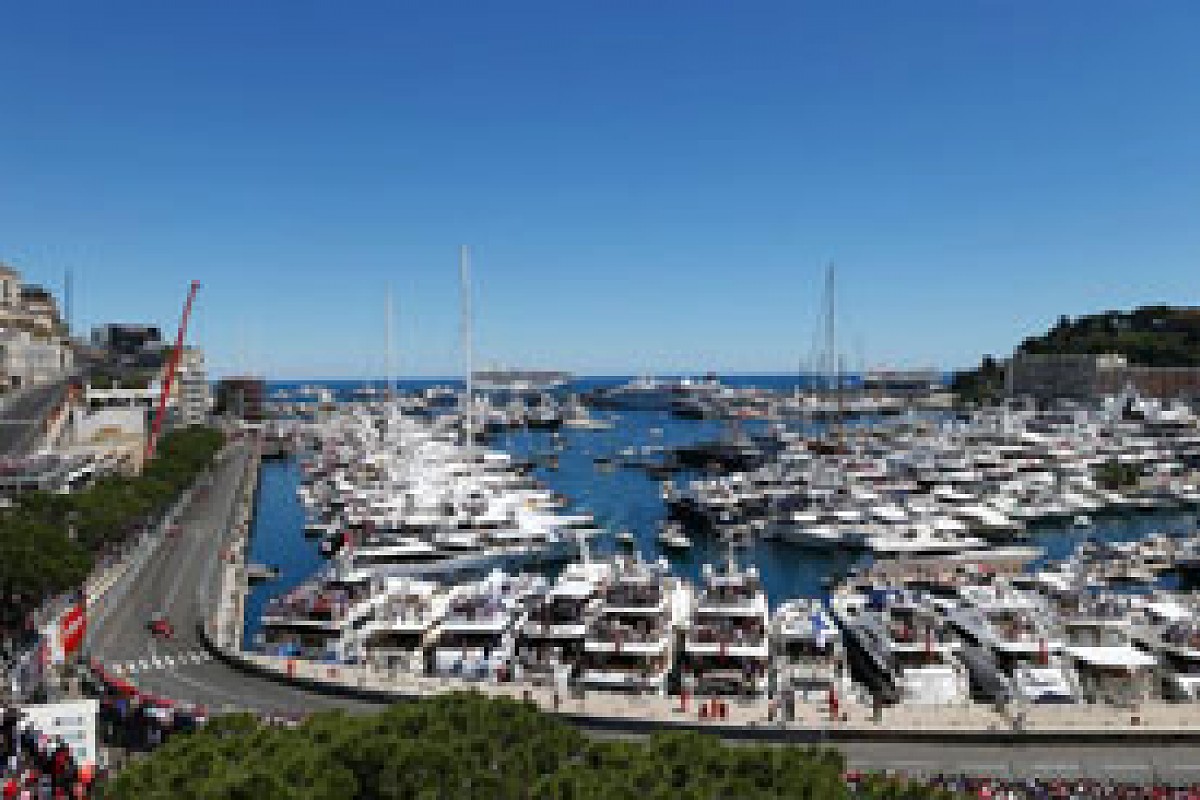 Moving Monaco to 18 May could be a potential cure to other headaches © XPB
So, if F1's glamour race is to be held a week earlier than usual - that is, as a May 18 back to back bolted onto Spain's May 11 date, this would open the door for a Canadian round on June 1, followed by NY's inaugural race on June 8.
This would permit a British race on June 22. This would facilitate a two-week gap to Austria on July 6 and no FIFA final clash on July 13.
Decisions, decisions, decisions - is it any wonder even a draft calendar is some way off?
Equally the teams are adamant that F1's (minimum) three-week summer break should remain in situ, meaning a late August/early September slot for Spa, with F1 travelling to Monza a fortnight later and then onto Singapore at the end of September.
Given that Korea is likely to fall away, it makes sense to twin the night race with Suzuka's round, taking in Russia and Abu Dhabi on the return leg.
Is that feasible? Japan-Russian flight connections are good, and all Middle Eastern airlines cover the Black Sea region. In addition, folk could head back to Europe and on to the Emirates at their leisure.
Thereafter, it's business as usual as the circus heads for Austin, Texas, and from there to Sao Paulo.
Either way, booking.com and suchlike are unlikely to be flooded with enquires this weekend because a meeting held between Ecclestone and the teams on Friday in Hungary focused mainly on testing and the question of India...
Possible 2014 Formula 1 calendar
March 16         Bahrain (Sakhir) *
March 30         Australia (Melbourne) *
April 6          Malaysia (Sepang) *
April 20         China (Shanghai) *
May 4            Britain (Silverstone)
May 11           Spain **
May 25           Monaco (Monte Carlo)
June 8           Canada (Montreal)
June 14/15       Le Mans ***
June 22          United States (New Jersey)
July 6           Austria (Spielberg)
July 20          Germany (Hockenheim)
July 27          Hungary (Hungaroring)
August 23        Belgium (Spa)
September 7      Italy (Monza)
September 21     Singapore (Marina Bay)
October 5        Japan (Suzuka)
October 19       Russia (Sochi)
November 2       Abu Dhabi (Yas Marina)
November 16      United States (Austin)
November 23      Brazil (Interlagos)
 
*Sequence could be:
Australia March 16
Malaysia March 23
China April 13
Bahrain April 20
**Barcelona or Valencia
***Not F1, included as per WMSC decree