"This is the ultimate experience in motor sports simulation, the absolute challenge to nerves and reflexes. Experience the exhilaration and excitement of driving a high-performance car where your co-ordination will be tested to unbelievable limits."
Thus read the enthusiastic back-of-the-box blurb of the 1987 computer game Out Run, wherein you took the wheel of a Ferrari Testarossa - or, rather, something that vaguely looked like one. For while the author may have had high hopes for the accuracy of his prose, once you had completed the laborious process of loading the game via tape onto your Sinclair ZX Spectrum (a machine whose memory would barely contain a modern email), you'd struggle to correlate the blocky graphics and unresponsive gameplay with the high-flown promise of the box art.
Fast-forward 25 years and the enormous advances in computing power have made simulation a very useful tool in helping young drivers master their craft. Today's full-motion simulators sit on hydraulic arms, with force-feedback steering wheels and projected displays (sometimes in 3D). Some even have belt-tightening systems to squeeze you back into the seat when you hit the brakes.
It's machines such as these that will have helped 22-year-old Marussia newcomer Max Chilton approach last month's British GP with greater confidence. Unlike his rookie predecessors of decades past, Chilton will already be au fait with every nuance of the Silverstone circuit thanks to modern Formula 1 simulators.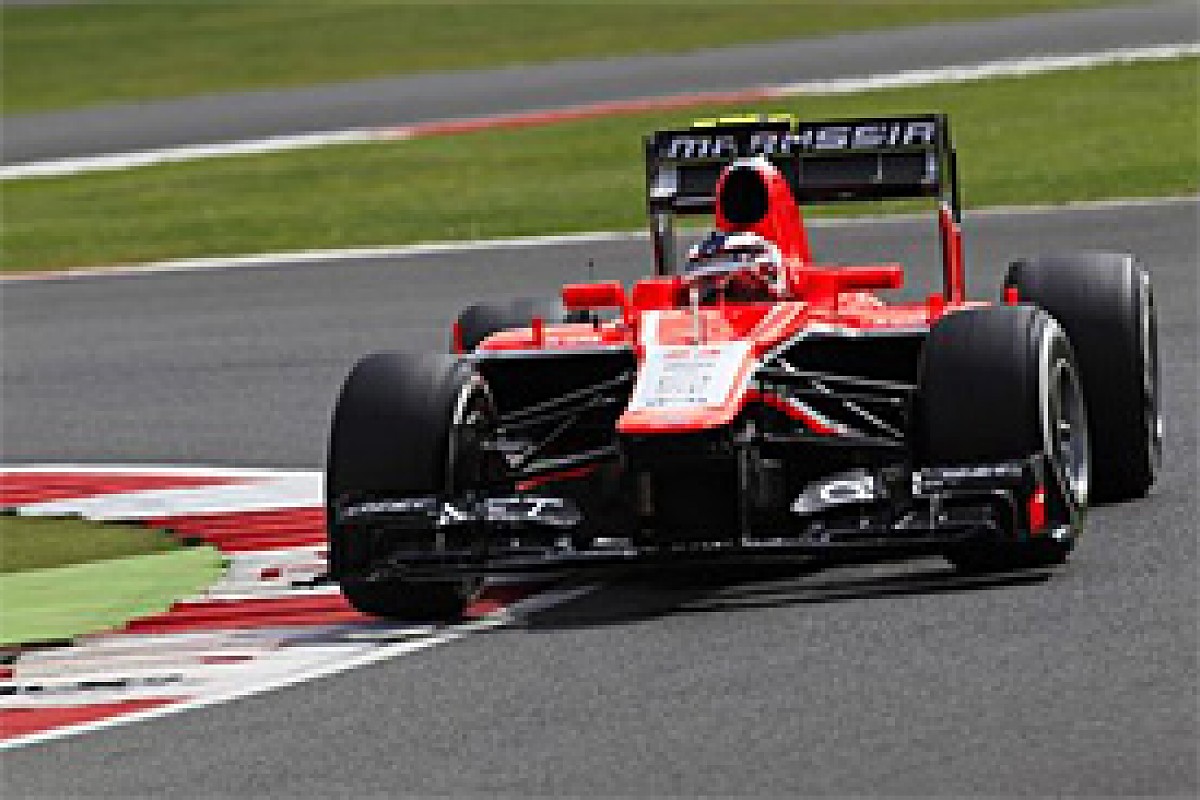 Chilton in action during the British GP © LAT
These state-of-the-art systems have also carved out a role beyond helping drivers to practise on unfamiliar circuits; they've become a fundamental part of the job of being a racing driver in today's world. Data acquisition capabilities have reached levels of sophistication that enable teams to evaluate new components virtually before signing them off for manufacture. A successful virtual test is now a prerequisite in the design process - for the teams that have in-house simulators, that is.
In the past, rookies taking on new circuits would need as much track time as possible to learn the racing line, braking points and gears. But Max Chilton will arrive at Silverstone knowing all this already, thanks to the hours he'll have spent in the simulator in the days leading up to the race.
"The first time I used a simulator was at the end of 2008 to learn the Macau street circuit," says Chilton. "It's quite a long lap, it's very technical, and it's not a place you can hire out to learn on - so I spent some time on a simulator and quickly realised it was the perfect learning tool.
"In fact, it was so accurate that the actual time I did in qualifying at Macau was within 0.05secs of the time I did in the simulator. That's when I thought: 'this is the future'."
As drivers' careers progress through the ranks of Formula 3, GP3 and GP2, they often find themselves with less track time than they need - largely because of measures taken to reduce costs. By the time they reach Formula 1, rookie drivers face an environment without in-season testing, and a crammed time frame during race weekends in which 'the programme' (testing new parts, evaluating tyre wear, fettling car set-up, etc) takes precedence over learning the racing lines and braking points. In terms of circuits visited, the feeder series overlap with F1 at many but not all grand prix venues, which is why drivers are turning to simulators to make up the knowledge gap.
As a result, Chilton (and Marussia team-mate Jules Bianchi) will spend the Monday or the Tuesday before a grand prix in McLaren's state-of-the-art simulator, thanks to a technical tie-up between the Woking team and Marussia.
Chilton is accompanied by his race engineer, his data engineer, a factory-based programmer (who is developing the sim model), and the McLaren technicians running the machine. Max explains to us the work he undertook during a session on the Silverstone circuit in the week before the grand prix.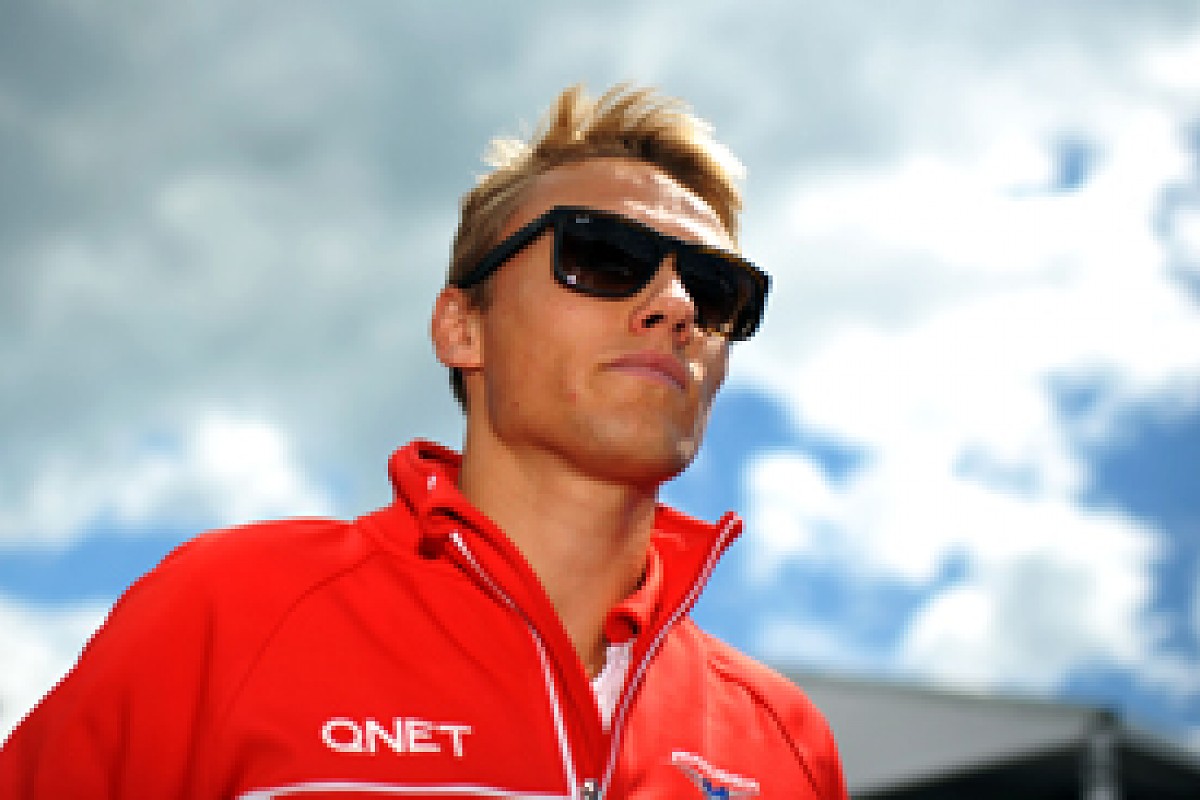 Chilton says the simulator is a vital tool now © XPB
"We'll perfect the racing line and learn exactly which gear we need to take for every corner on the track," he says.
"Likewise braking points and throttle inputs as well as KERS and DRS usage. That's the first priority and we'll do 10-lap stints and get down to a base time pretty quickly. From that point we'll start working on the balance of the car and start asking to change gear ratios or some other parameter.
"If we get high-speed understeer at a particular corner on the simulator, we know that will correspond to high-speed understeer at the same corner in real life. So we try to iron out all the problems we have in the simulator first.
"We'll then expand the programme, perhaps add on one or two points of downforce from an update that's coming in, then work on anti-roll bars, wings, brake pressure - just the small things we don't want to be wasting time with in Friday's first free-practice session: we'll have more important stuff to test out then. So anything you can tweak on a racing car, we'll do it on the simulator."
The simulators we used on the day, however, are not affiliated to any Formula 1 team. They belong to Let's Race in Horley, Surrey, and are full-motion sims that are available for anyone to hire, either for sole use or to compete against your mates. The circuit we loaded was Silverstone (obviously), and Chilton achieved a best lap of 1min 35.975s running with a set-up that mimics the 2012 Marussia.
Qualifying for last year's British Grand Prix was run in wet weather, but for a comparative time you need only look at Timo Glock's 1min 36.203s lap in qualifying for the 2011 British GP to gauge how realistically accurate the lap detail is.
"The difference in time between a simulated lap and a real one is usually a couple of tenths of a second," explains Chilton. "Of course, the main difference is that when you first go to a track, it can be really green so you can lose a second or two to its theoretical best on the simulator.
"There can also be a one-second-per-lap difference due to temperatures, too - or if Pirelli changes the tyres. But the way you drive your lap, where you apply the brakes or change gear, snap oversteer, applying DRS and KERS, is all mind-blowingly accurate."
So modern sims have two benefits: the first is to practise and improve pace around a track, and the second is to give feedback to the engineers to help them develop the car. The latter area is still evolving, and the complexity increases when it comes to understanding and modelling how a car's tyres behave - particularly, as Max explains, when Pirelli changes its tyres.
"Another massive difference between the simulator and real life is the tyre model. It's the biggest unknown and, as a driver, it's pretty hard to know whether the tyre model is right or not.
"For example, it might be calculated so that you travel through every corner and have 5mph less speed - but that equates to two seconds per lap and, as a driver, you don't understand why you're two seconds off when you're pushing to the limit. So the hardest thing for the team to work out is understanding what the tyres do - it can take you all year to perfect - and then Pirelli can go and change its tyres the following season."
Tyre modelling, DRS usage, points of downforce, suspension geometry, adjusting brake pressures, aero mapping, gear ratios and engine-management settings can all now be simulated.
So it appears that we really are getting close to the 'ultimate experience in motorsports simulation'. It's all a far cry from manoeuvring that pixellated Ferrari in Out Run...